August 2
Fun with sprinklers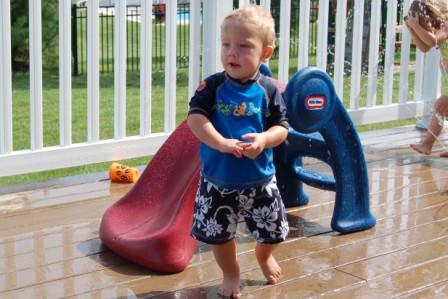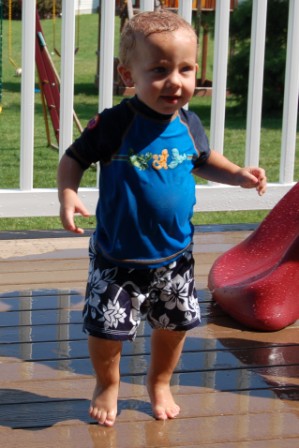 Luca in his surfer gear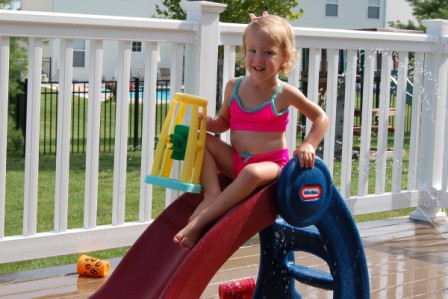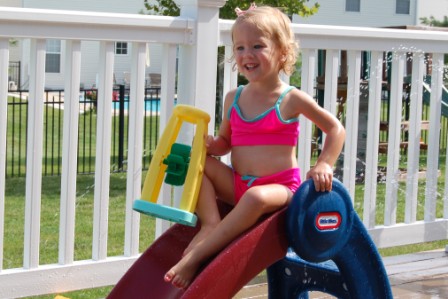 Perry on the slide (modeling one of our hand me down bikinis from Riley)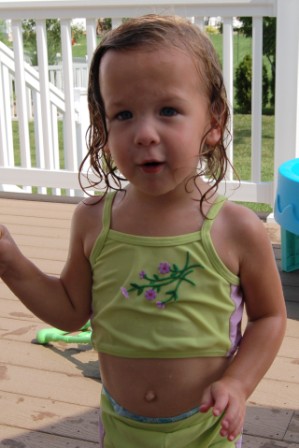 Ella modeling the other one (nice outie, eh?)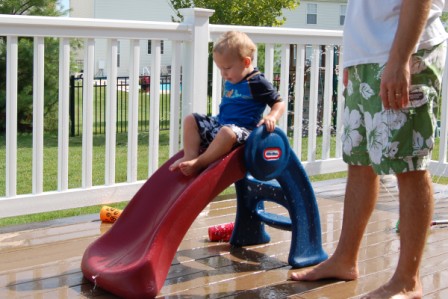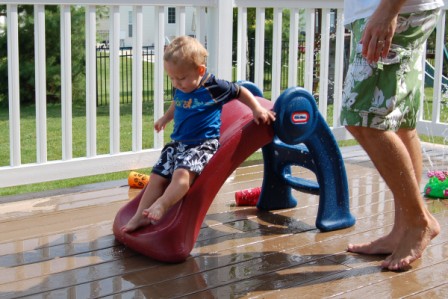 Luca on the slide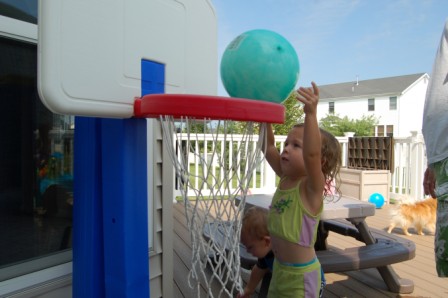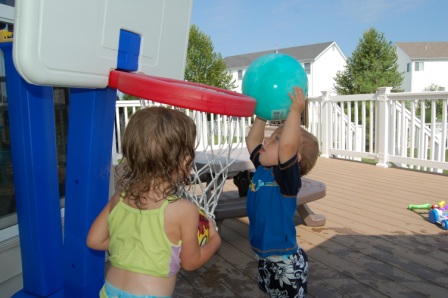 DUNK!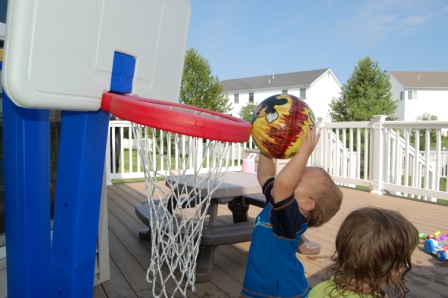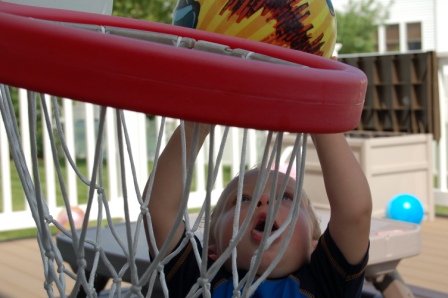 Air Luca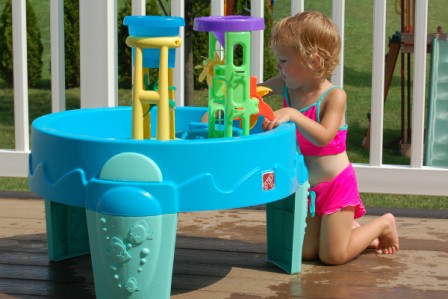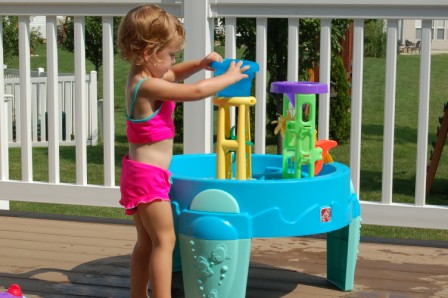 Perry playing with the water table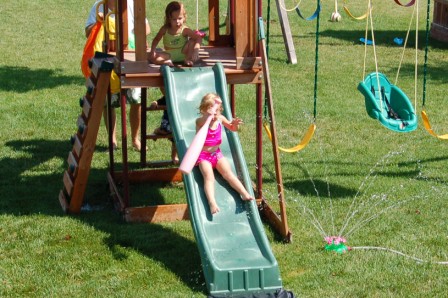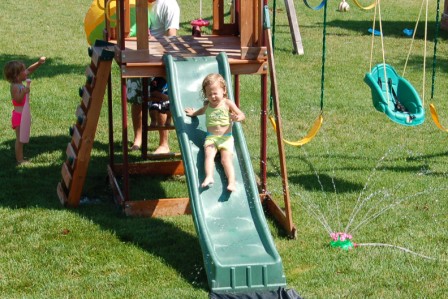 Who needs a waterpark?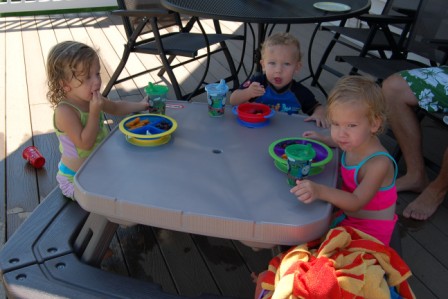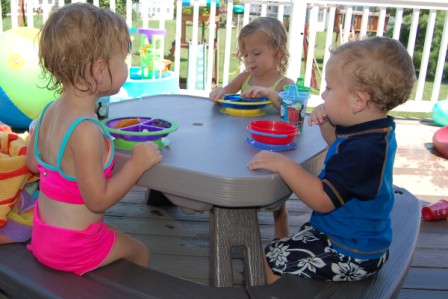 Lunch break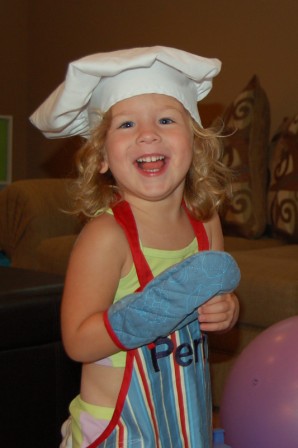 Apparently they can't read their names, but they're still cute nonetheless!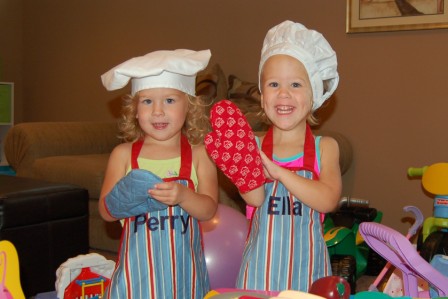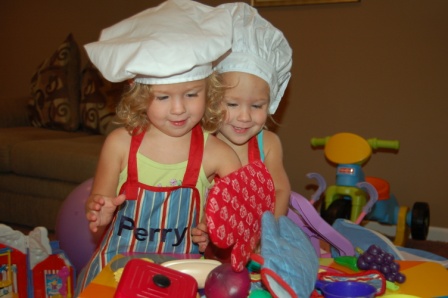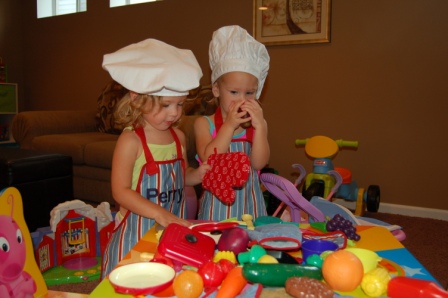 Why don't they ever make dinner for us?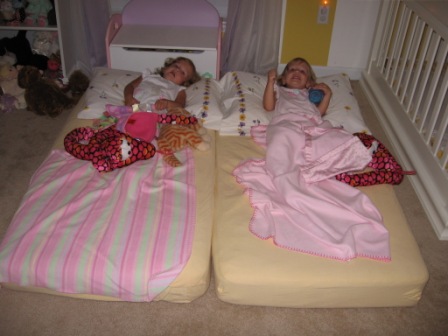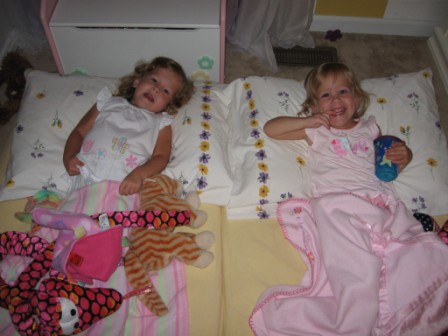 Attempt #1 at "big girl beds"...not a success
August 3
Took the MetroLink to the Cards game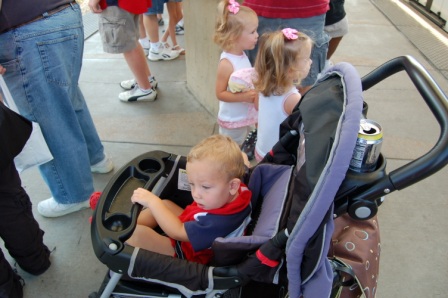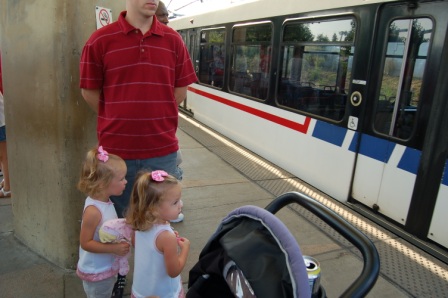 Waitin' for an eastbound train
(Didn't get any pics while we were on it b/c it was so crowded)
August 6
Perry, Ella, and I went to the Magic House with Kelly and Jakob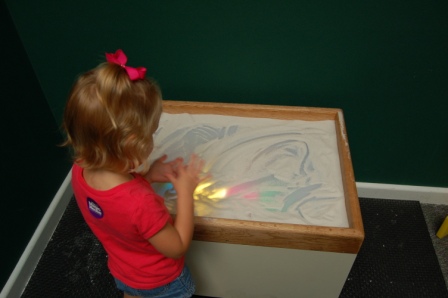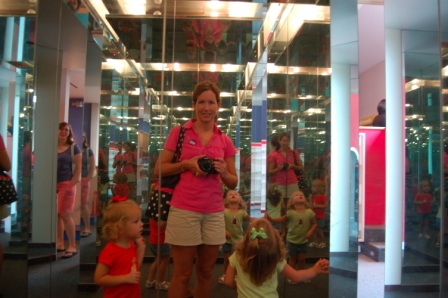 Magic sand and mirrors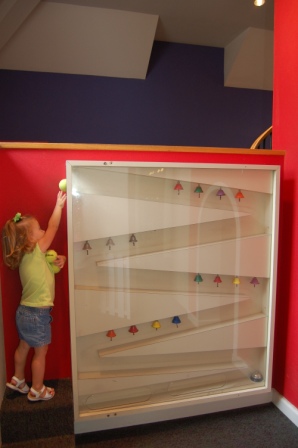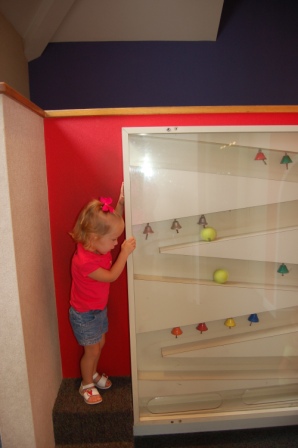 They loved putting the tennis balls in this maze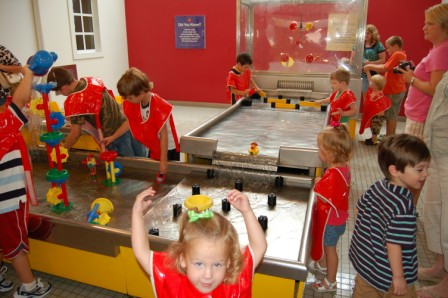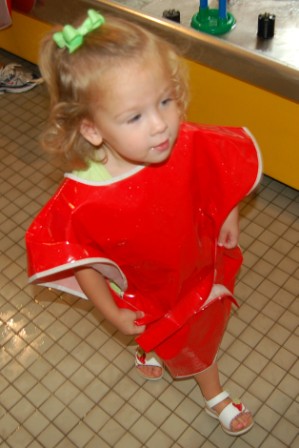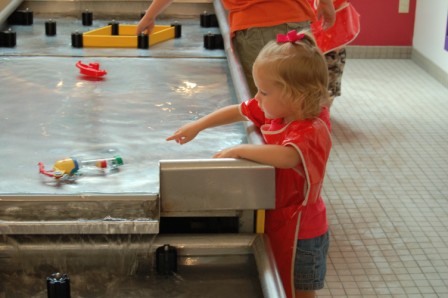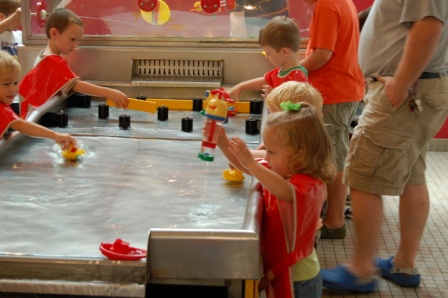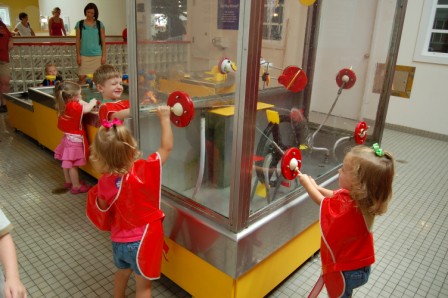 Water play...complete with aprons!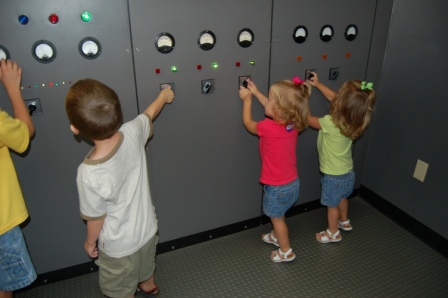 Doing some work at the Electric Company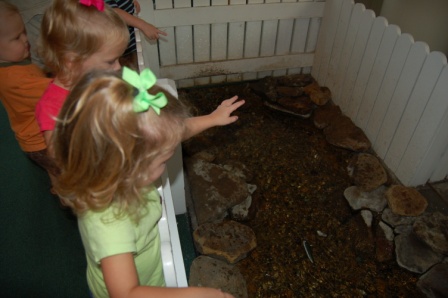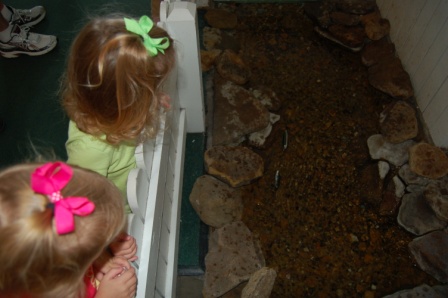 Releasing our fishies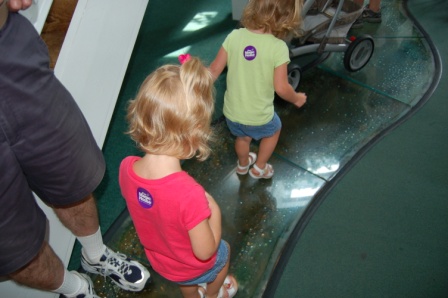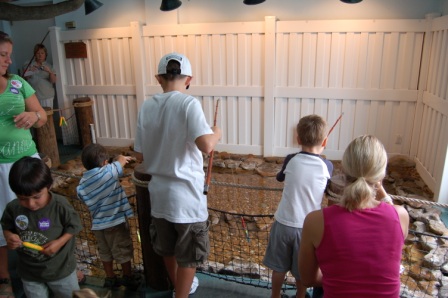 Following them back to the pond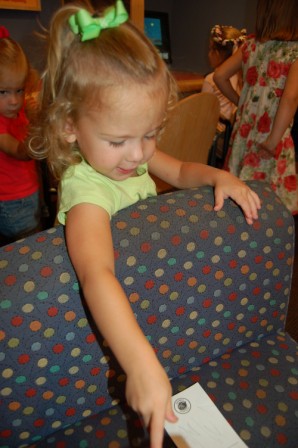 Getting library cards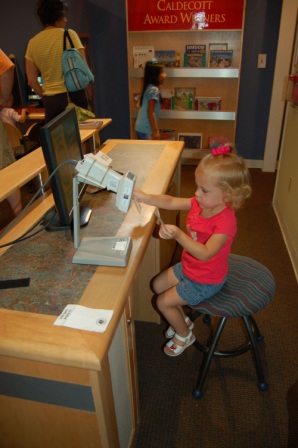 Perry the librarian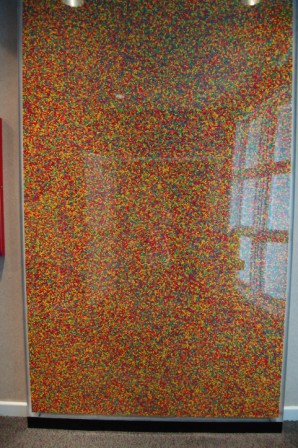 Huge display of Tart N Tiny candies!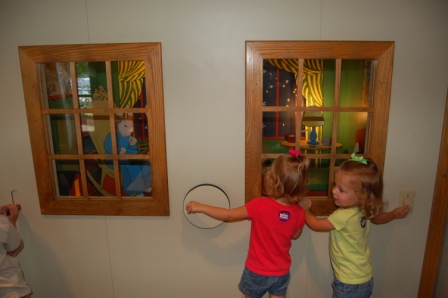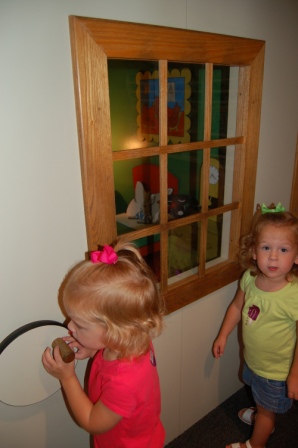 Good Night Moon exhibit
(For those that don't know, the bunny in this book is Perry's beloved Hop Hop)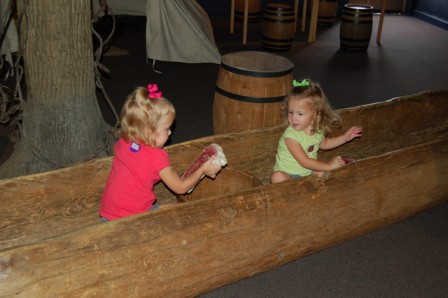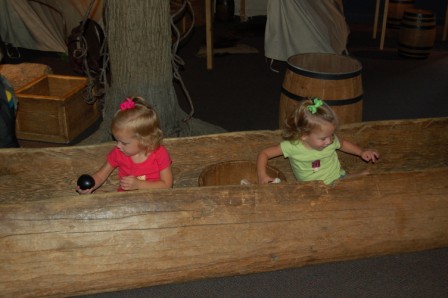 Lewis & Clark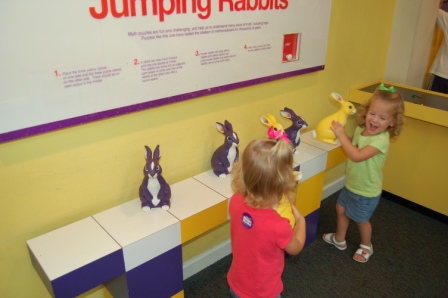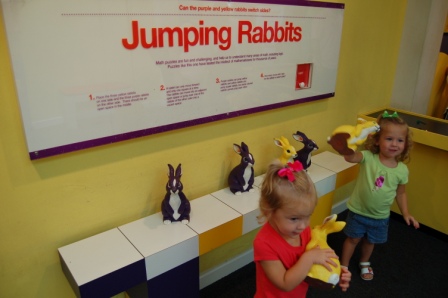 More Hop Hops!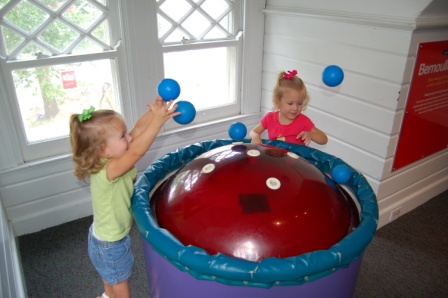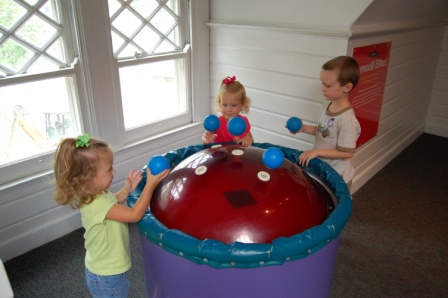 We loved the magic balls
Luca's 15 month pics at JCPenney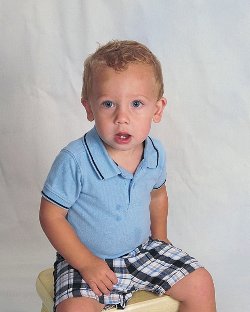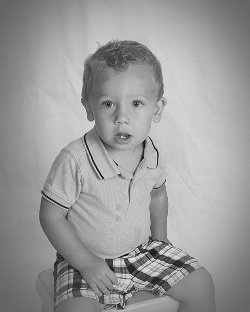 Serious pose...and in B&W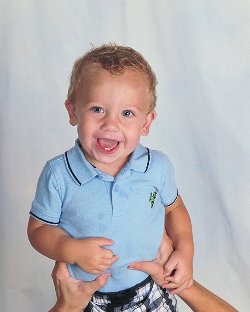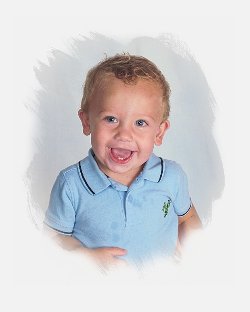 Mommy had to "fly" him around to get a smile...with my hands cropped out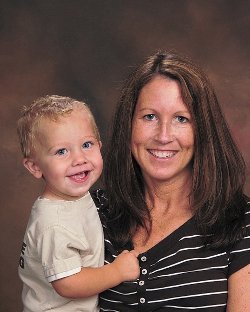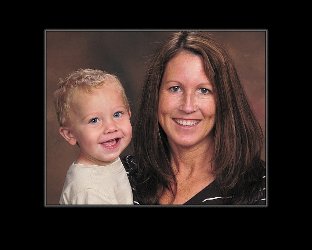 Mommy and Luca...and with the words on the back of his shirt cropped out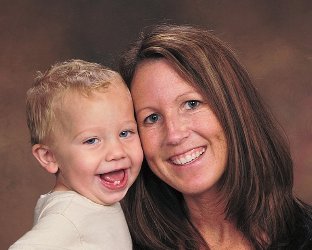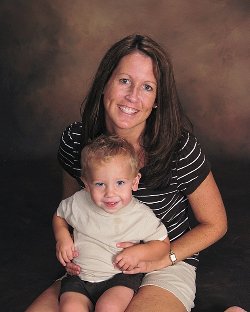 Pics where either Luca or Mommy have a funny look on their face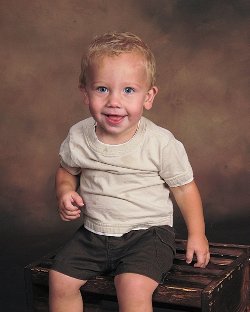 Mommy had to "fly" him for this picture too and then hurry up and set him down...that's why his shirt is so rumpled
Silly boy was NOT in the mood for pictures this day, but they didn't turn out half bad
August 13
Converted the cribs to big girl beds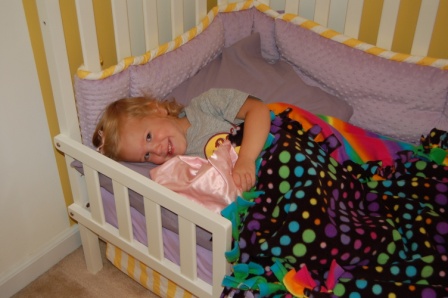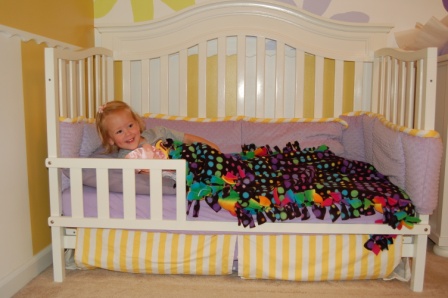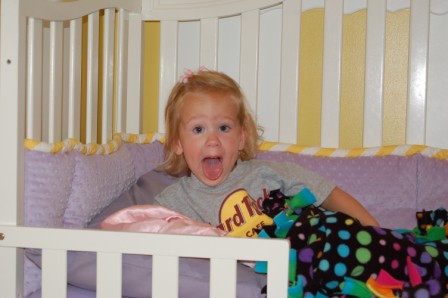 Perry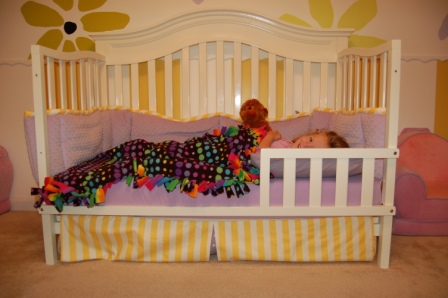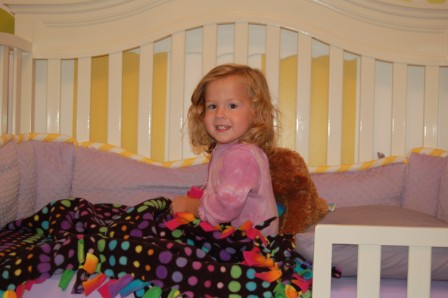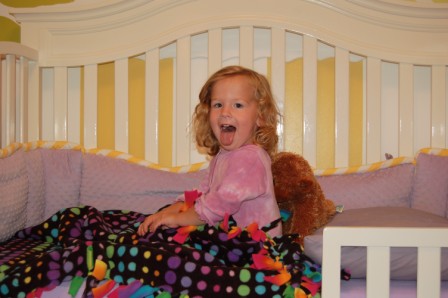 Ella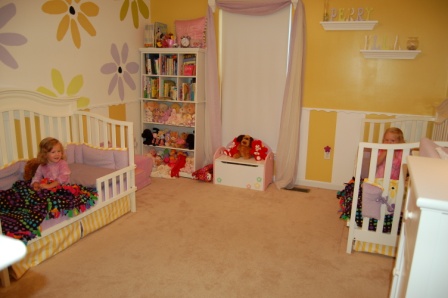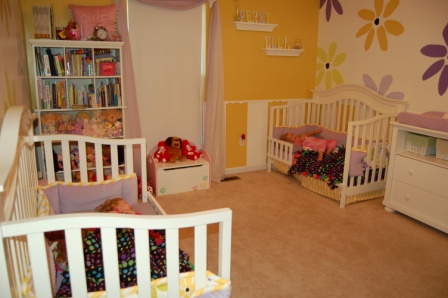 New room!
August 16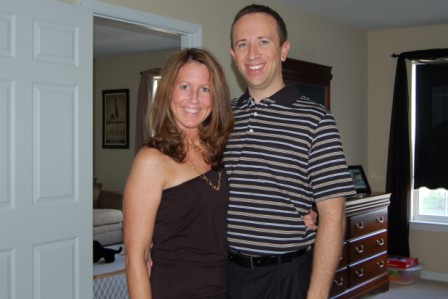 Mommy and Daddy went out for their anniversary (August 17th - 6 years!!)
August 18
First day of PRESCHOOL!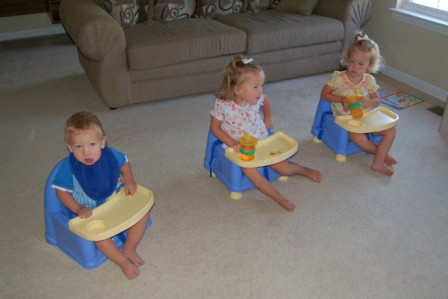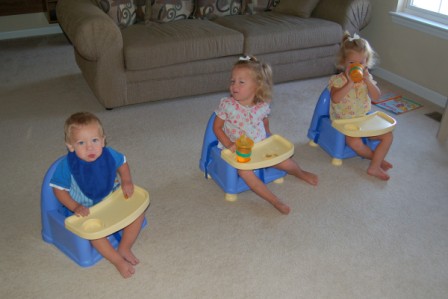 We still eat breakfast upstairs...aren't they cute??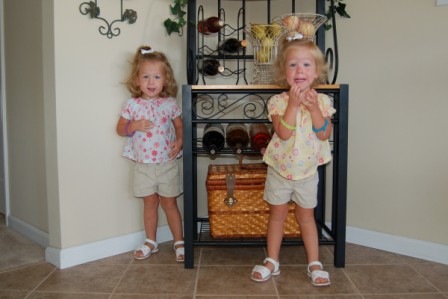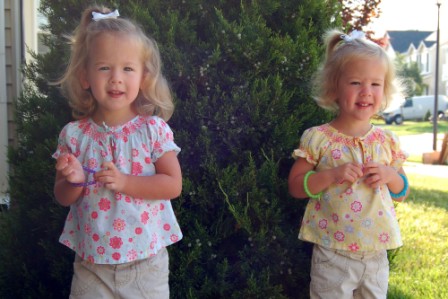 1st day of school!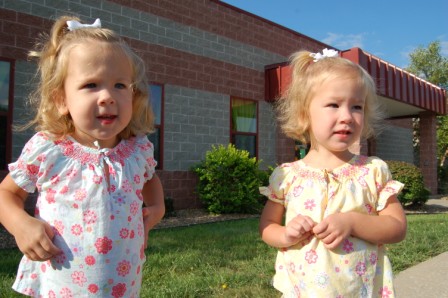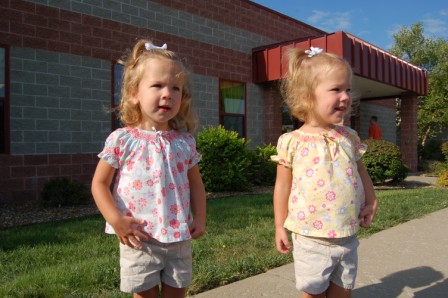 In front of their school
P&E are going to United Services in St Peters on Mondays/Wednesdays 9-12.
We're hoping 2 spots open up in Dardenne Prairie so they can go to the location right down the road from our house!
August 25
Luca and Perry hanging out on the deck
(Ella was in time out)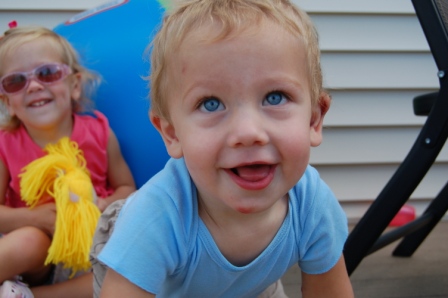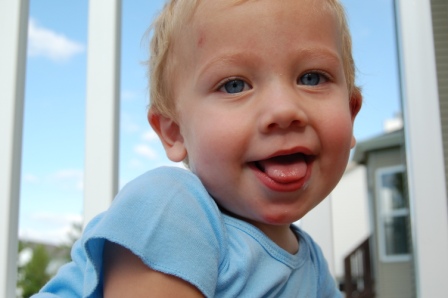 Handsome boy (with a boo boo chin and forehead)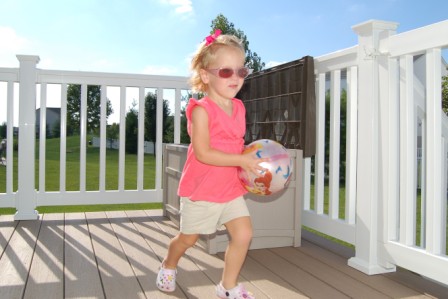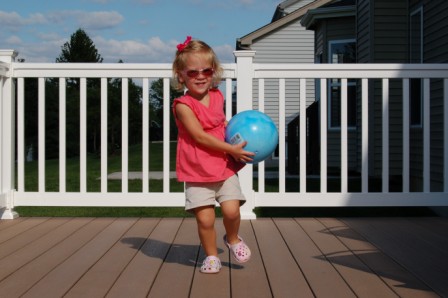 Sporty Spice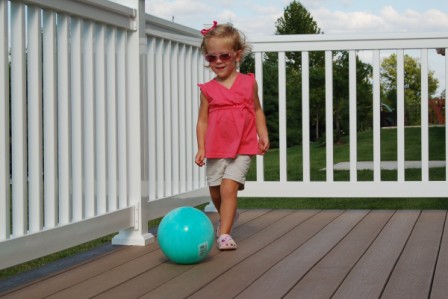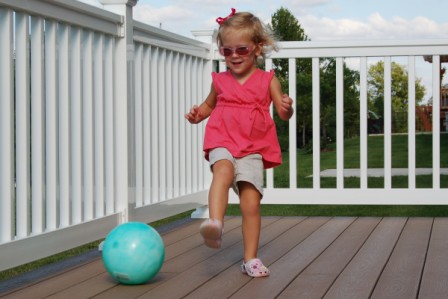 KICK!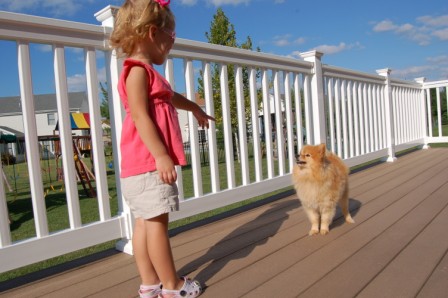 Riesy just got a hair cut and bath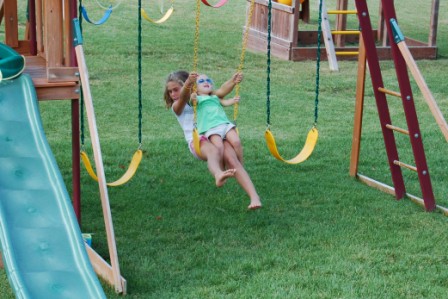 Ella swinging with our neighbor Lyndsey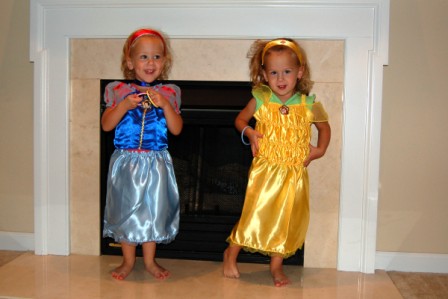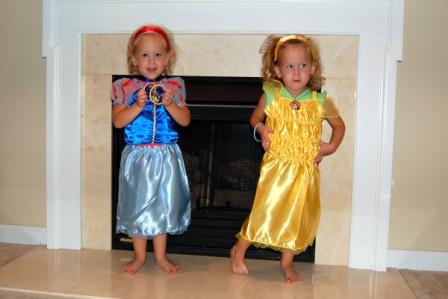 Trying on our princess "costumes" for Mickey's Not So Scary Halloween Party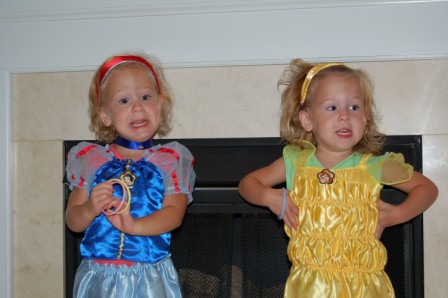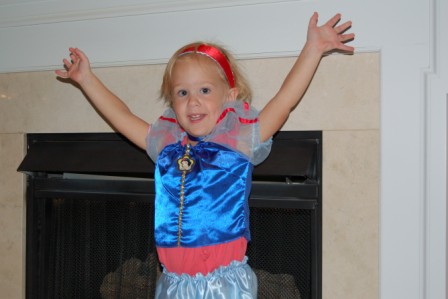 An exasperated "cheese"..."ta da"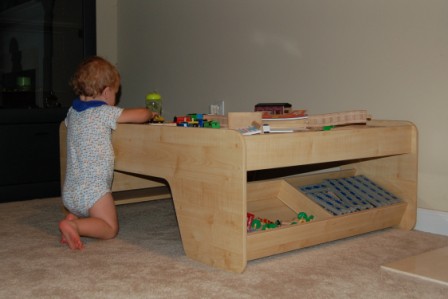 Luca playing independently with his train table, as usual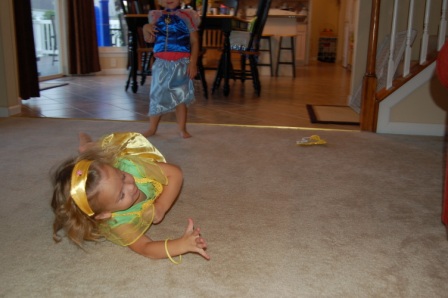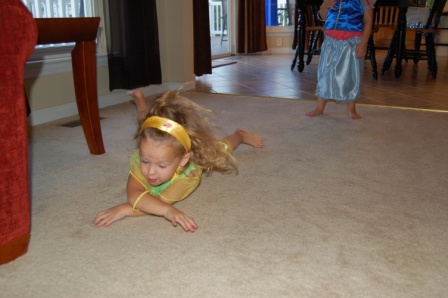 Ella has perfected the log roll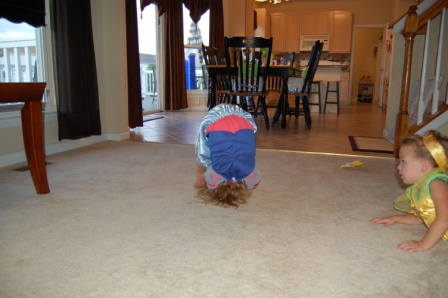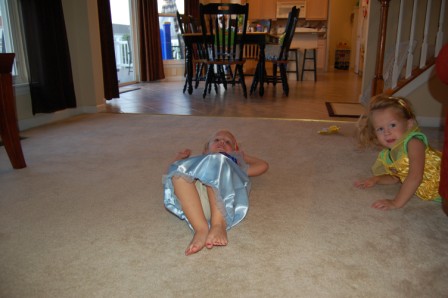 And Perry can do a forward roll all by herself!!
August 26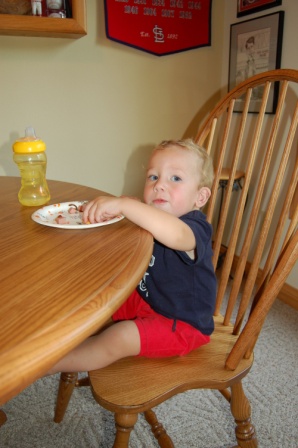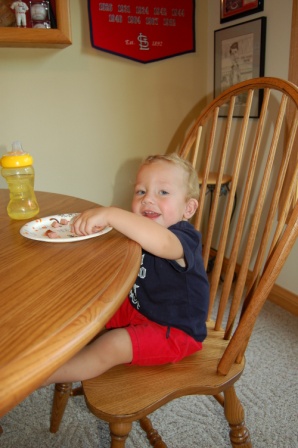 Luca eating lunch like a big boy at Teppie's
August 30
Six Flags...again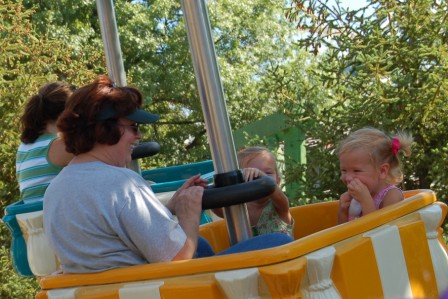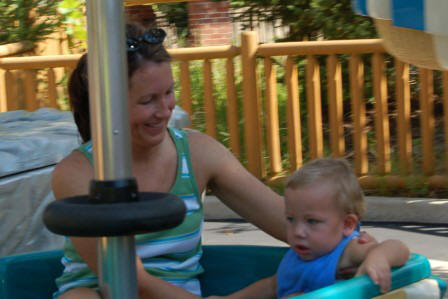 Elmer Fudd's ride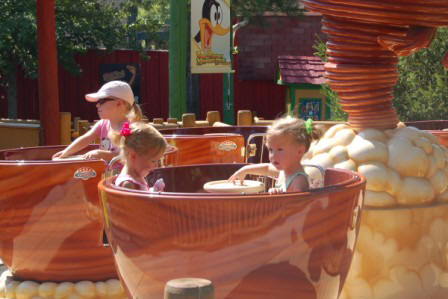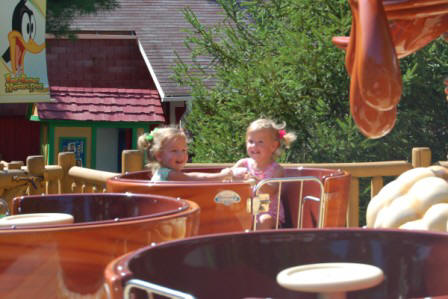 Tazmanian Devil ride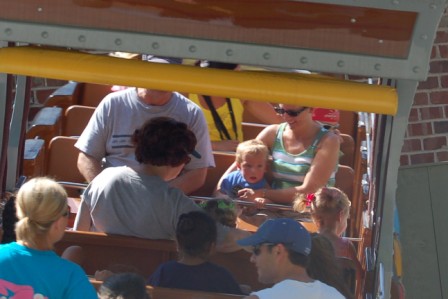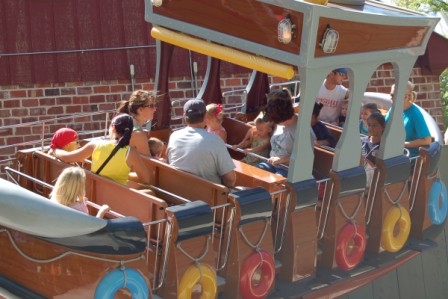 Tugboat ride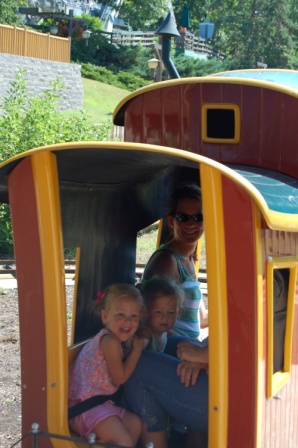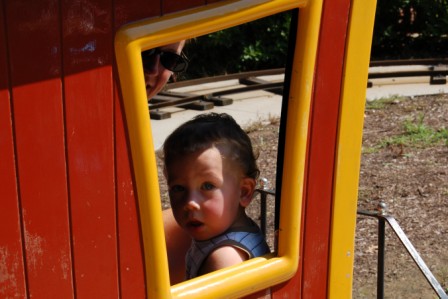 Tiny choo choo ride...Luca's usual expression while on a ride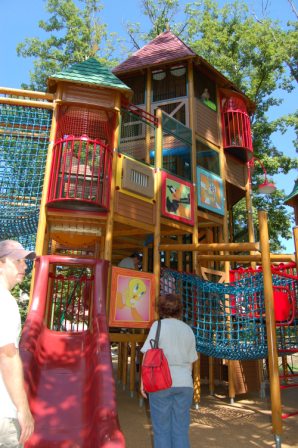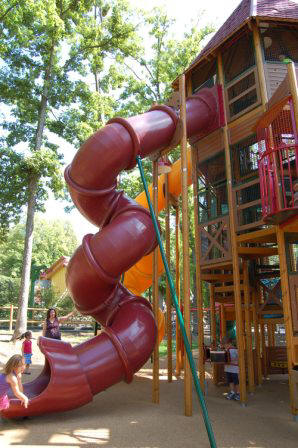 Favorite activity of the day...that we could probably do in a park 5 minutes from our house...go figure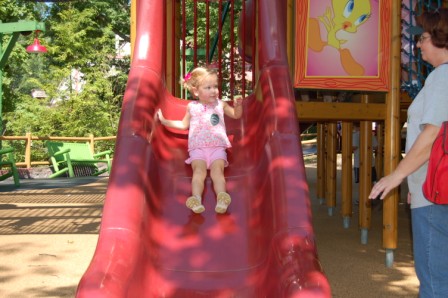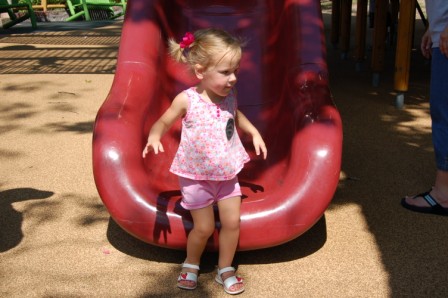 Perry sliding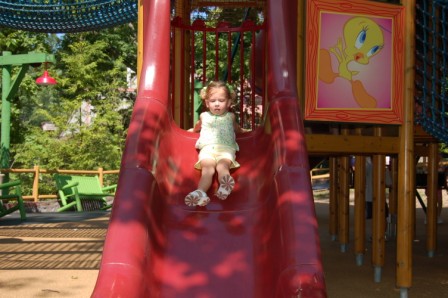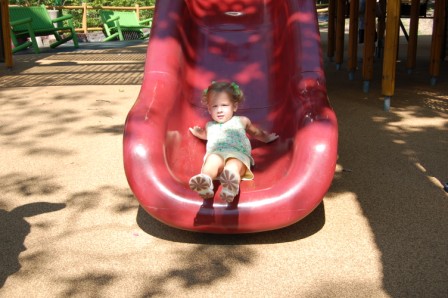 Ella sliding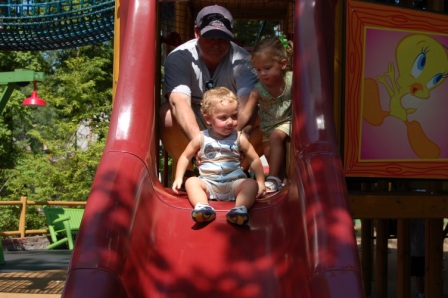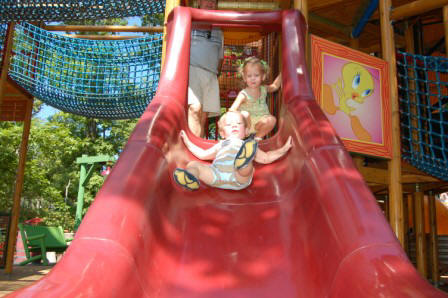 Luca sliding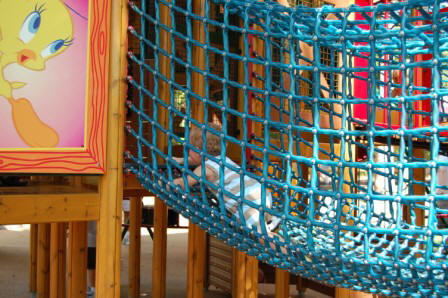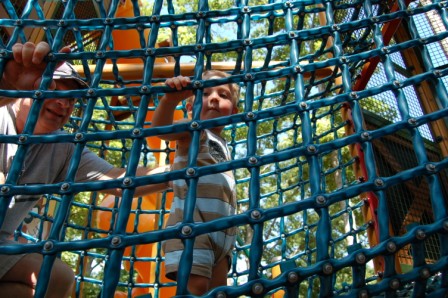 Luca climbing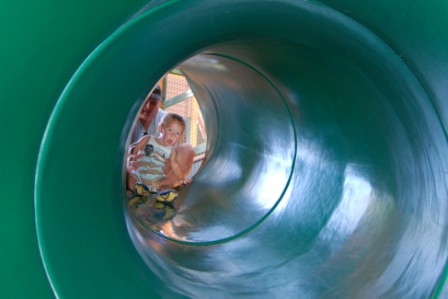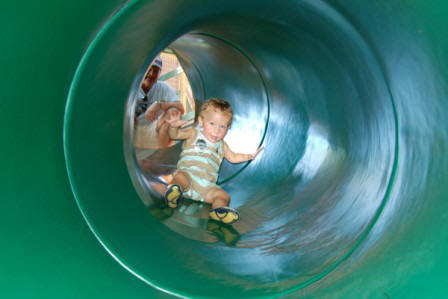 Luca in the green tunnel slide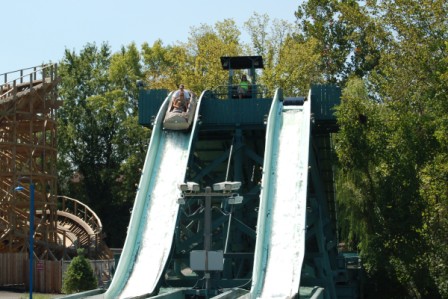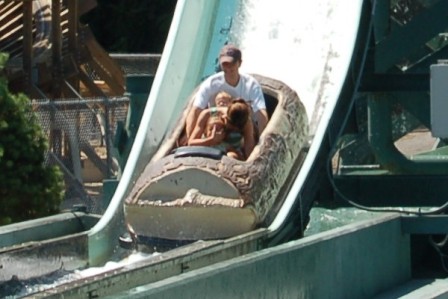 Log ride...notice how I'm totally covering Ella's face so she doesn't get wet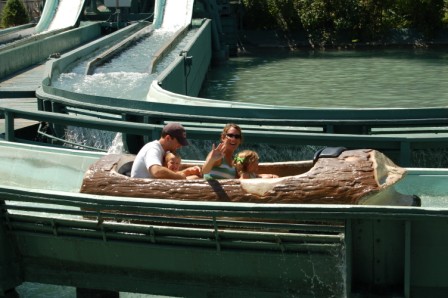 Perry was sad because she got a few drops on her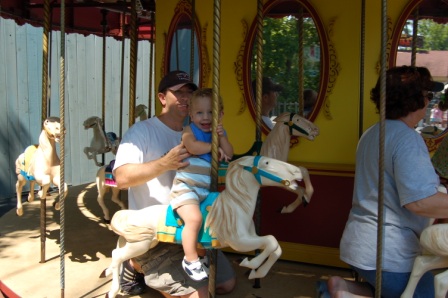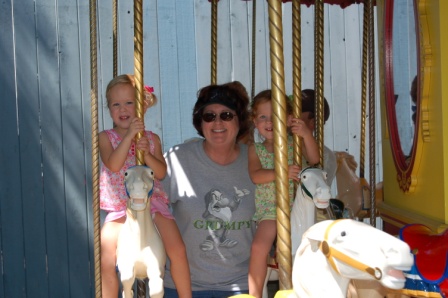 Tiny carousel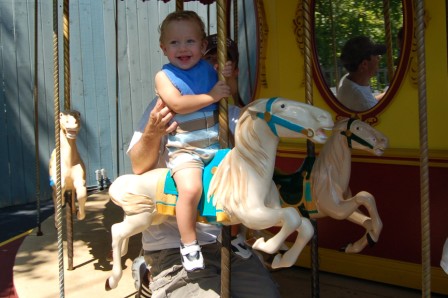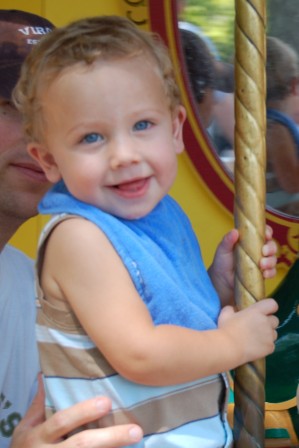 Luca blue eyes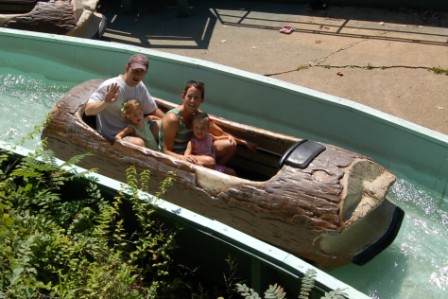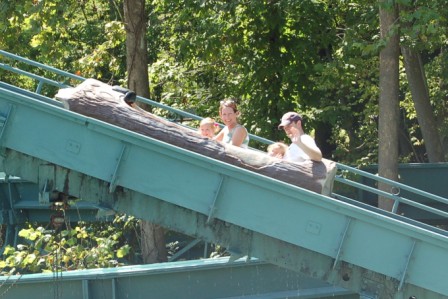 More log ride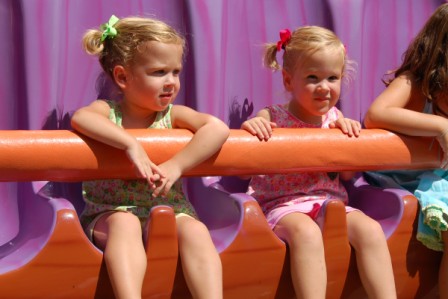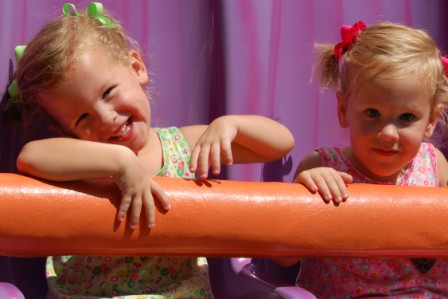 P&E on the Tweety Twee House ride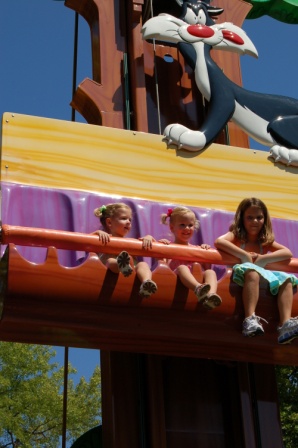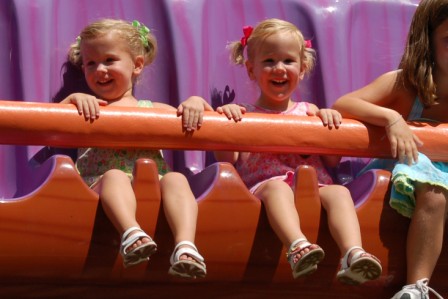 I suppose they're having fun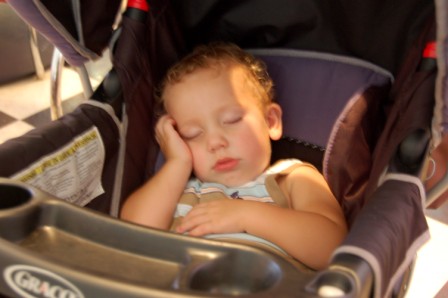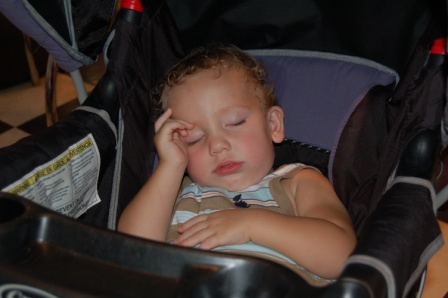 Luca sacked out for 2 hours!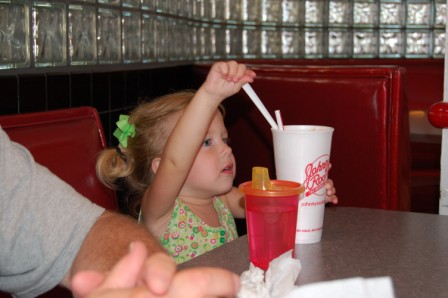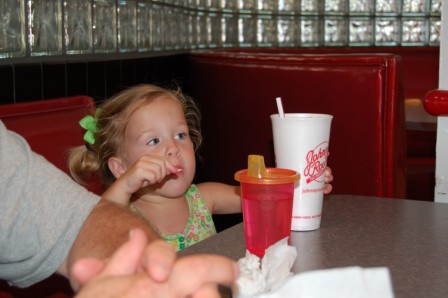 Ella and the "chocolate shake" (aka chocolate ice cream)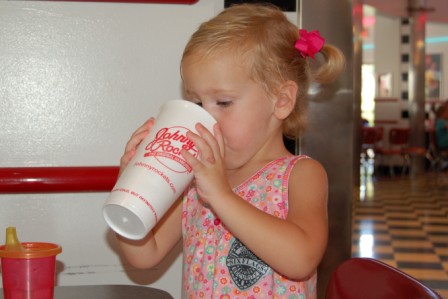 Perry was determined to drink hers through a straw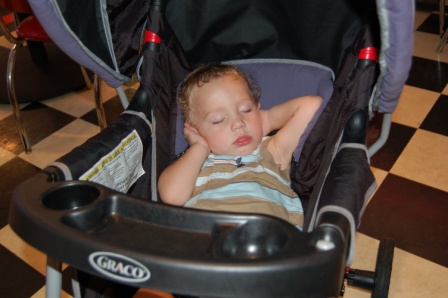 And both arms are behind the head now
♥ Back to Archives ♥