July 3
We are now the proud owners of season passes to Six Flags!
(we just went for the evening)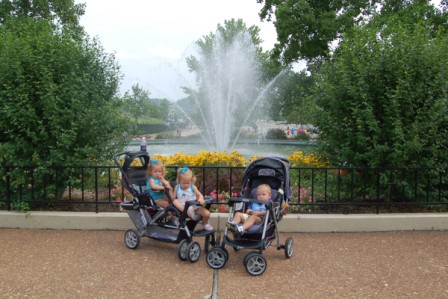 At the entrance fountain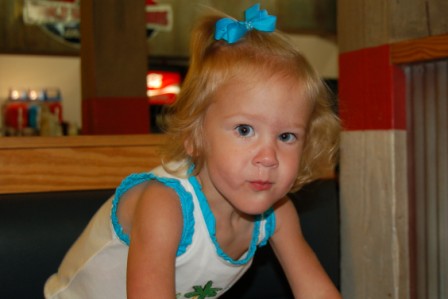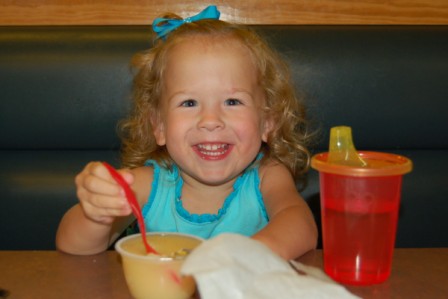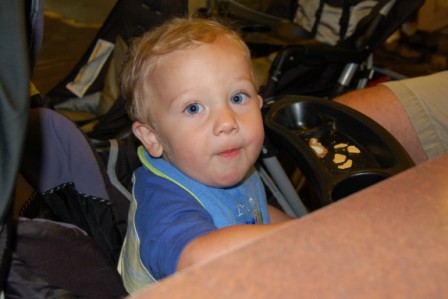 Eating dinner at the Villain's Cafe (Mexican)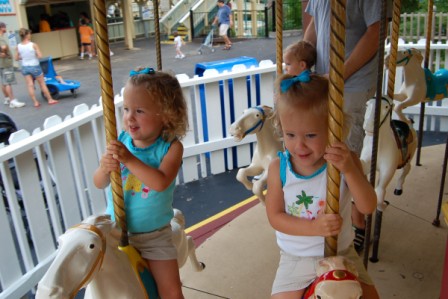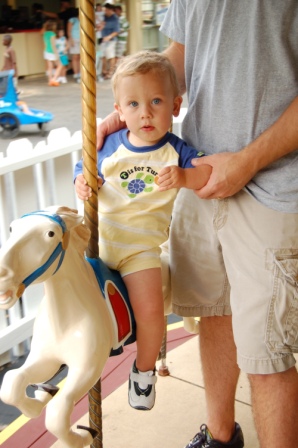 On the kiddie carousel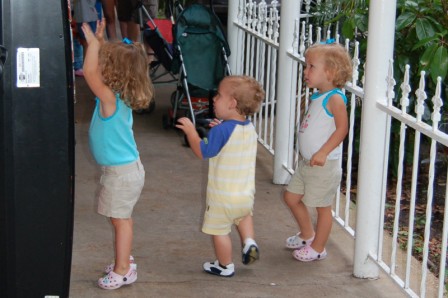 Playing the "bang on the Coke machine" game, waiting for the train to come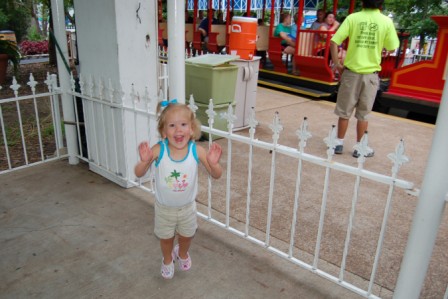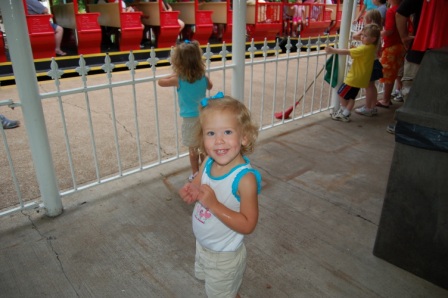 Perry is VERY excited to see the train
(the girls woke up from their naps asking about the choo choo)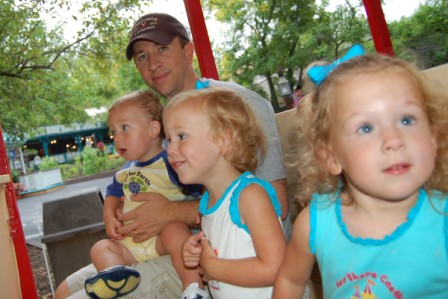 All aboard!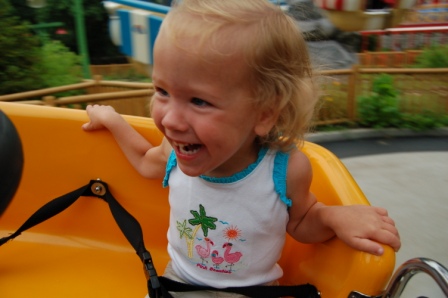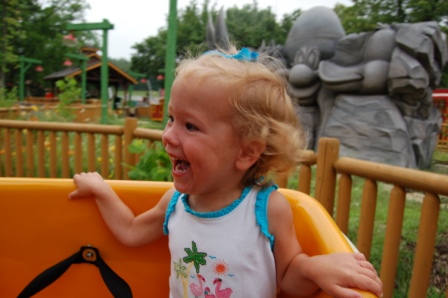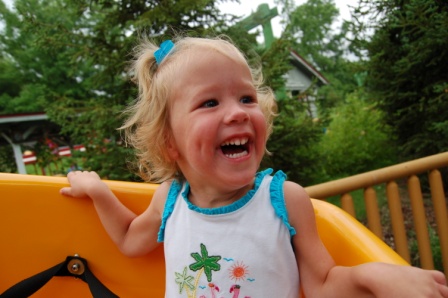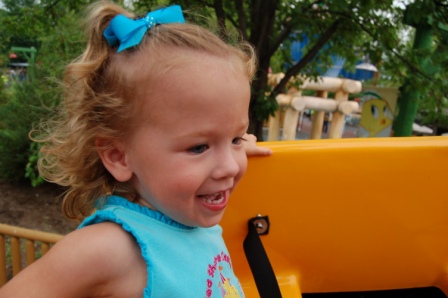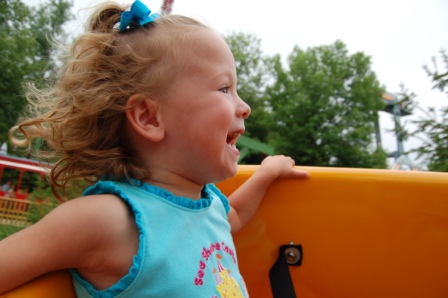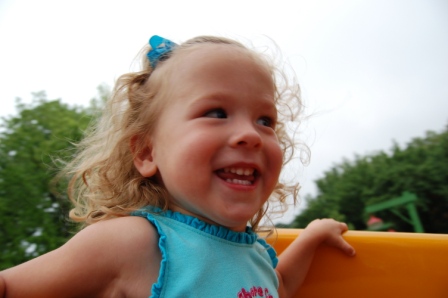 Mommy, Perry, & Ella on the spin around/go up and down till you barf ride
(aka Elmer Fudd Weather Balloons)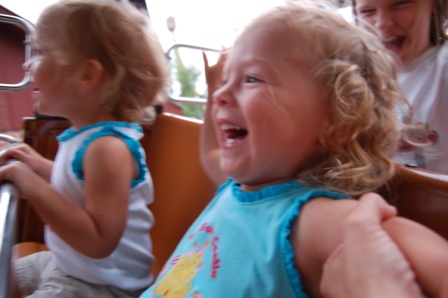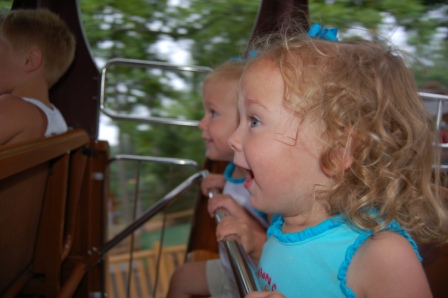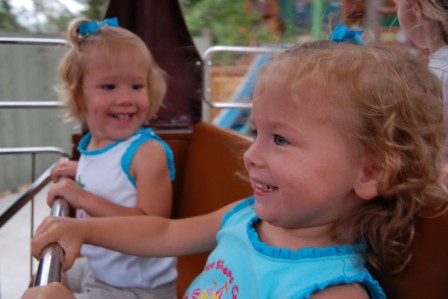 This ride looked like it just went back and forth, but lo and behold, it was another spin around till you barf ride
(otherwise known as Yosemite Sam Tugboat Tailspin)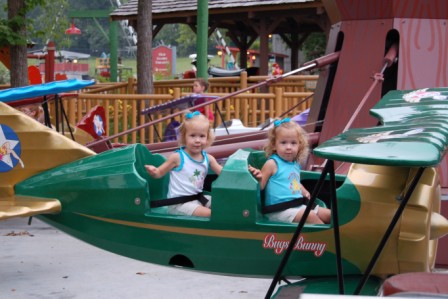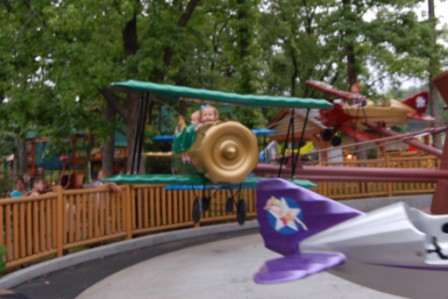 Flying on the Bugs Bunny Ranger Pilot ride
(one of them actually managed to pull the stick a little to get them in the air)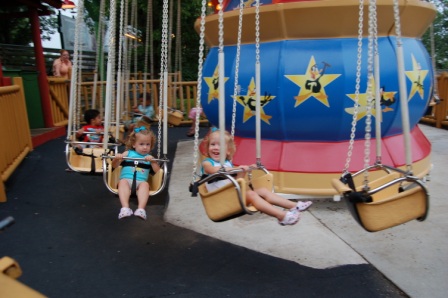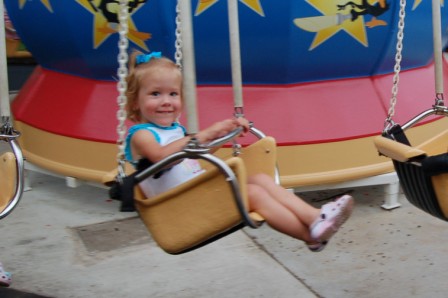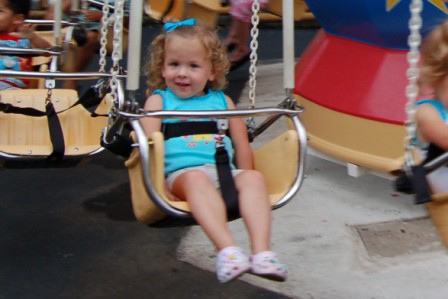 Swinging on the Daffy Duck Swing ride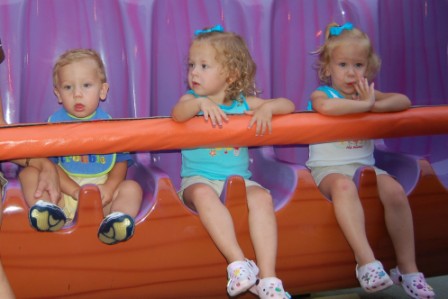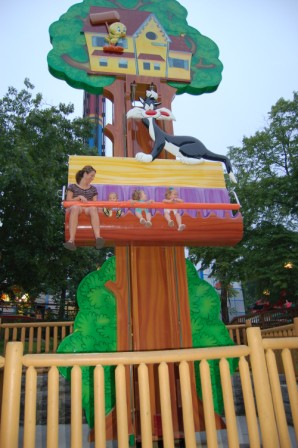 All 3 kiddos (and Mommy) on Tweety's Twee House ride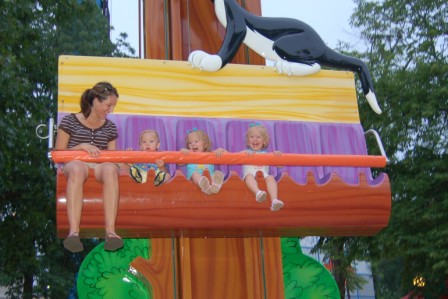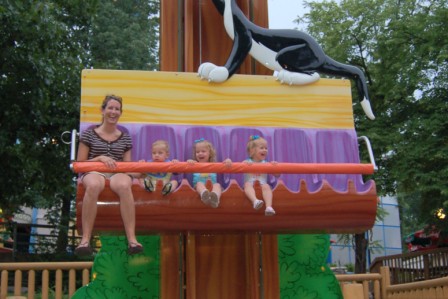 You can't really tell, but P&E loved it and Luca was just indifferent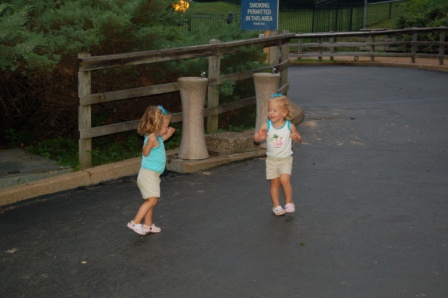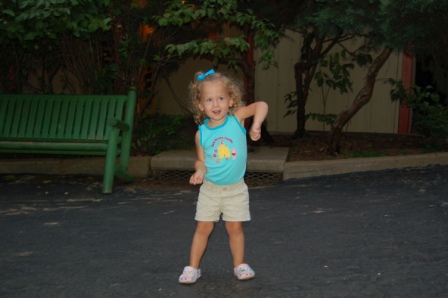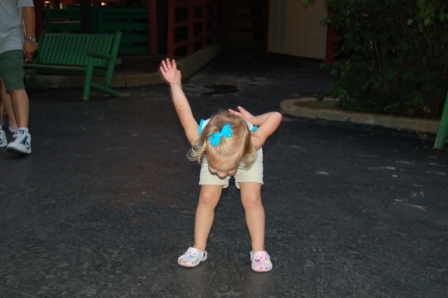 Dancing to an R&B band that was playing at Old Glory Amphitheater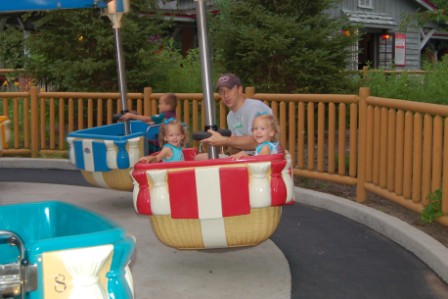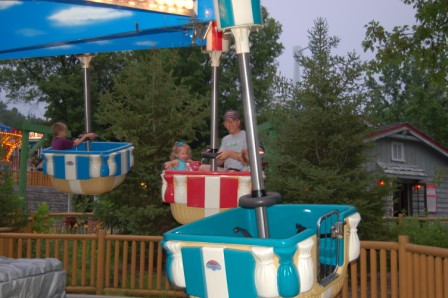 This time Daddy rode the Elmer Fudd spin till you barf ride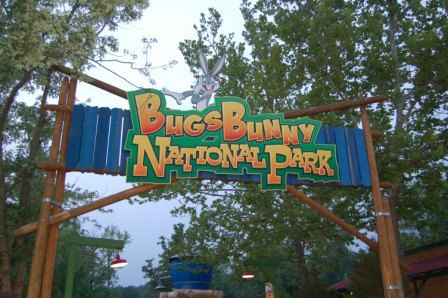 The entrance to the kiddie area (which is completely new)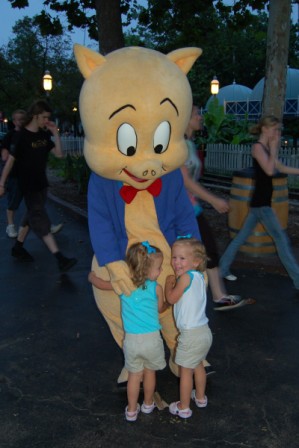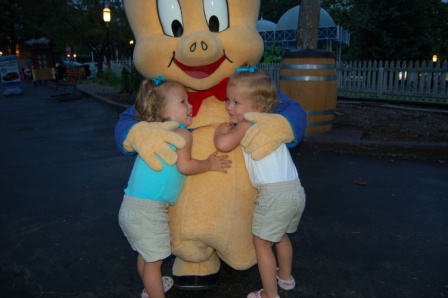 The girls and Porky Pig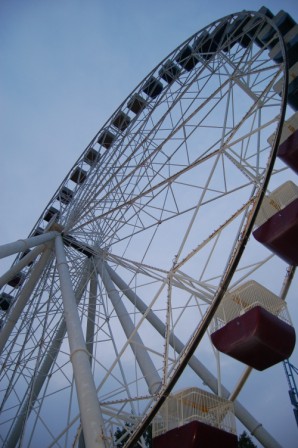 Yep, they can all go on the Colossus (do you believe that?)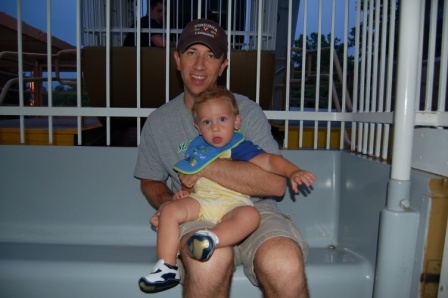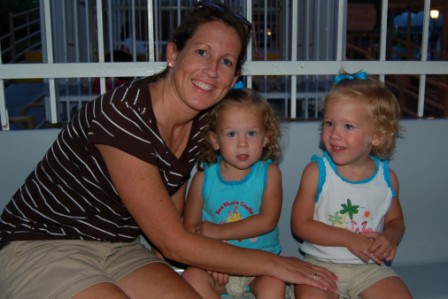 Luca and Daddy...Mommy, Ella, Perry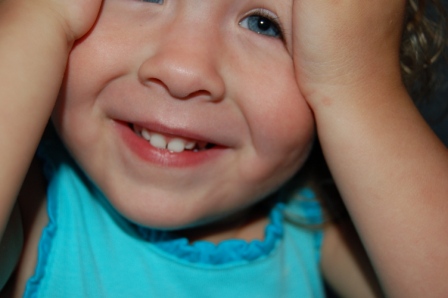 Ella says, "OMG, what have I gotten myself into!?!?"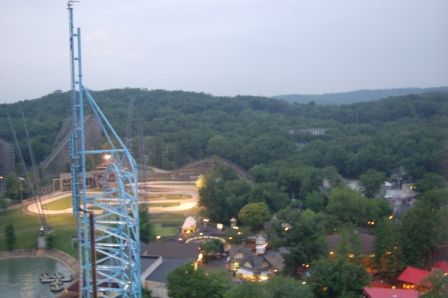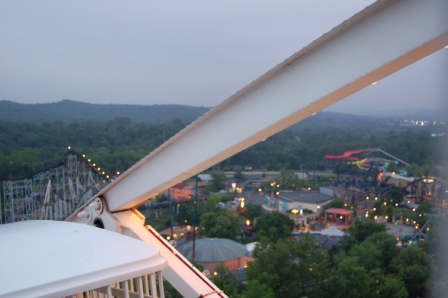 Views from the top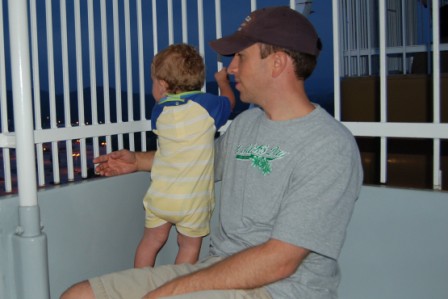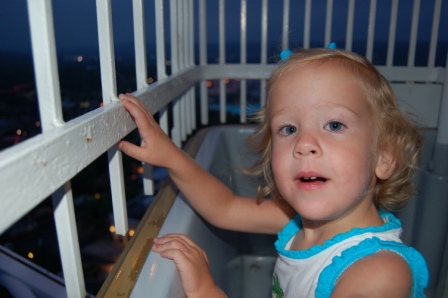 Luca and Perry checking out the views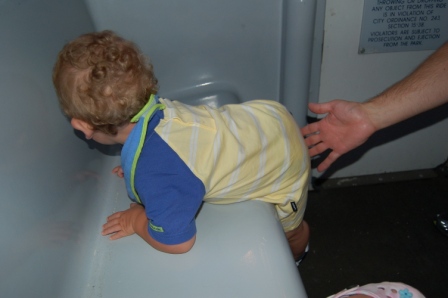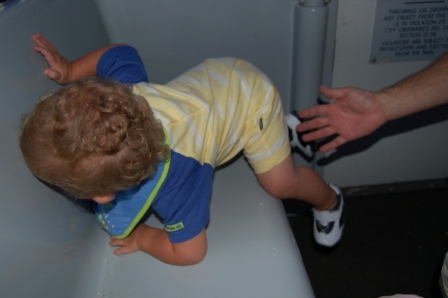 Luca wants to check out the views on the girls' side of the "cage"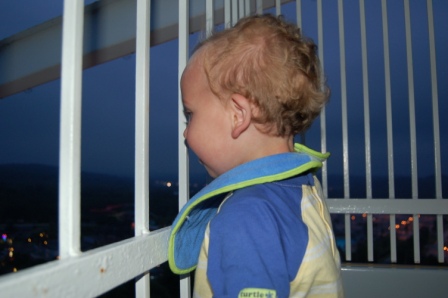 "Ah, very nice"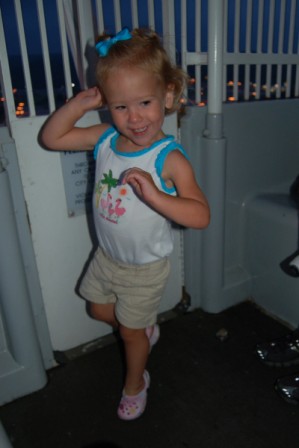 Perry breaking the "don't rock the cage" rule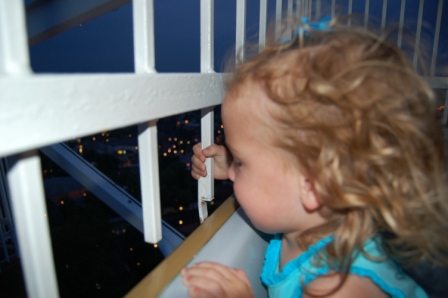 Ella finally looking out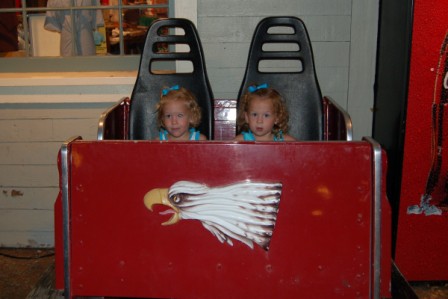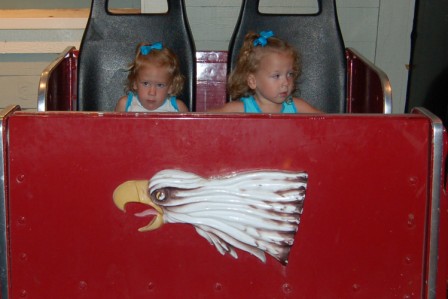 Oh yeah, Screamin' Eagle baby!
(not really)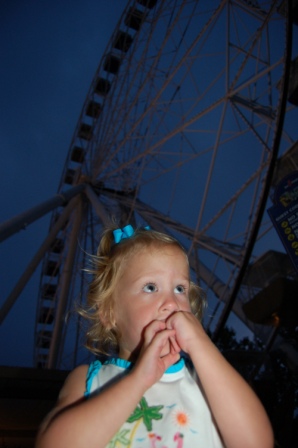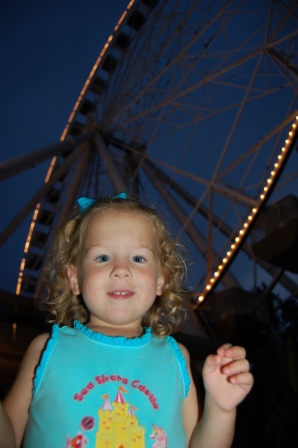 Perry and Ella with the Colossus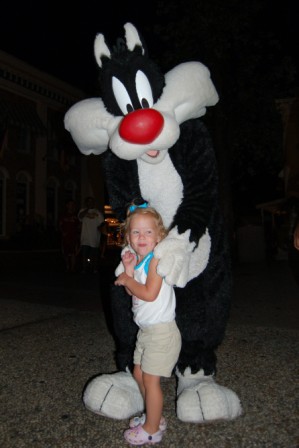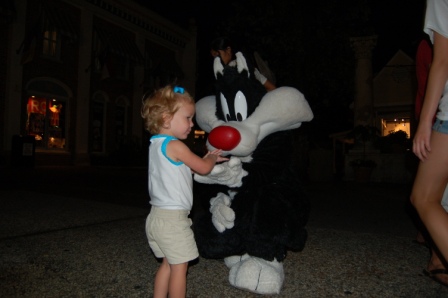 Perry saying hi to Sylvester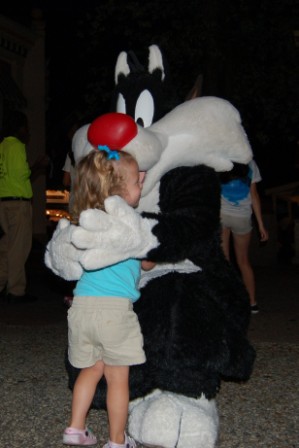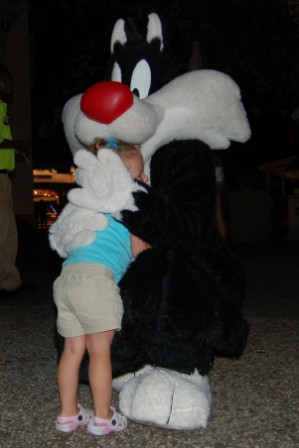 Ella hugging Sylvester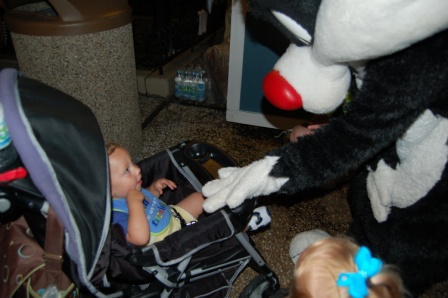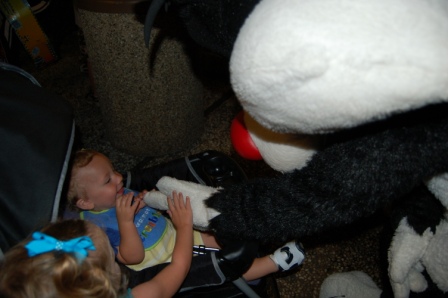 Luca low five-ing Sylvester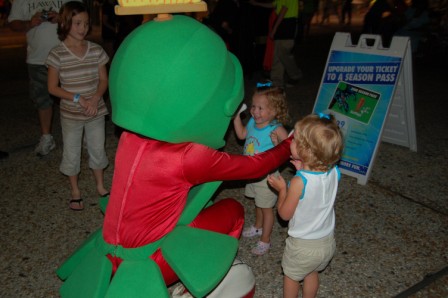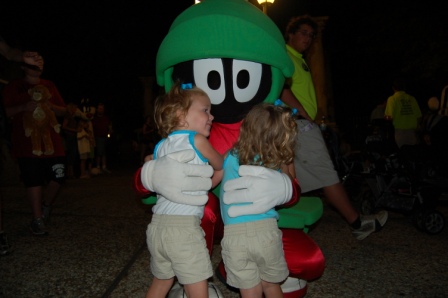 Marvin the Martian
(they're certainly not scared of any of these weird looking characters)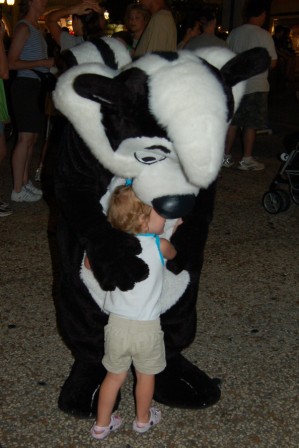 Perry and PePe Le Pew
THAT'S ALL FOLKS!
July 4
Happy 4th of July!
O'Fallon Heritage Festival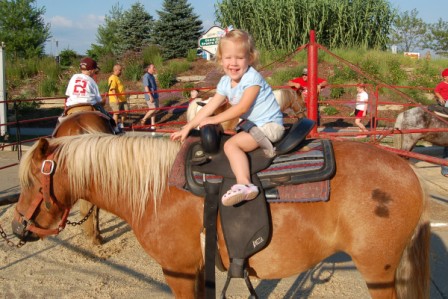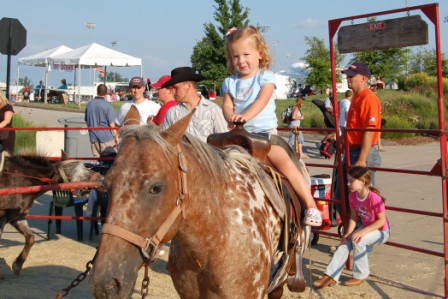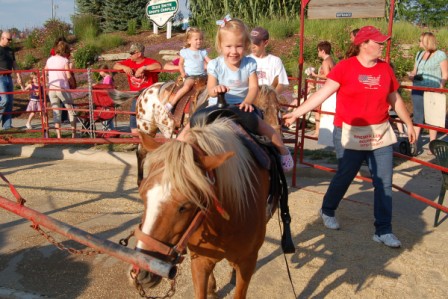 Riding the REAL horsies
(Perry LOVED it, Ella got a little scared so Daddy had to walk next to her)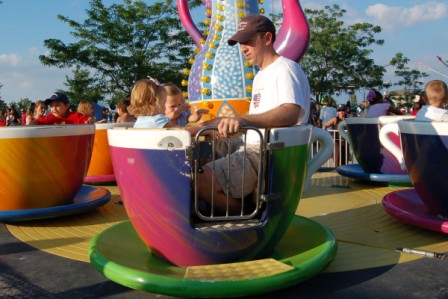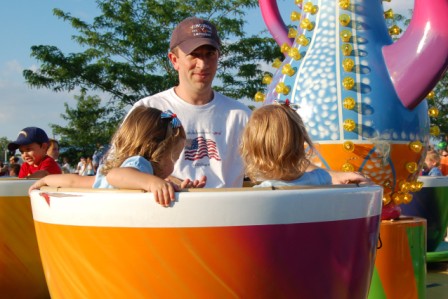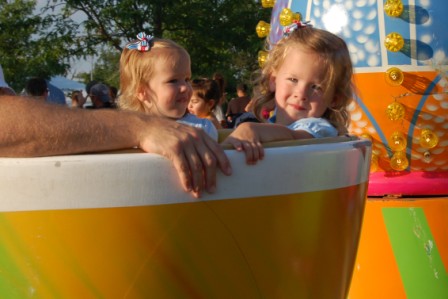 Spinning teacups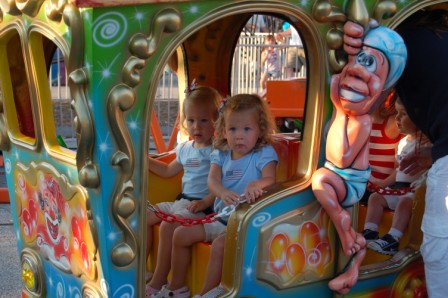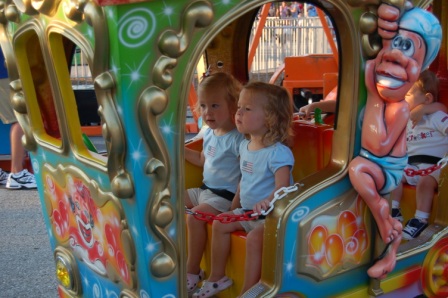 Circus train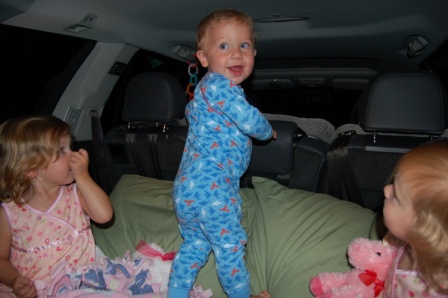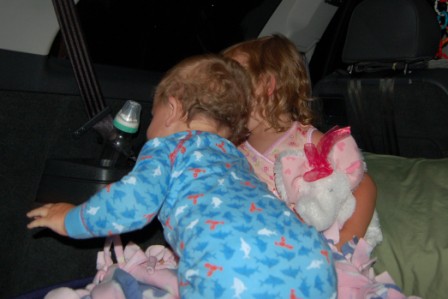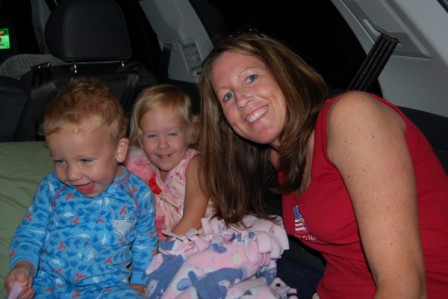 Hanging out in the back of the SUV, waiting for fireworks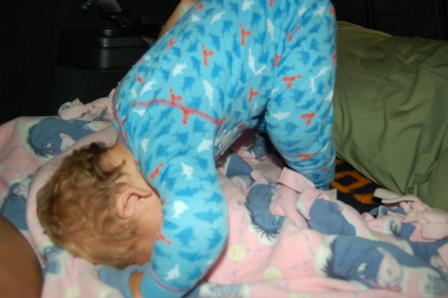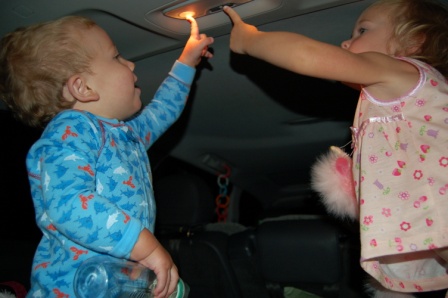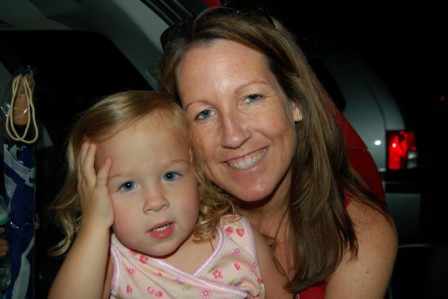 All kinds of fun with 3 under 3 in a confined area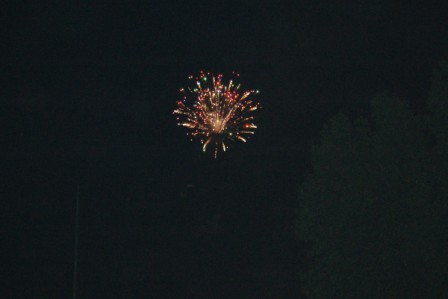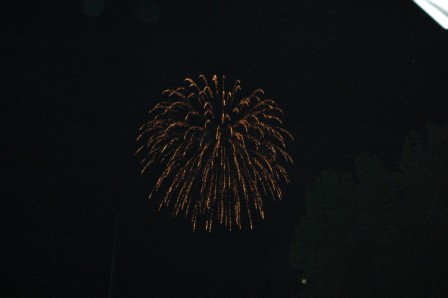 Oooh...ahhh!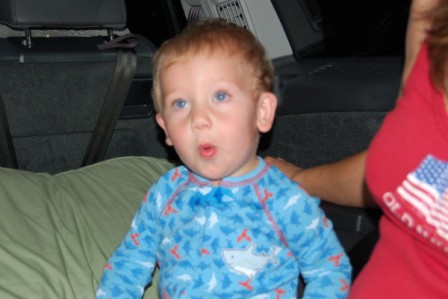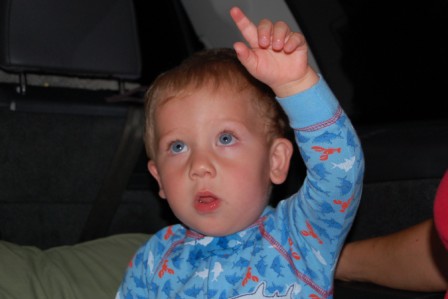 Luca likes them!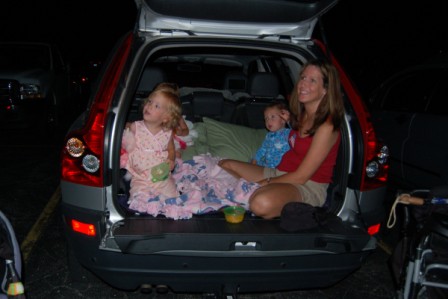 The viewing area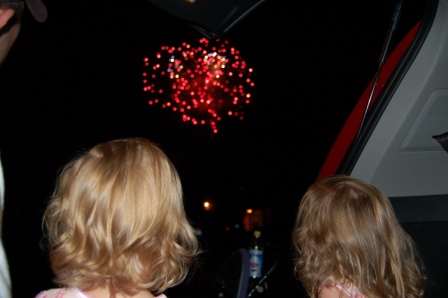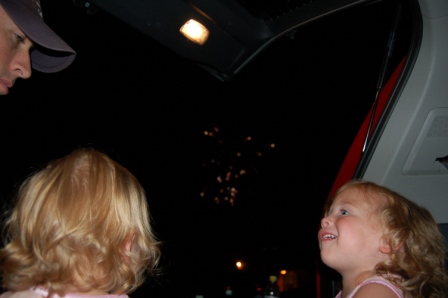 P&E watching with Daddy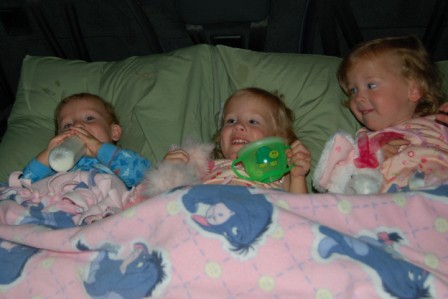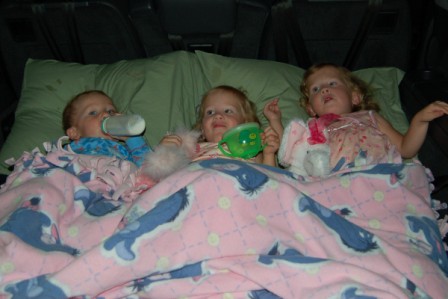 Snug as bugs in a rug
(we think the girls liked having their blankets and pillows in the back of the car more than the fireworks)
July 5
Fireworks at Winghaven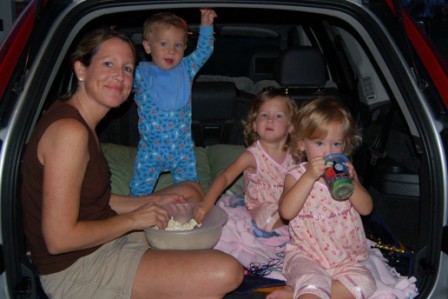 We brought popcorn this time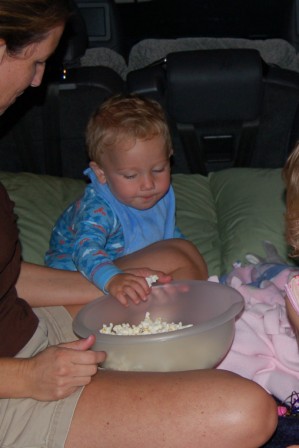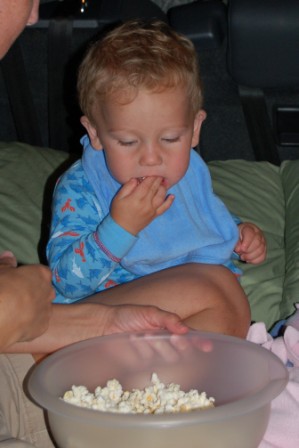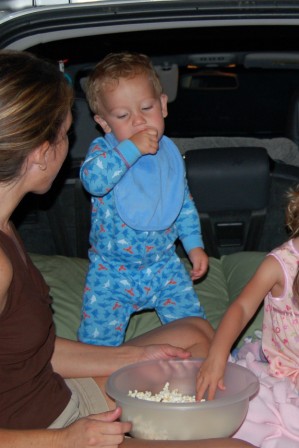 Luca likes popcorn too!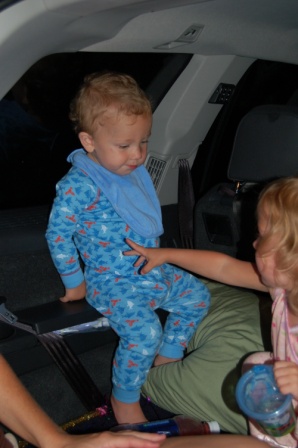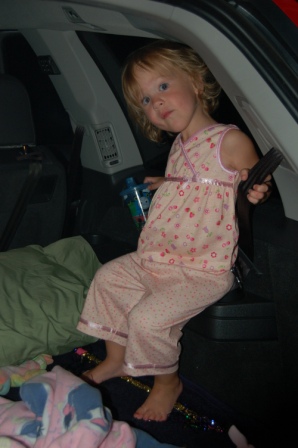 Luca found a little "bench" to sit on...Perry copied him
July 7
Another trip to Six Flags since Daddy was off work
(too bad it was 95 degrees!)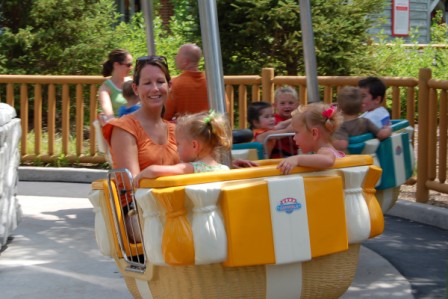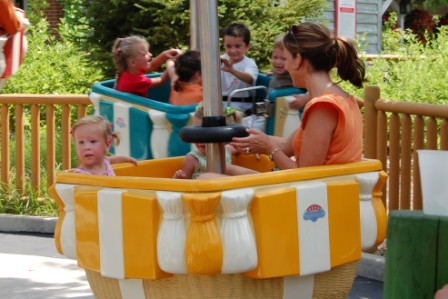 More spin around rides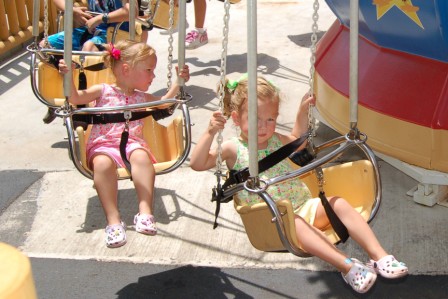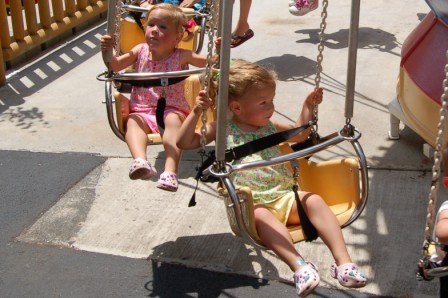 Swings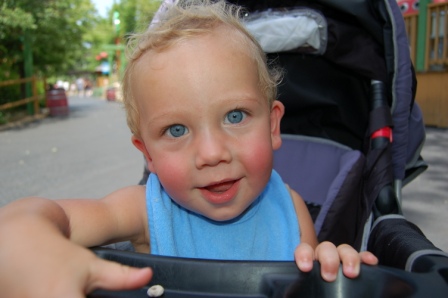 Silly Luca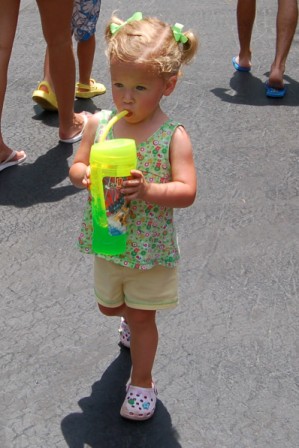 Ella and the BIG Powerade bottle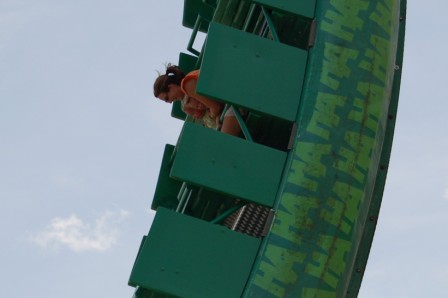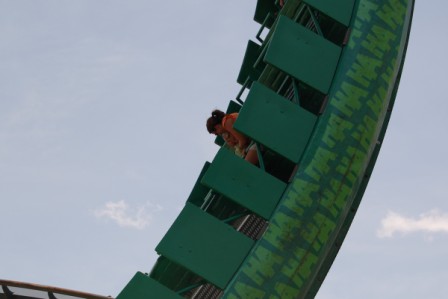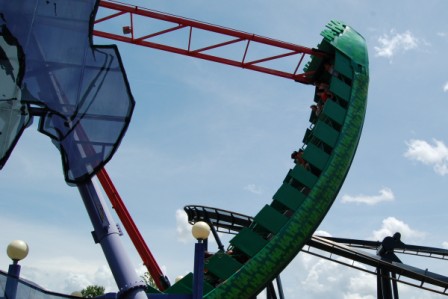 Yeah, that's Mommy and the girls on the Joker ride
(NOT a big hit with P&E)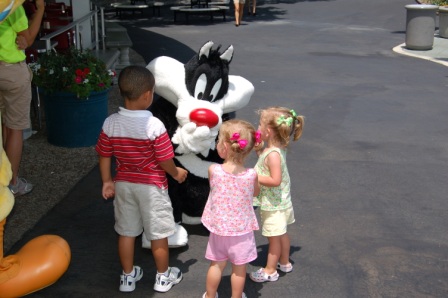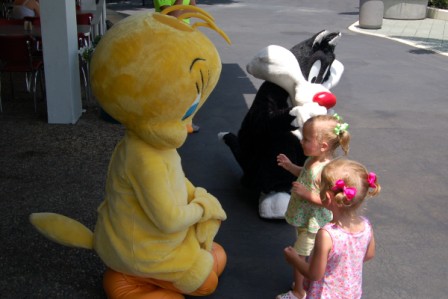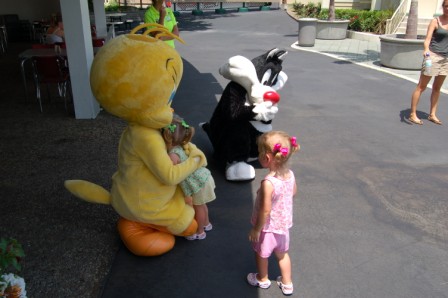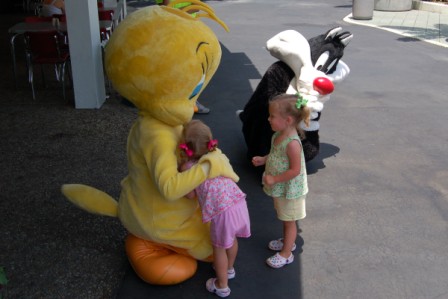 Sylvester and Tweety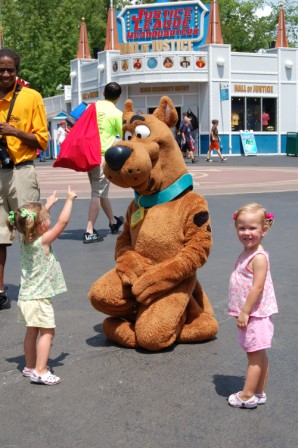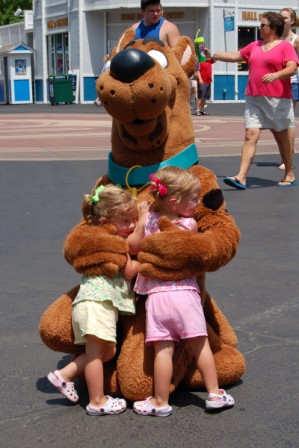 Scooby Doo
July 12
Just hangin' out on the deck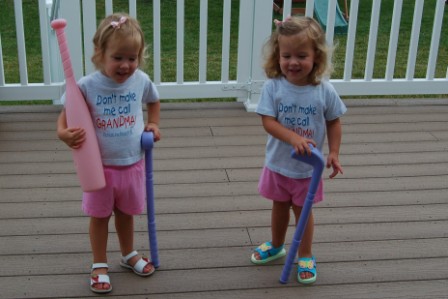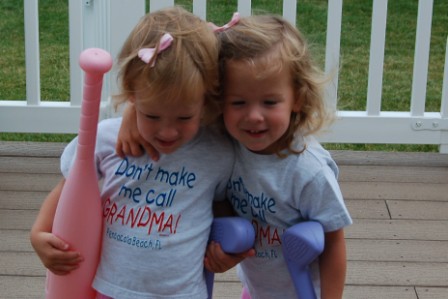 Sporty girls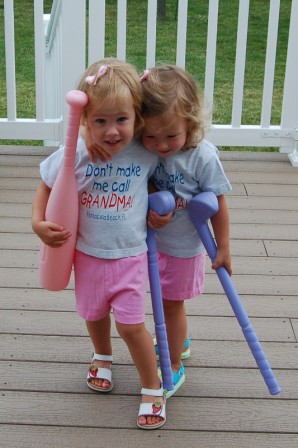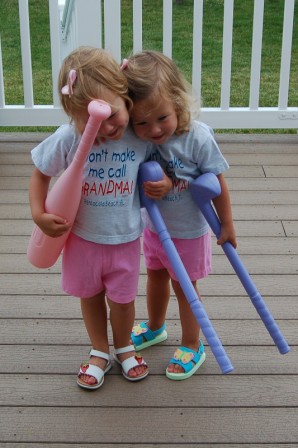 Sisterly love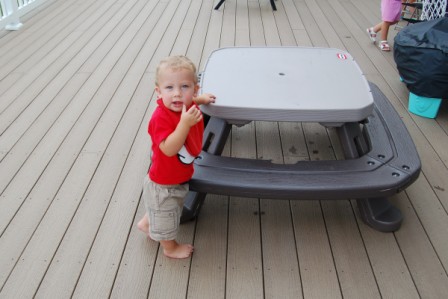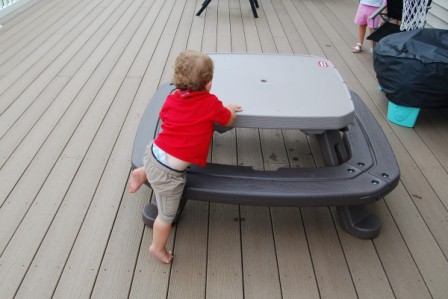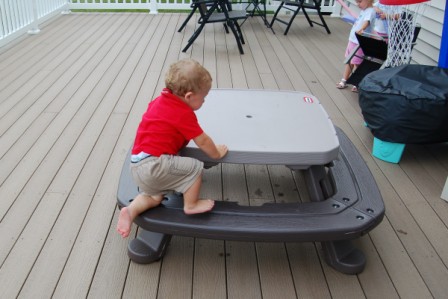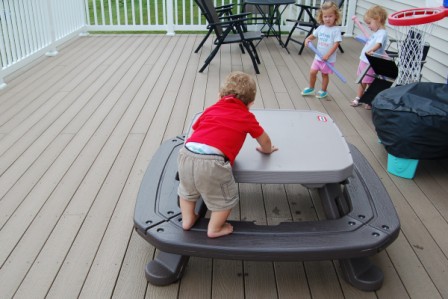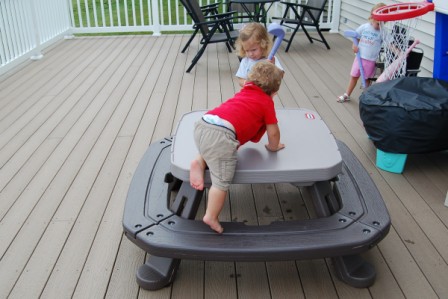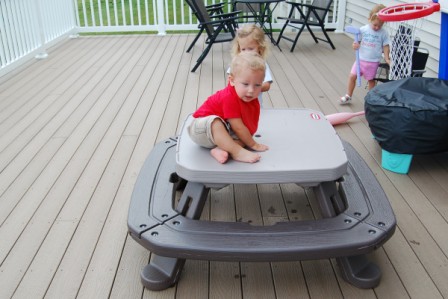 Yup, he's a boy
July 13
Bubbles at Great Grandma Teppie's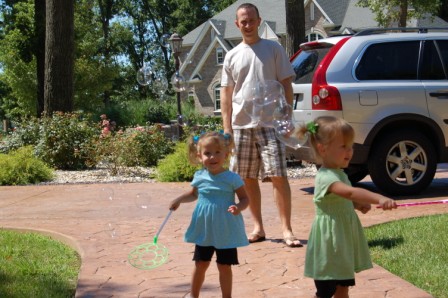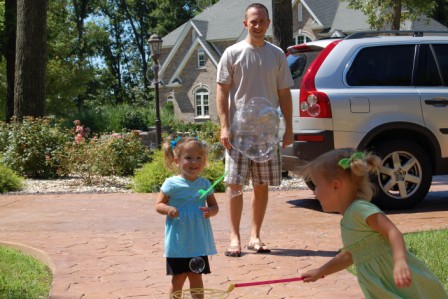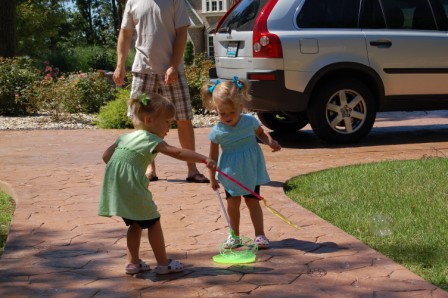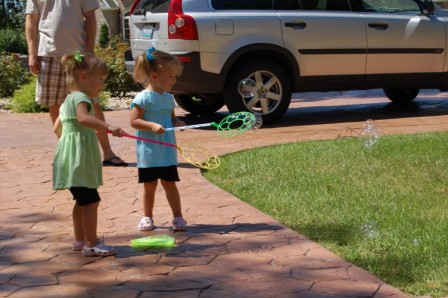 If you look real close, you can see the bubbles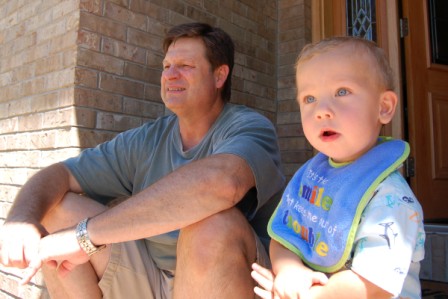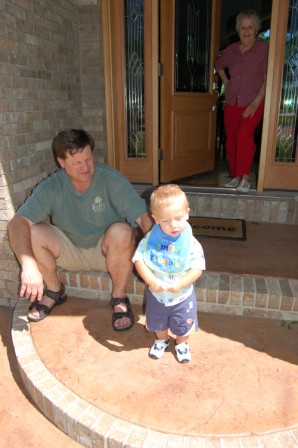 Peanut gallery
(Grandpa John, Luca, and "Teppie")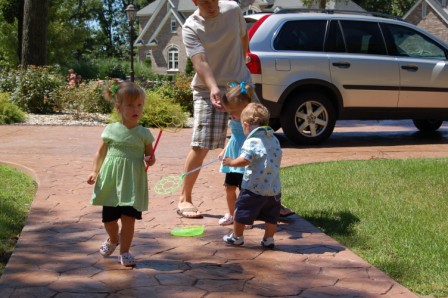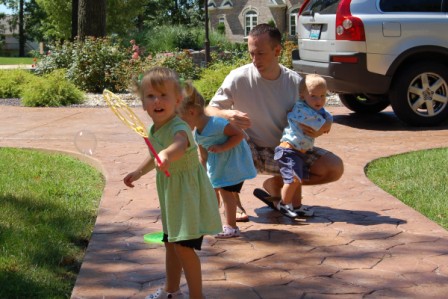 Luca wants a wand too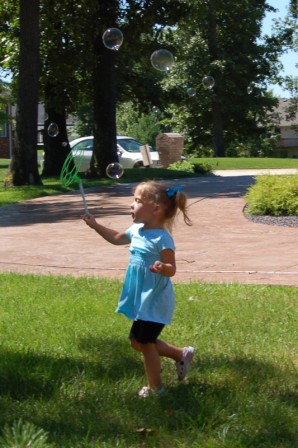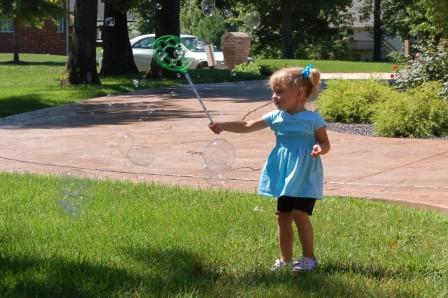 Ella was pretty good with the wand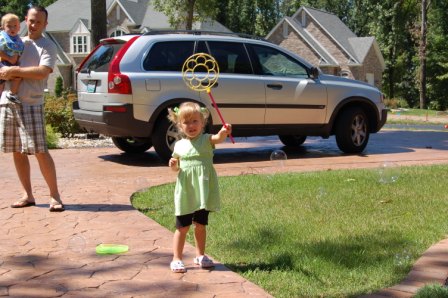 Perry took awhile to get the hang of it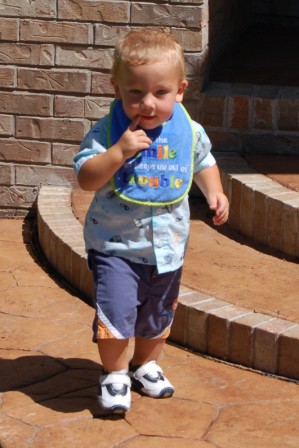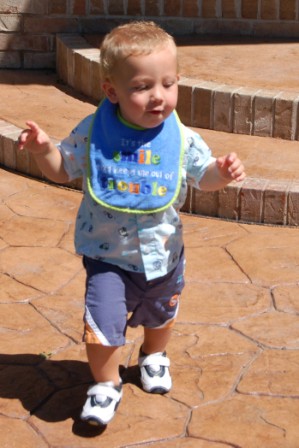 Luca looking very Hawaiian
July 18
Gymnastics class at the Y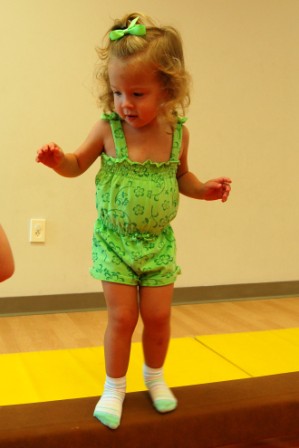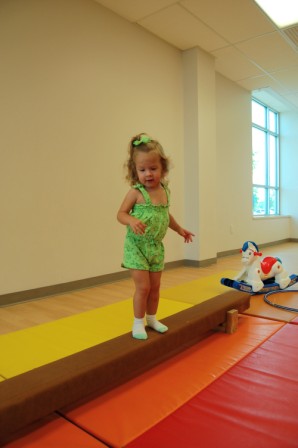 Ella on the balance beam, going sideways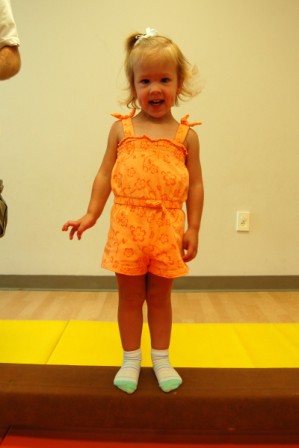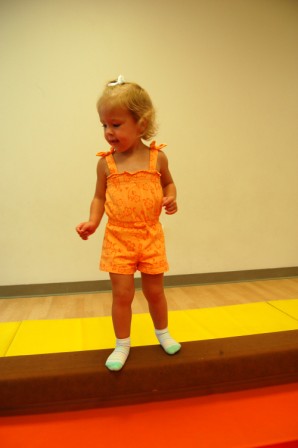 Perry saying "cheese" and working on her balance skills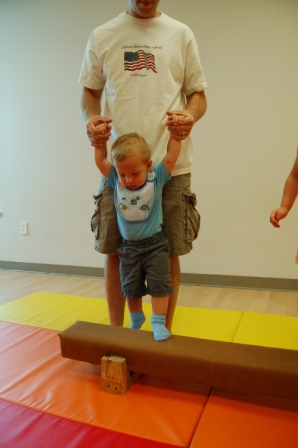 Luca getting a little help from Daddy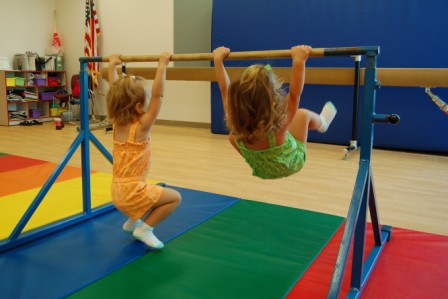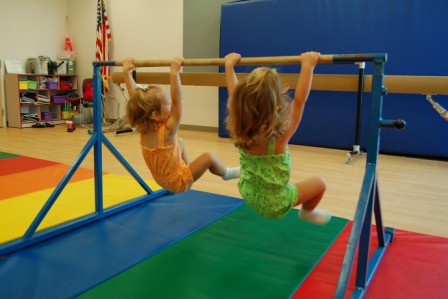 Woo hoo!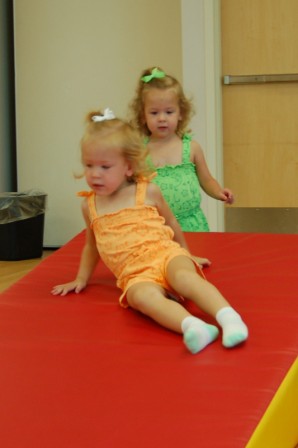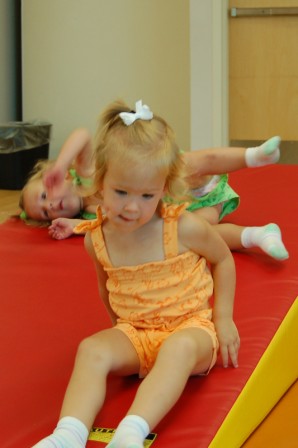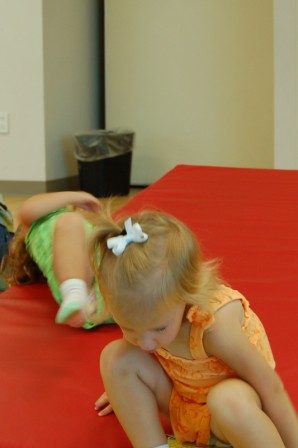 Ella attempting the log roll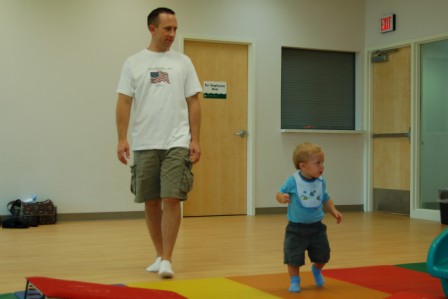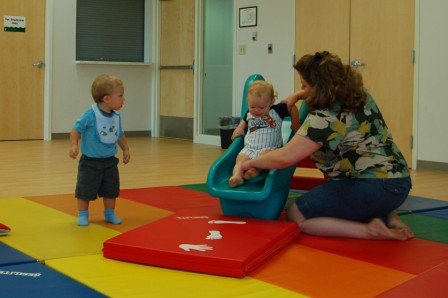 Daddy and Luca walking around...Luca was trying to tell Lawton to stop hogging the slide
"Hey lady, let me out of here!"
July 19
Bella's birthday party at Bounce U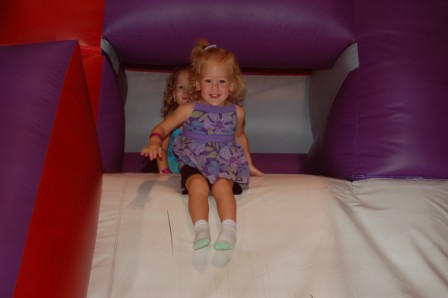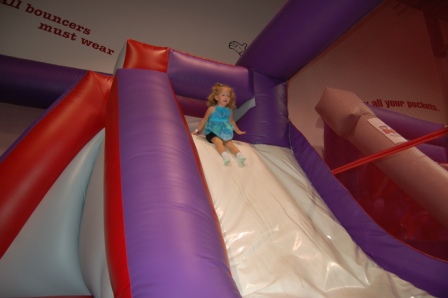 P&E on a slide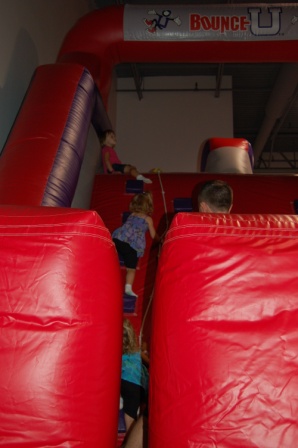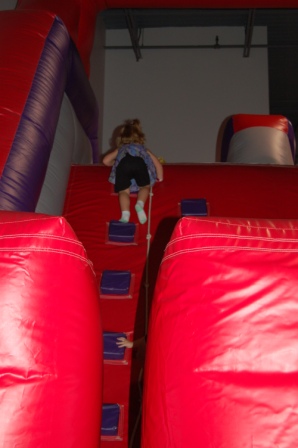 Climbing the "rock" wall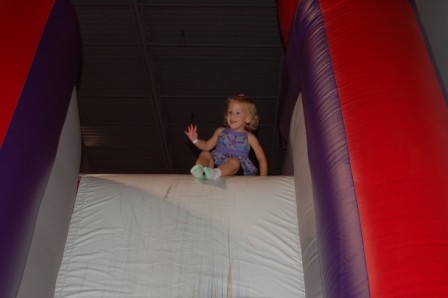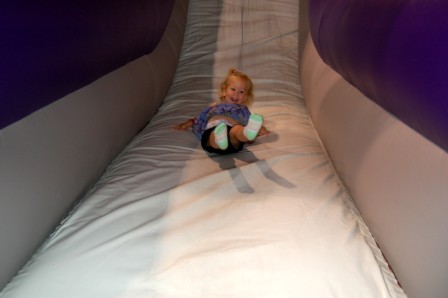 Perry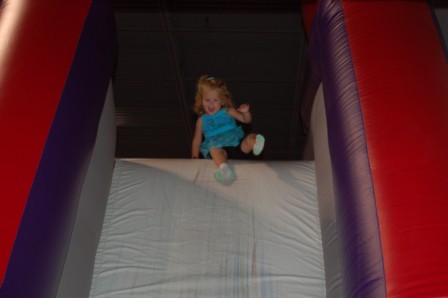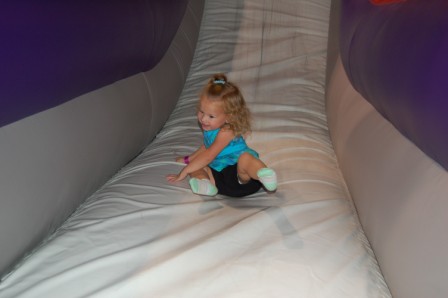 Ella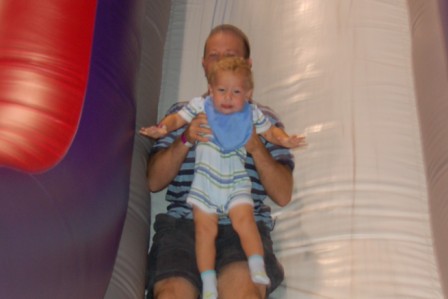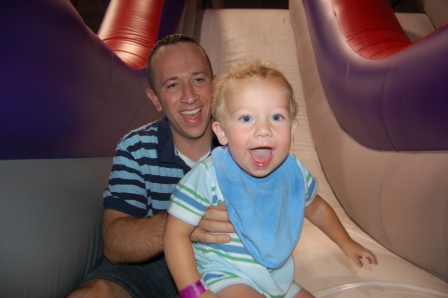 Daddy and Luca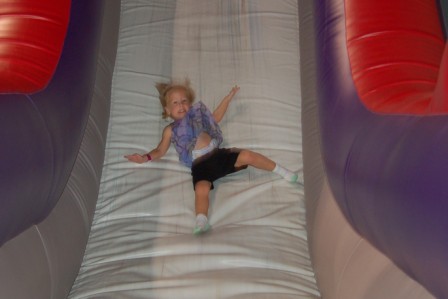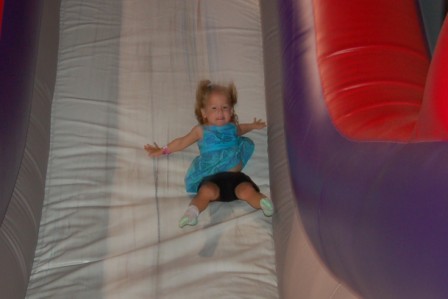 Perry and Ella in motion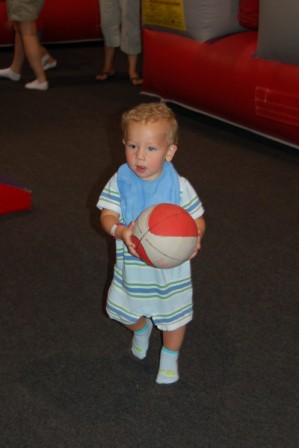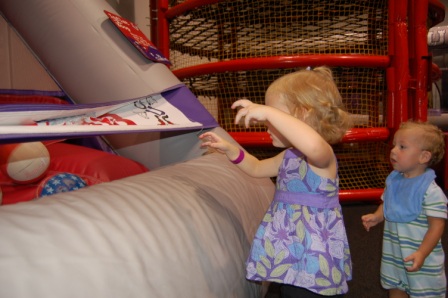 Shootin' hoopies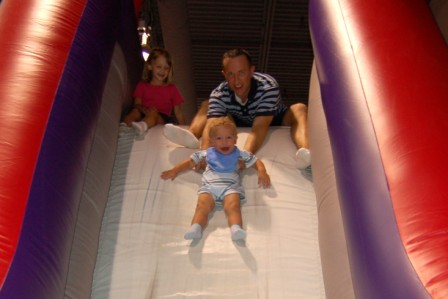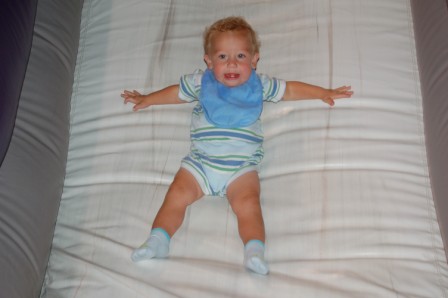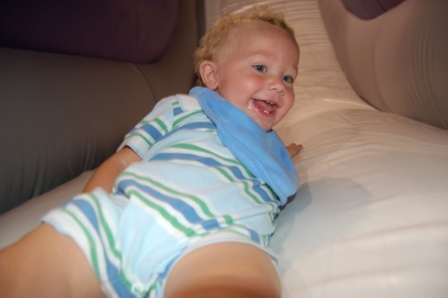 Luca doing the slide by himself...yay!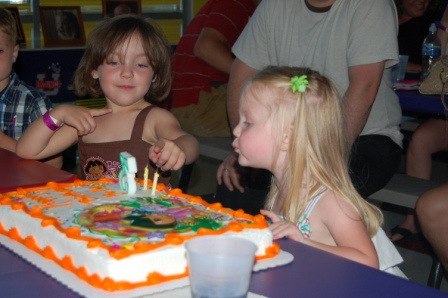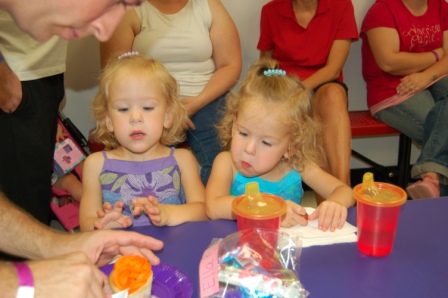 Bella blowing out the candles...P&E waiting for cupcakes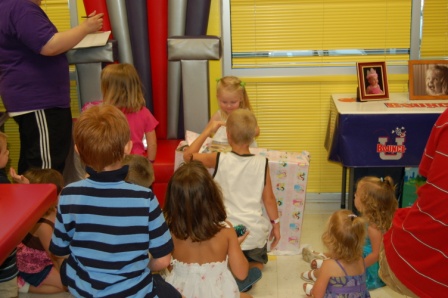 See P&E in the lower right corner, watching Bella open gifts
July 23
Wearing Daddy's Dom Boy T-shirt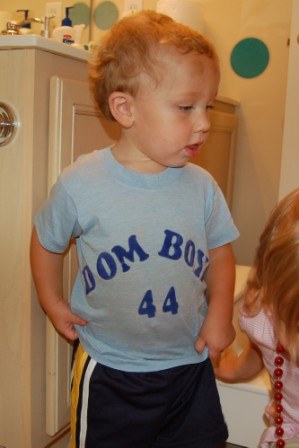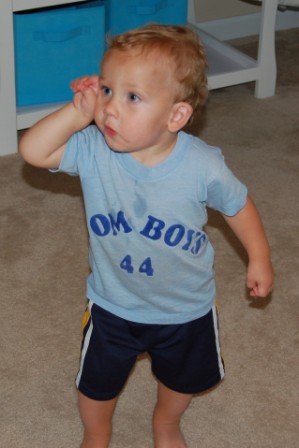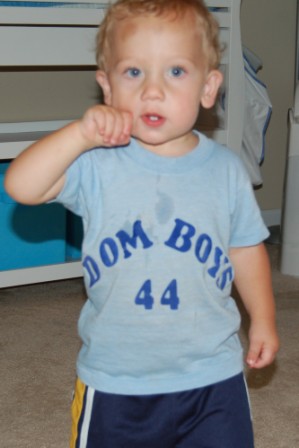 July 26
Six Flags...again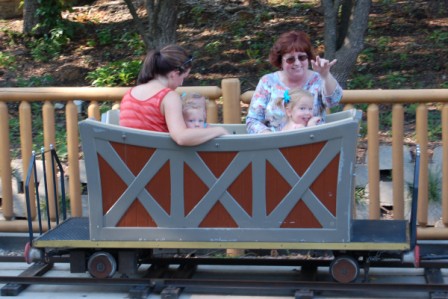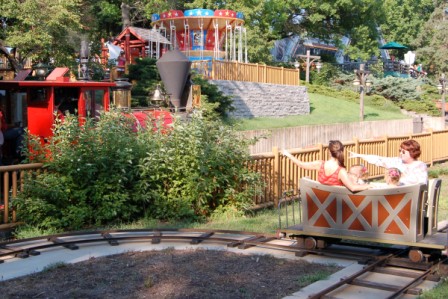 Riding the small choo choo...as the big choo choo drives by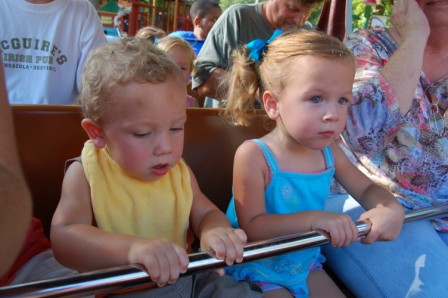 Luca and Ella on the Tugboat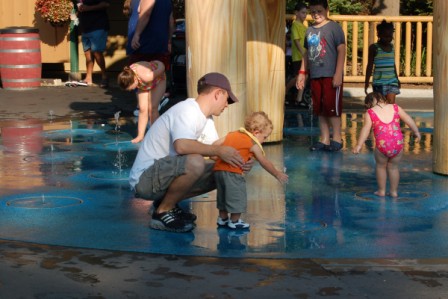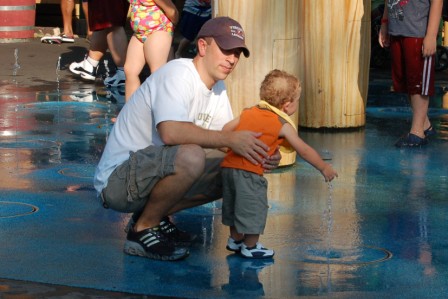 Daddy and Luca in the fountains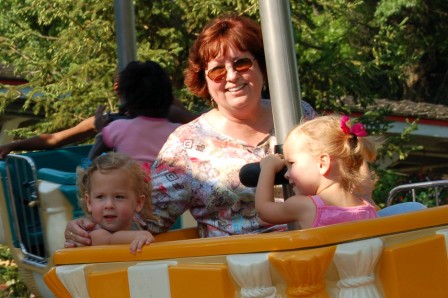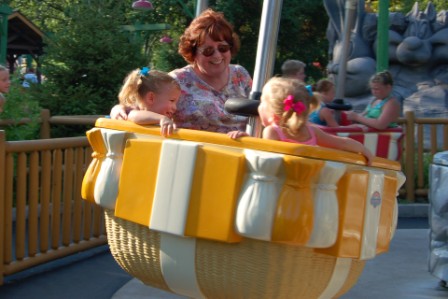 Grandma and the girls on the balloon ride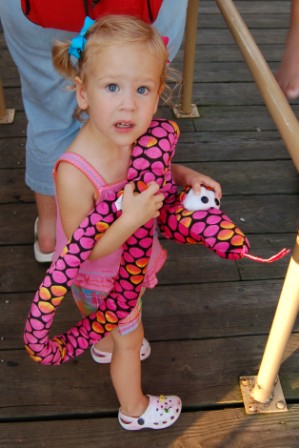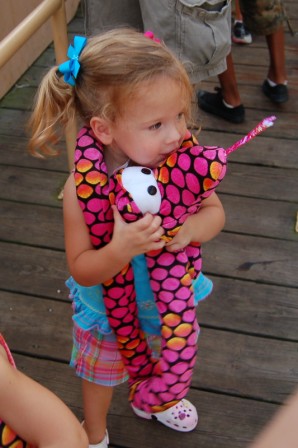 The girls with their snakeys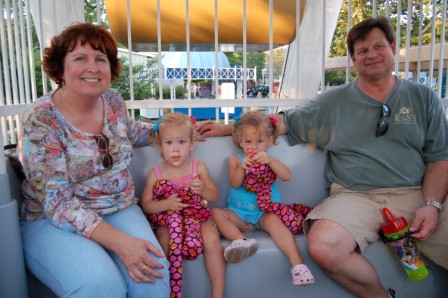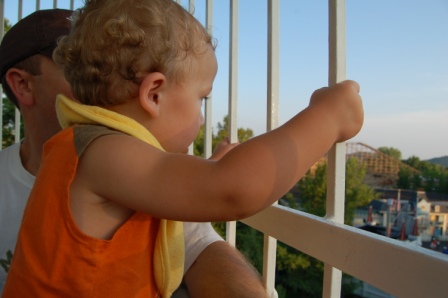 On the colossus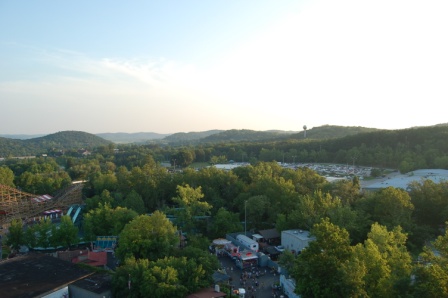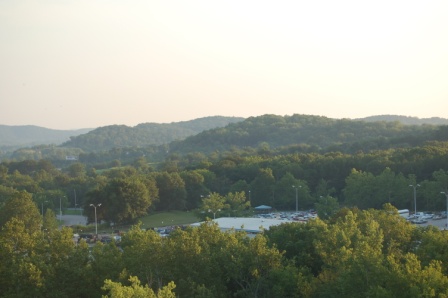 Views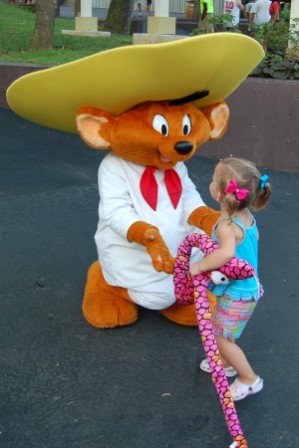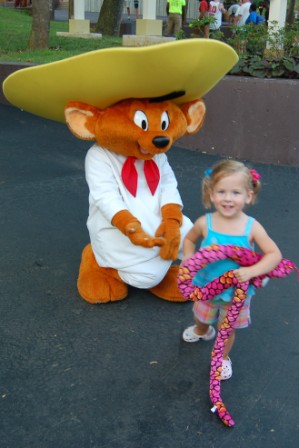 Ella and Speedy Gonzalez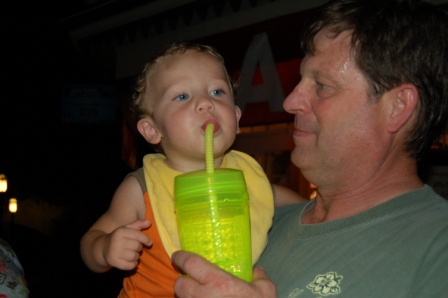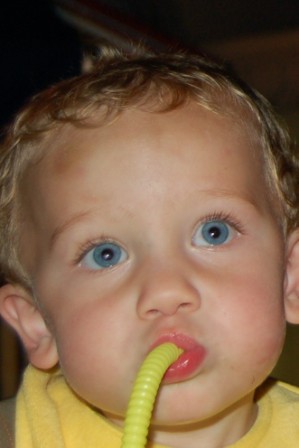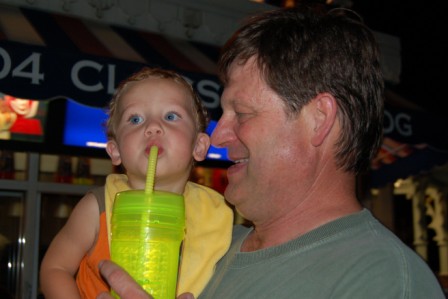 Luca getting a sip of Powerade from Grandpa
July 29
BBQ with our neighbors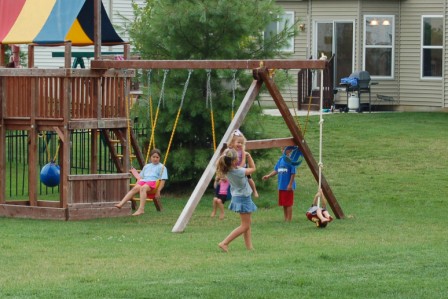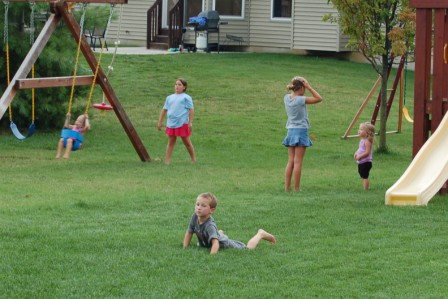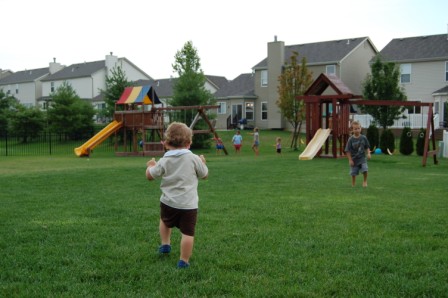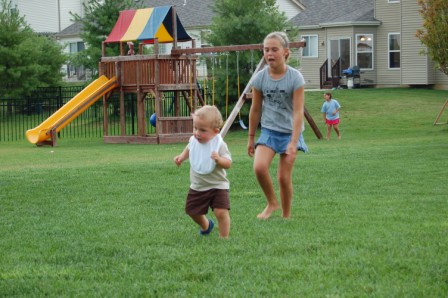 Playin'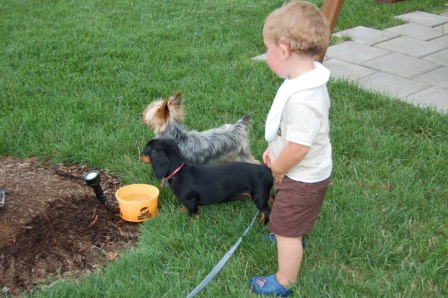 Luca likes the doggies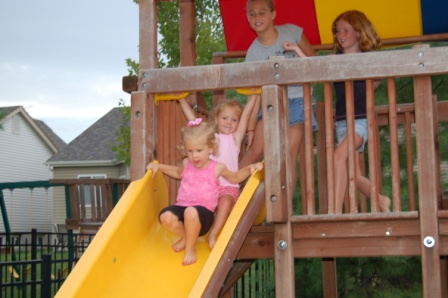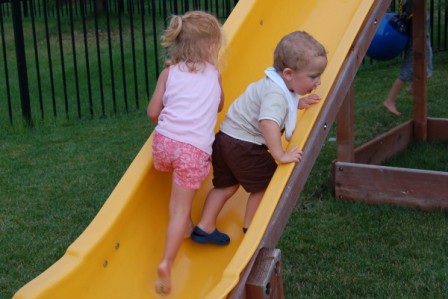 Slidin'
July 31
Last pics before Riley and Leighton move away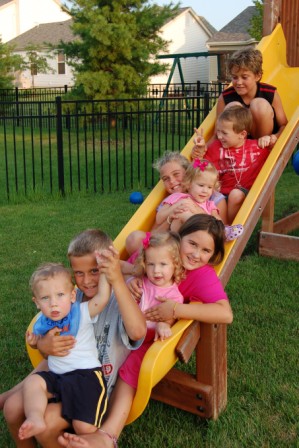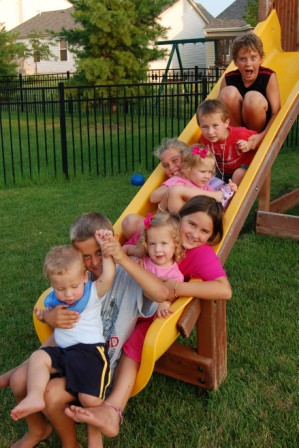 Luca, Brady, Ella, Riley, Perry, Lyndsey, Leighton, Dylan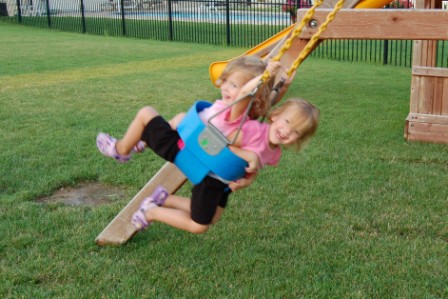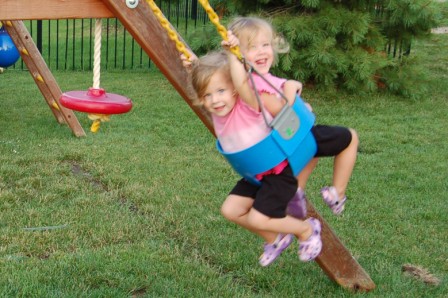 Perry and Ella in the toddler swing together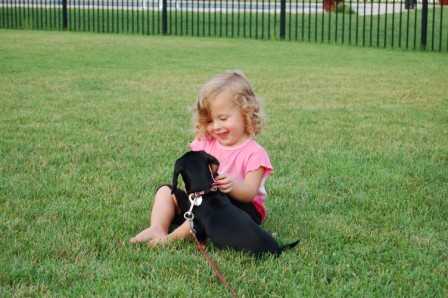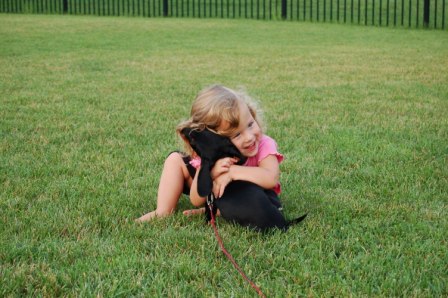 Ella lovin' on Brats
♥ Back to Archives ♥