June 1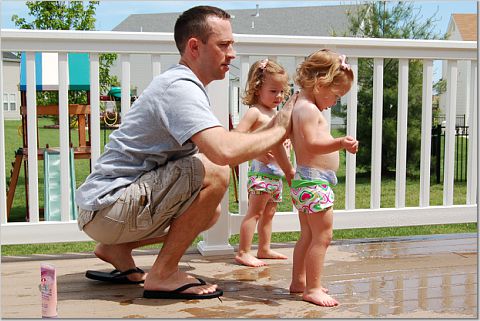 Daddy putting on sunscreen
(Notice the "glob it on" technique on Ella's back)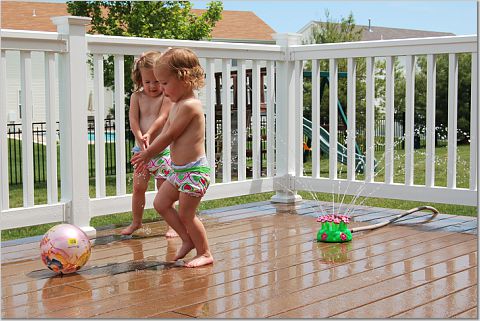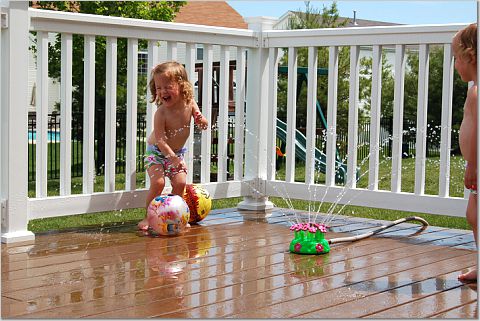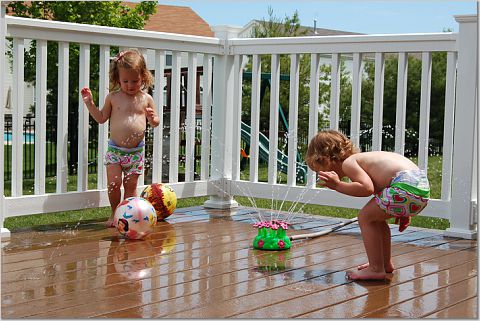 Playing in the sprinkler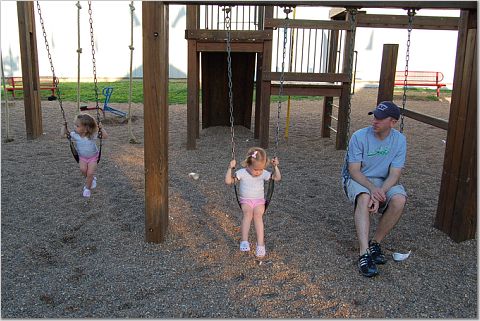 Tried to go to the ICD parish picnic but it was already closed, so we played on the playground instead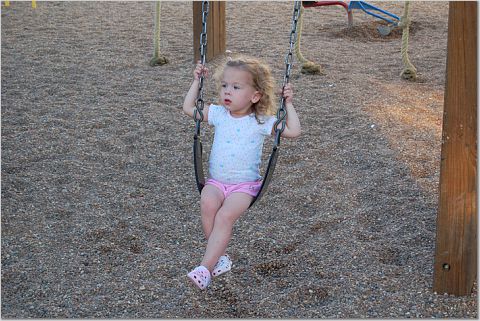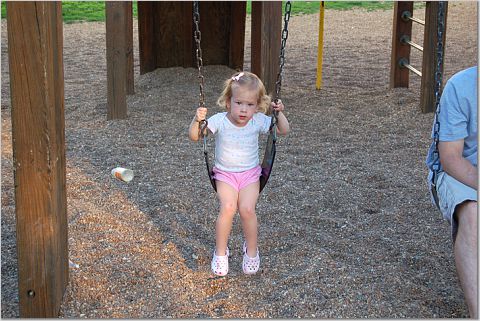 Big girls on the swings!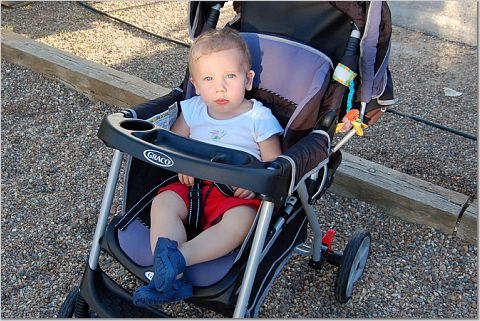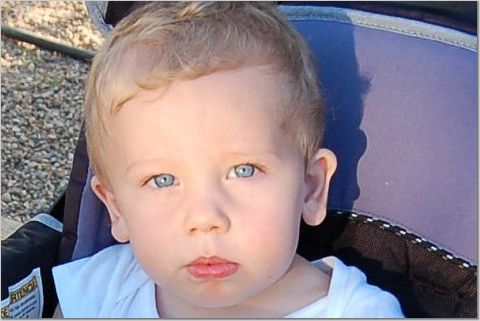 Luca blue eyes!
*Shutterfly has revamped their entire photo storage system and we had to find yet another new way to share pictures on our site.
The picture sizes may be a bit different, please let us know if you are having trouble loading them on your computer.*
June 6-13
Florida Vacation
June 5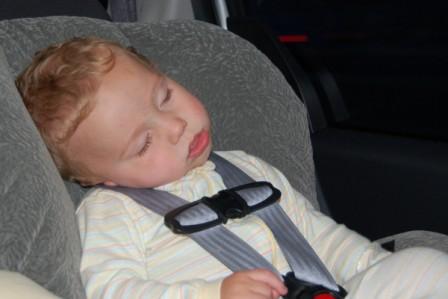 Luca sleeping on the way down (he only slept a few hours of the trip)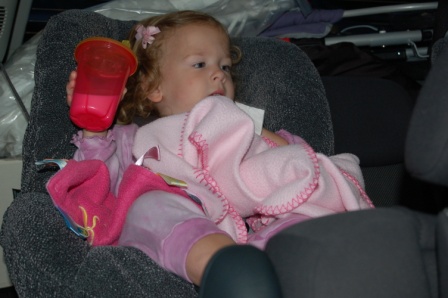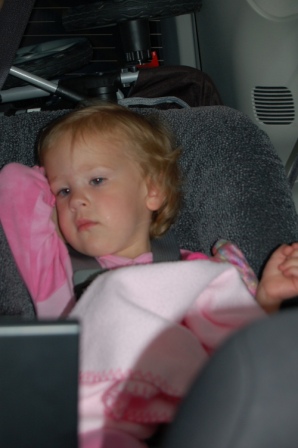 P&E watching a movie (they stayed up till midnight watching movies!)
June 6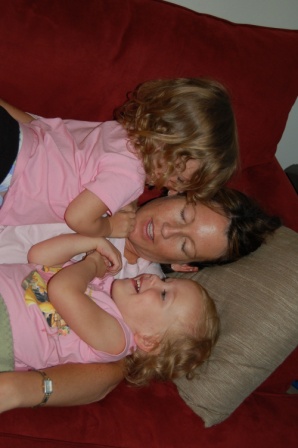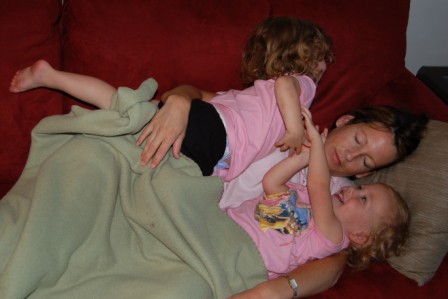 A baby pile up while Mommy was trying to sleep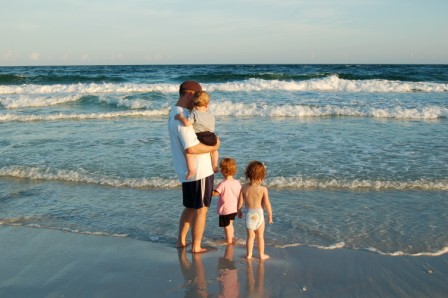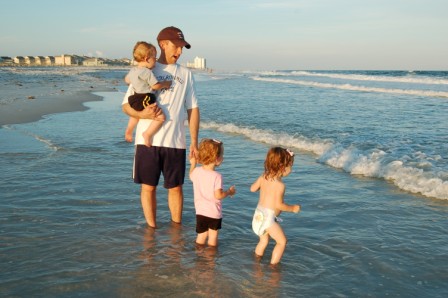 Just checking out the beach
(Perry and Luca were very skeptical of the sand, but Ella had no fear.
She is naked because she got swallowed up by a wave and instead of getting mad, she just took off her wet shirt and shorts and got right back in.)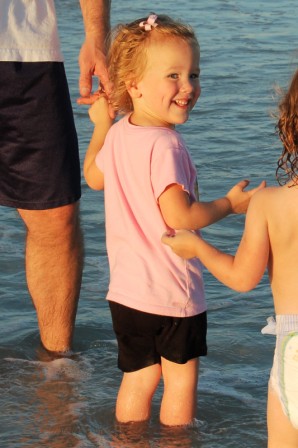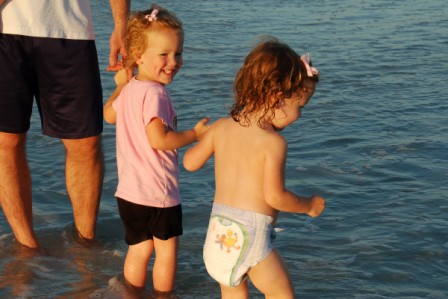 Perry starting to enjoy it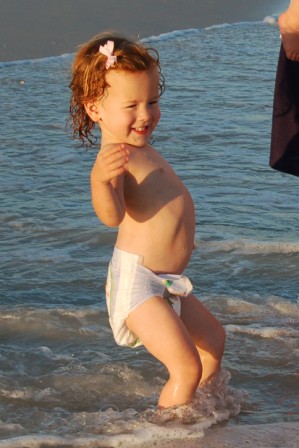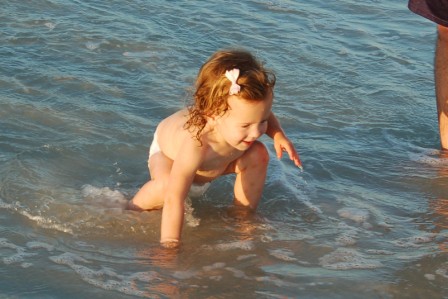 Ella LOVES it!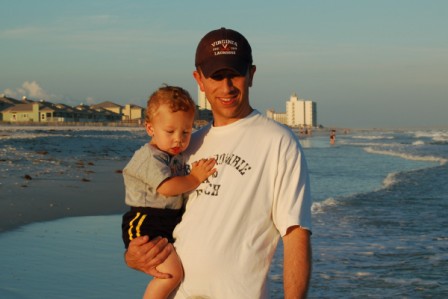 Daddy and Luca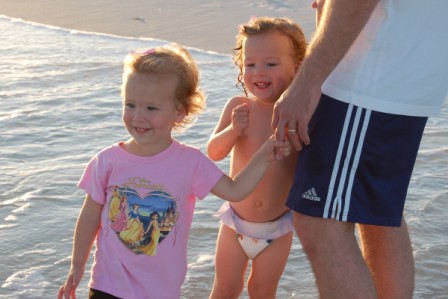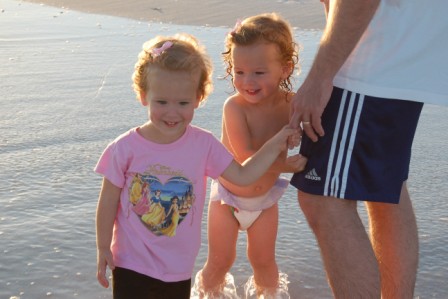 Smiley girls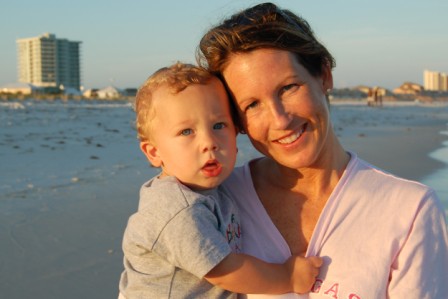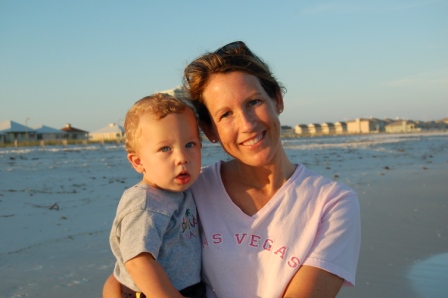 Mommy and Luca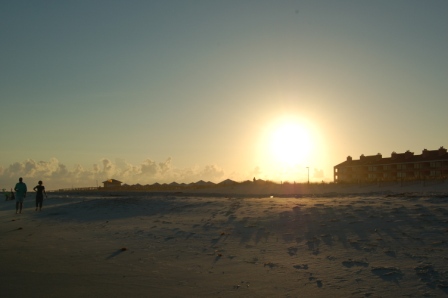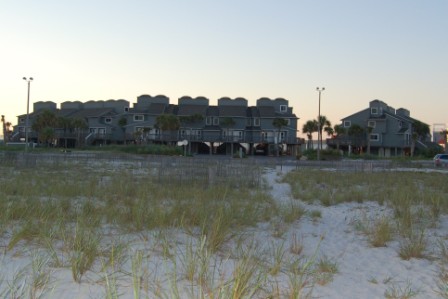 Sunset and San de Luna townhouses
(We stayed in Grandma and Grandpa Rogan's unit)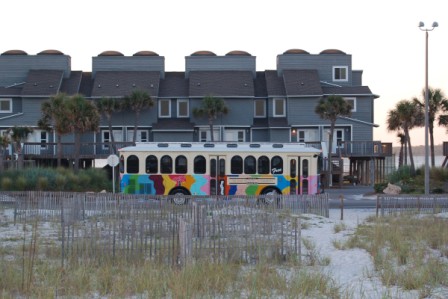 The "choo choo" (aka trolley)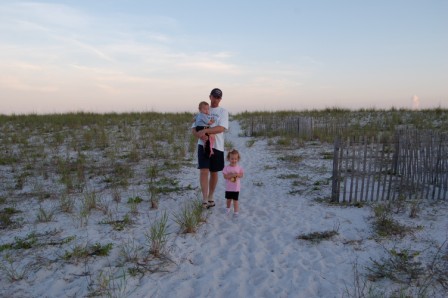 Walkin' back
June 7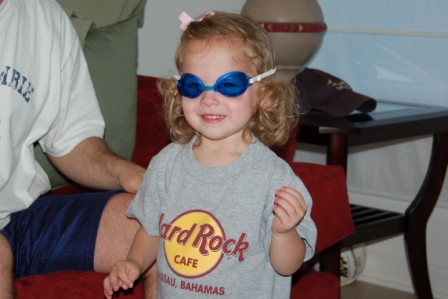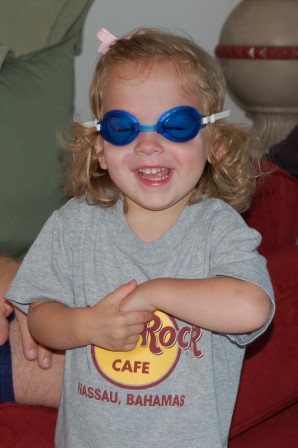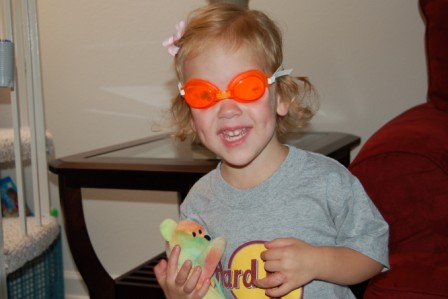 Trying on our goggles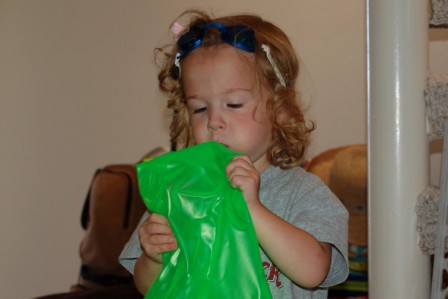 Ella helping blow up rafts
June 8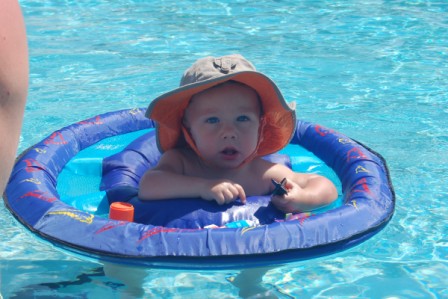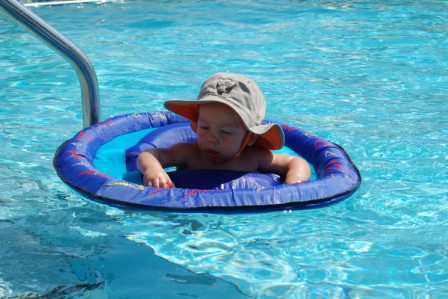 Luca in his raft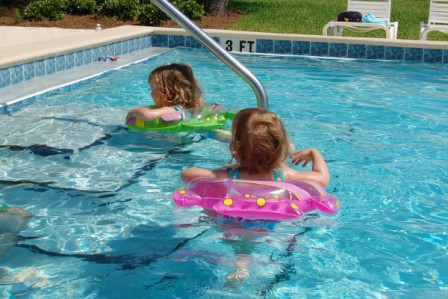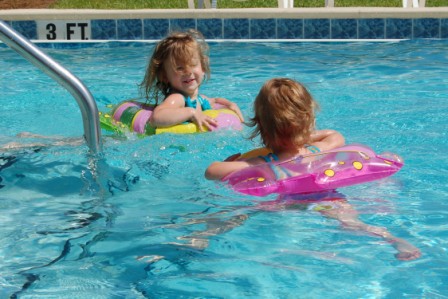 Perry and Ella in their fishy rafts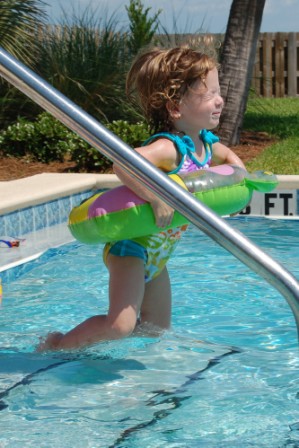 Ella came up with the idea to jump in off of the steps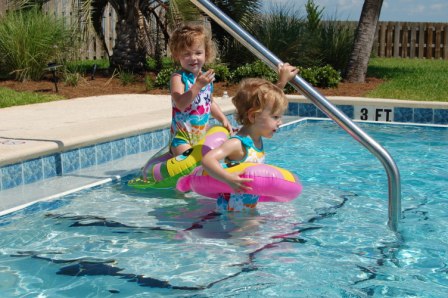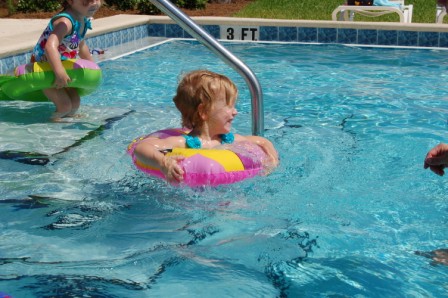 Perry tried it too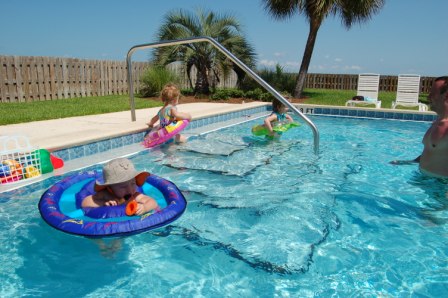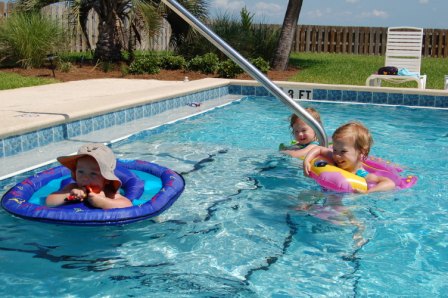 As close to a picture of all 3 as we're gonna get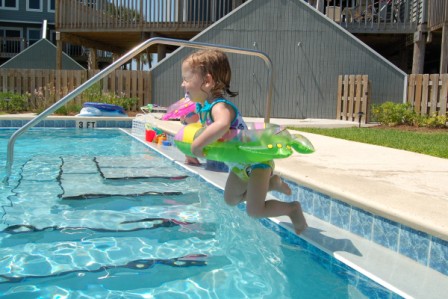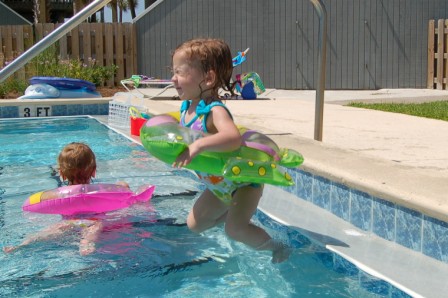 And now she's going off the side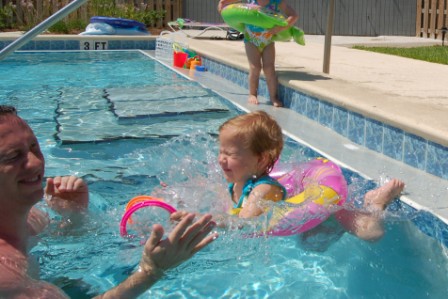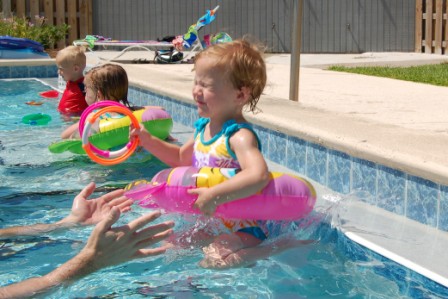 Perry's not as brave, she kind of just falls into the pool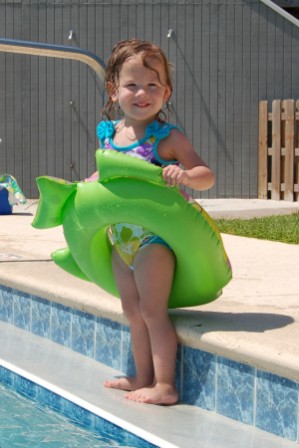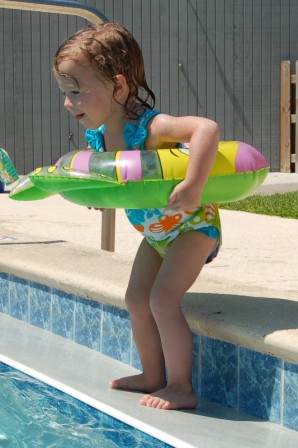 Posing for a quick pic and then getting into her jumping stance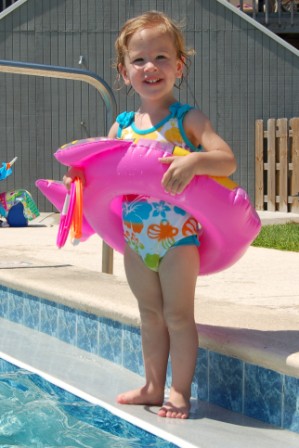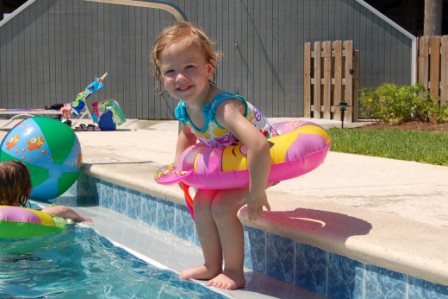 Perry's pose and stance
June 9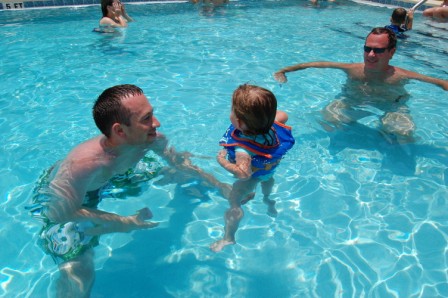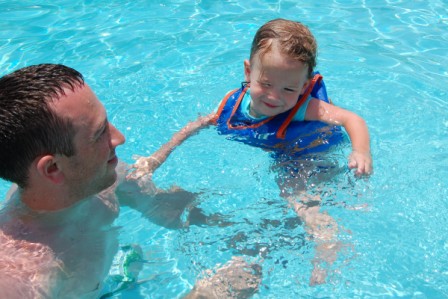 Ella borrowing Drew's life jacket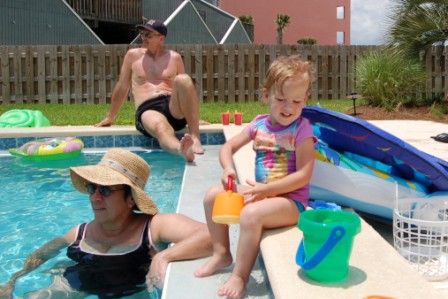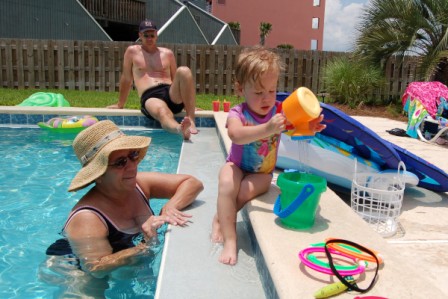 Perry playing with her watering can and bucket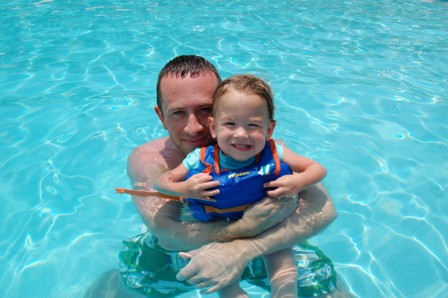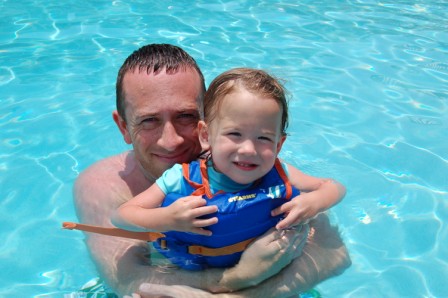 Daddy and Ella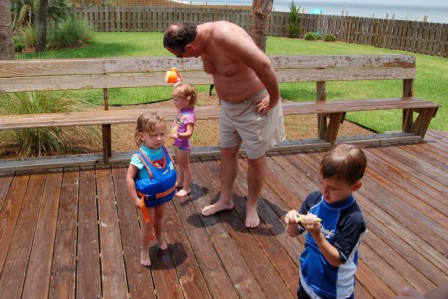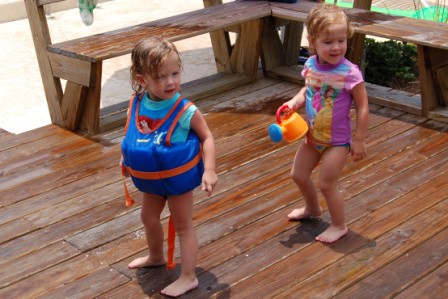 Had to run for cover from the rain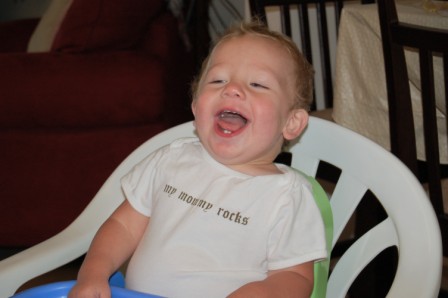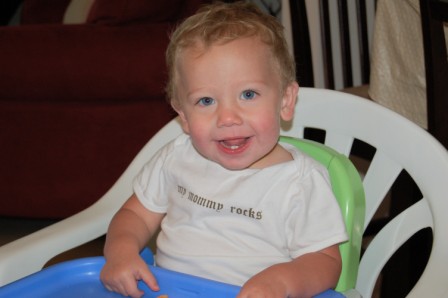 Luca and his "my mommy rocks" shirt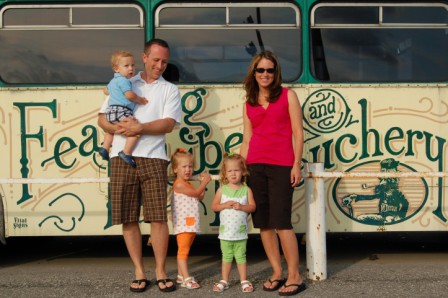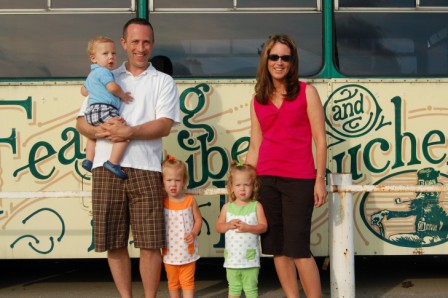 Family pics at McGuire's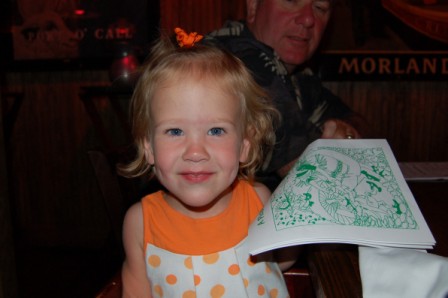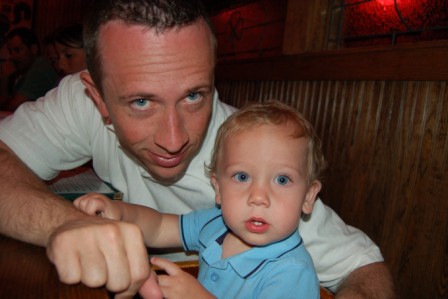 Perry, Daddy, and Luca at dinner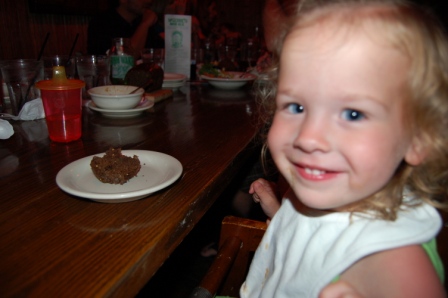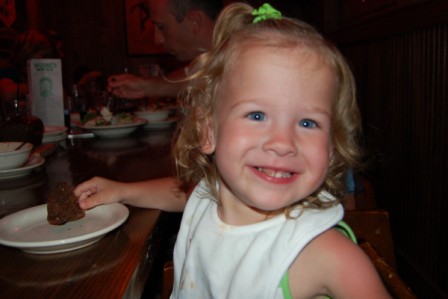 Ella and her bread (notice the brown teeth)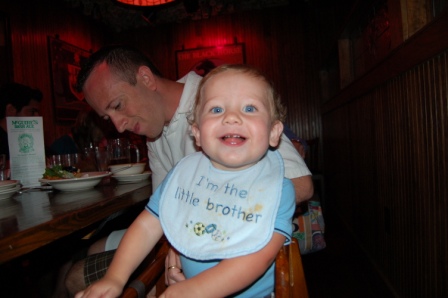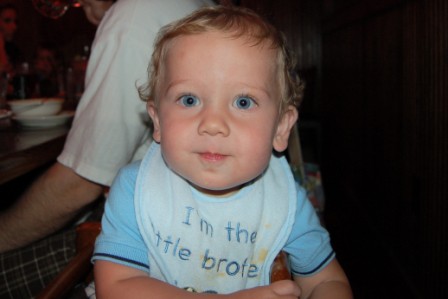 Luca being silly and having some seriously handsome blue eyes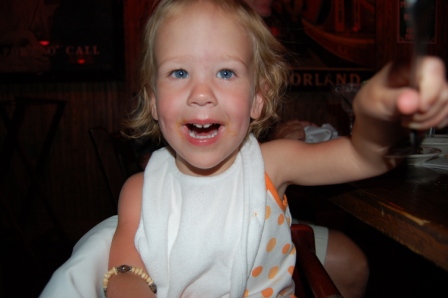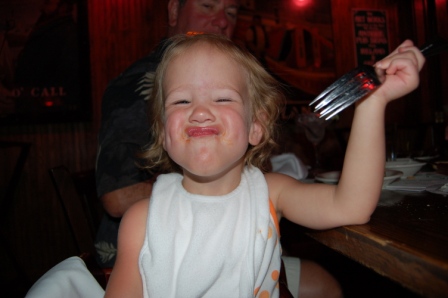 Perry with her fork...and what happens when mommy says "say cheese"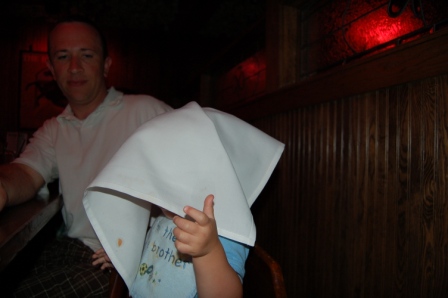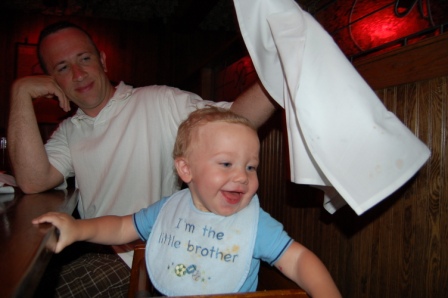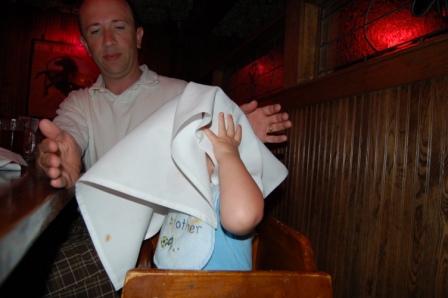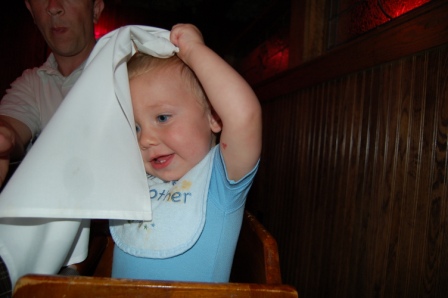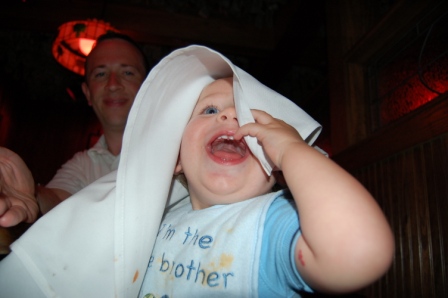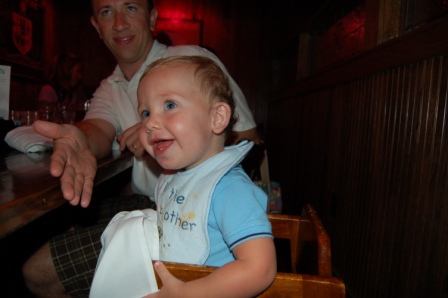 Luca's favorite game...peek-a-boo!
June 10
We met Kelly & Jakob at the Northwest Zoo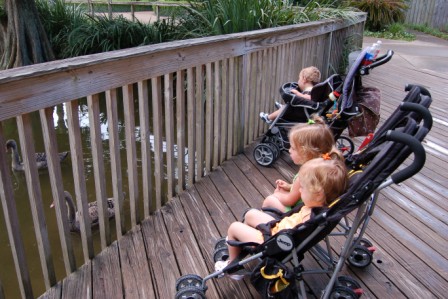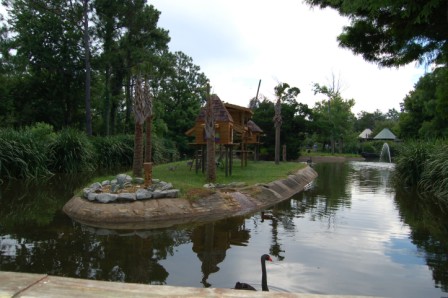 Looking at the ducks and lemurs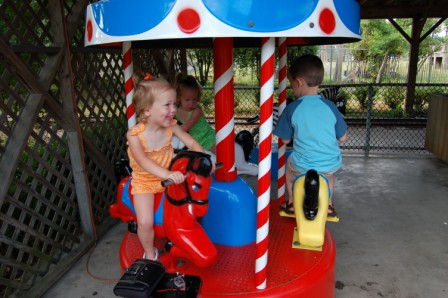 Riding the carousel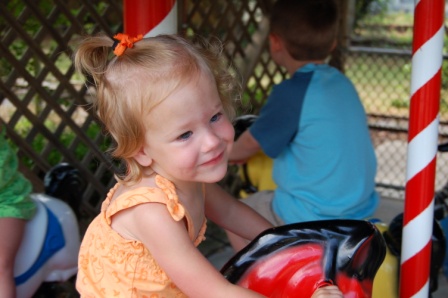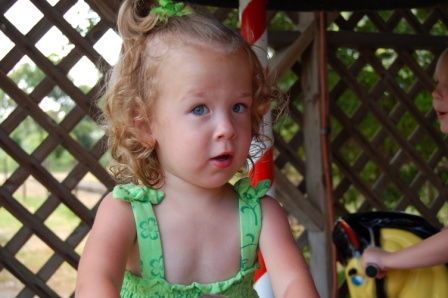 Perry loves the carousel...Ella is not as amused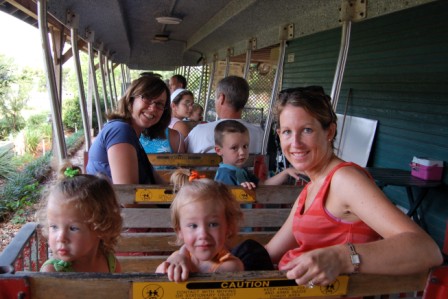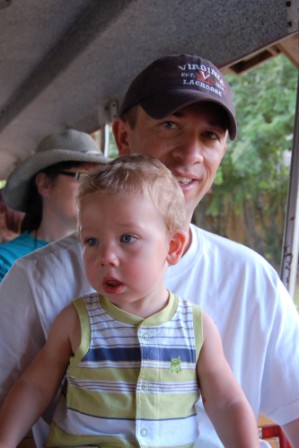 Kelly, Jakob, Ella, Perry, Mommy, Luca, and Daddy on the train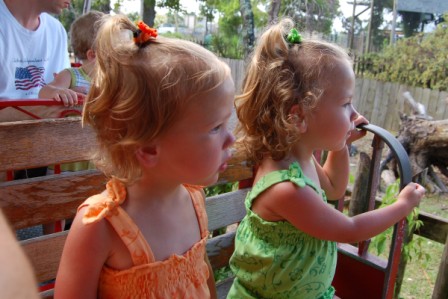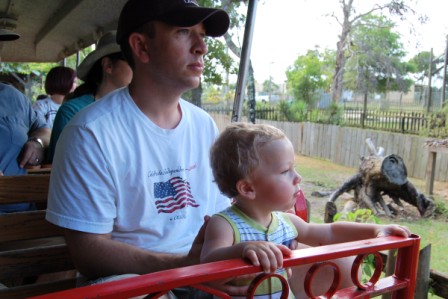 Checkin' out the wildlife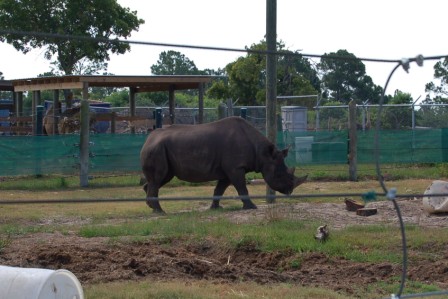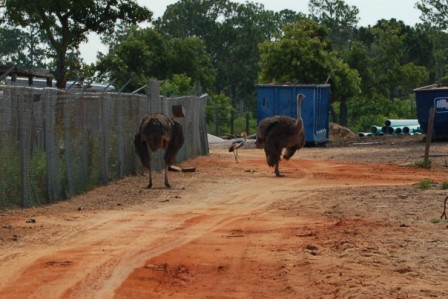 Rhino, ostriches,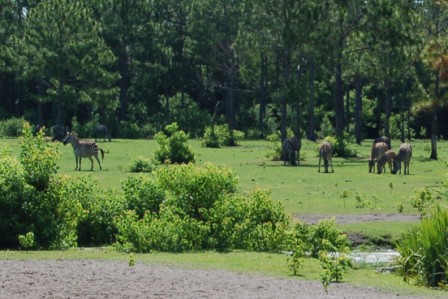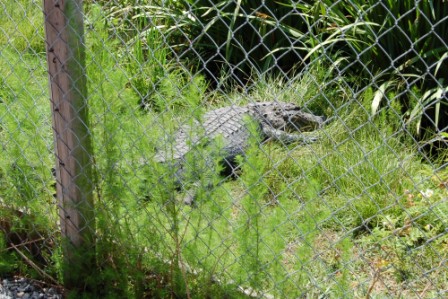 zebra, alligator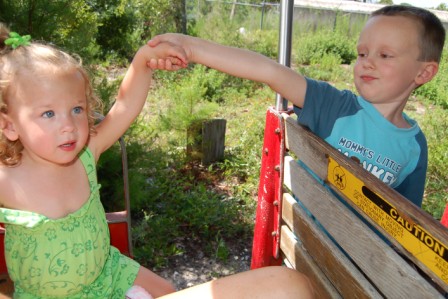 Awwww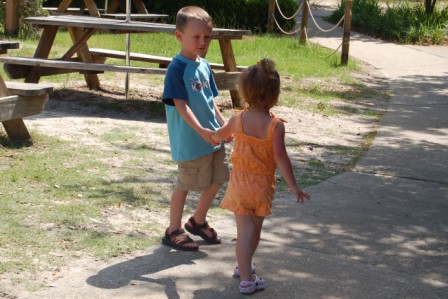 More awwww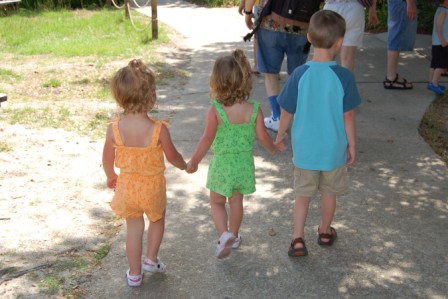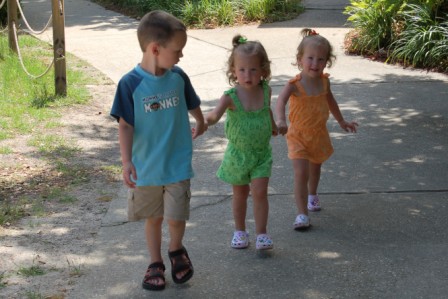 Total awwww!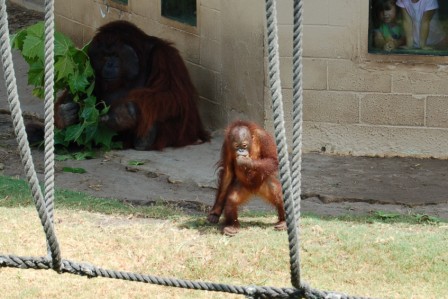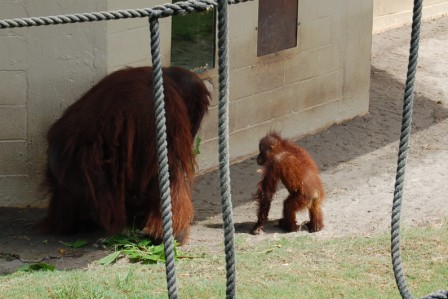 Papa and baby orangutans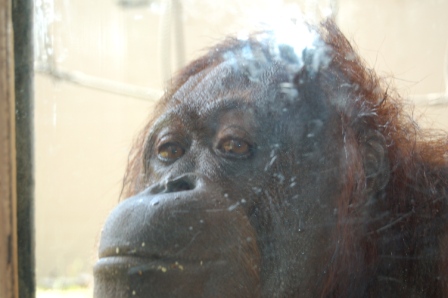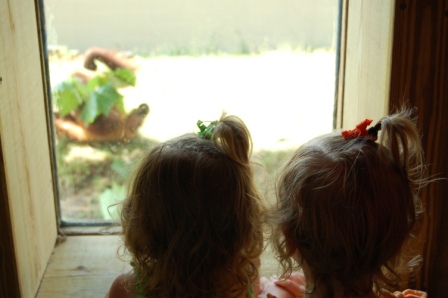 Mommy orangutan looking at us through the window...P&E looking at the baby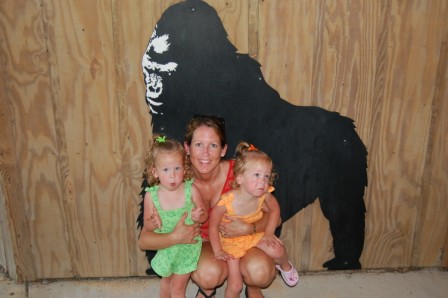 Mommy and her monkeys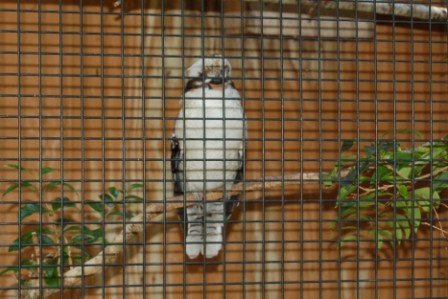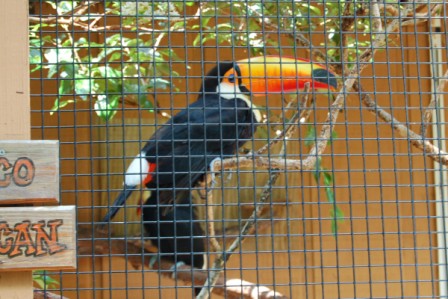 Kookaburra (wonder if he's sitting in an old gum tree?) and a pretty toucan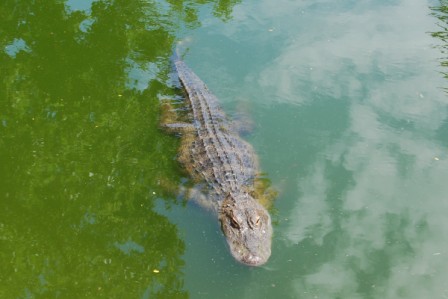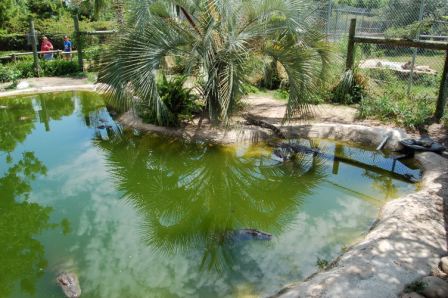 Gators or crocs...can't remember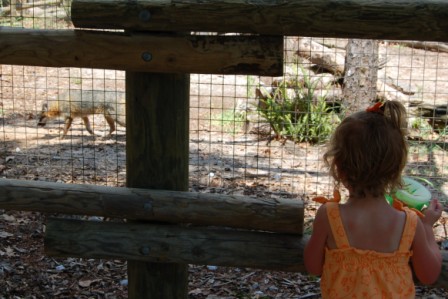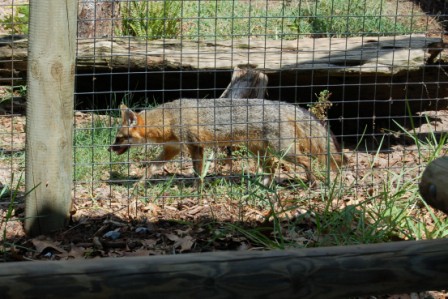 Perry looking at the coyotes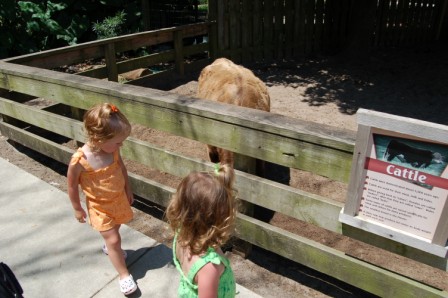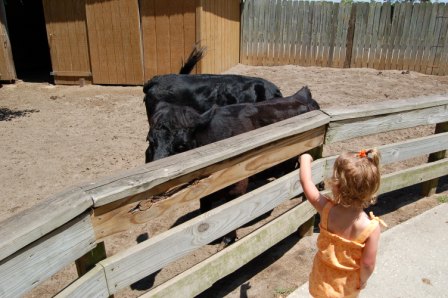 Mooooo!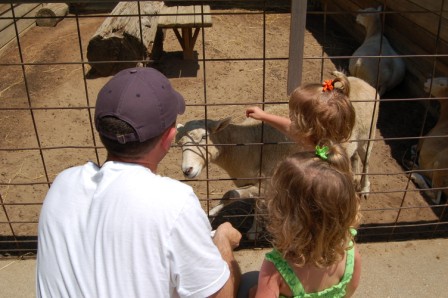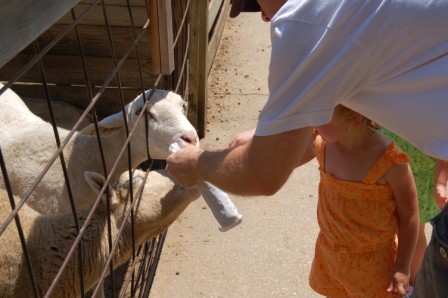 Perry feeding the goats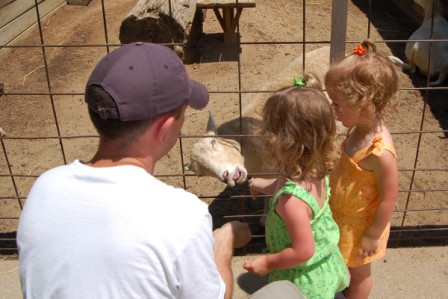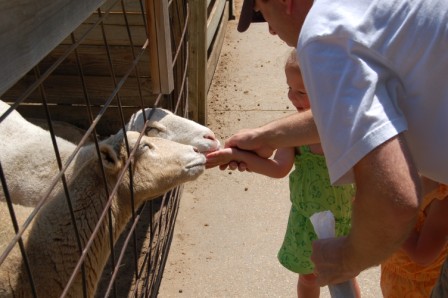 Ella feeding the goats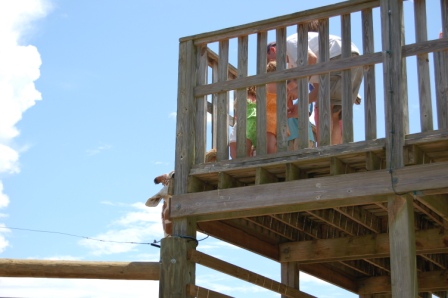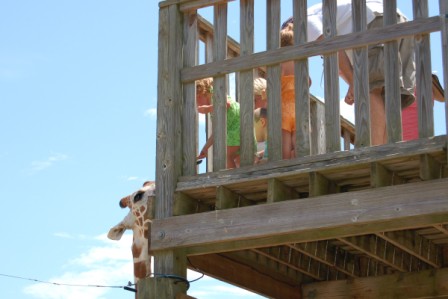 Feeding Gabby the giraffe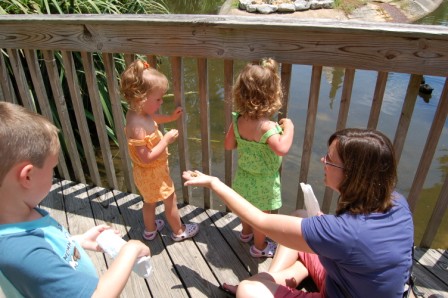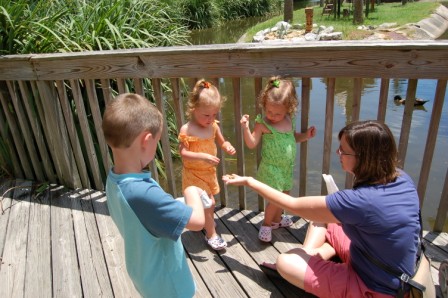 Feeding the duckies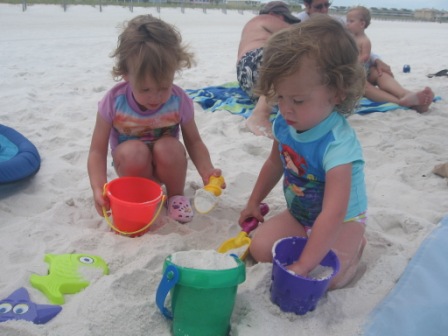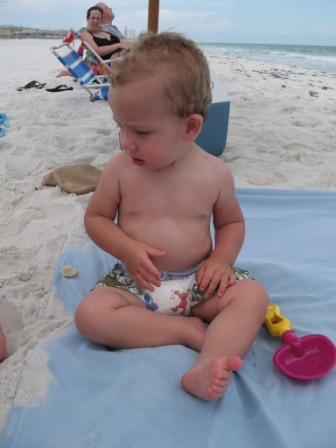 P&E playing in the sand...Luca not so sure about it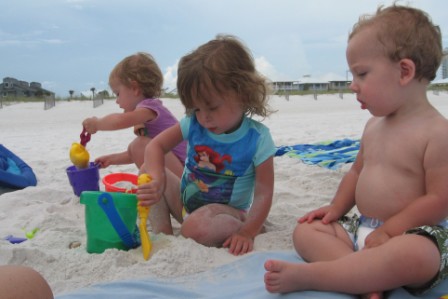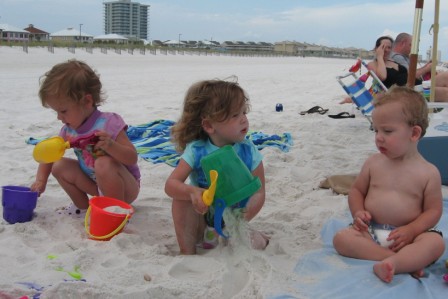 Luca says "I can't believe they're touching this stuff"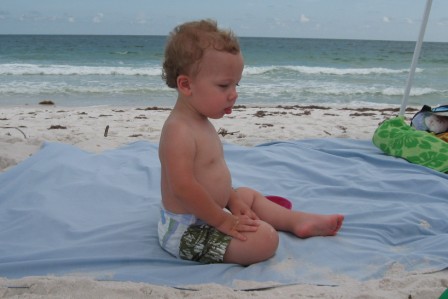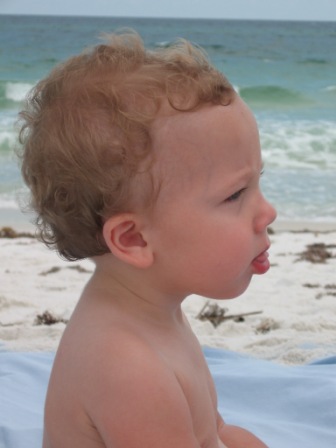 Handsome beach baby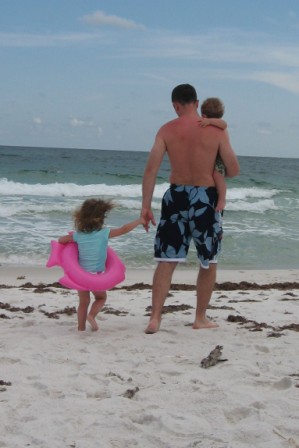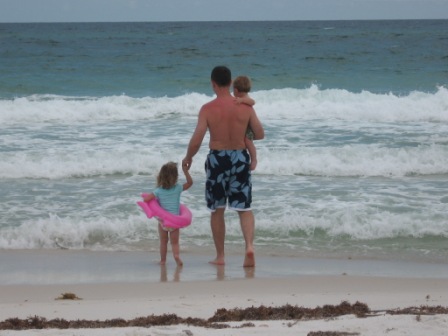 Ella, Luca, and Daddy going into the ocean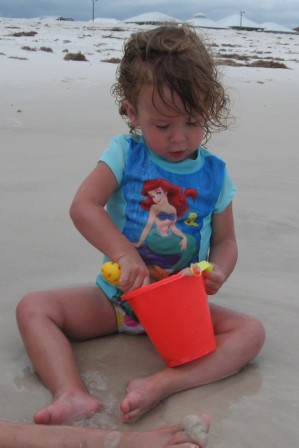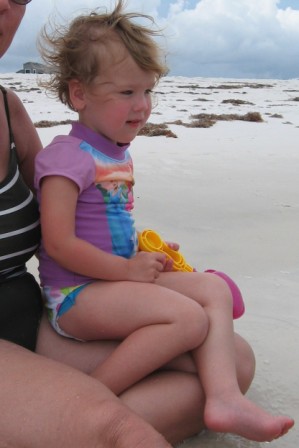 Ella playing in the wet sand...Perry wouldn't sit *in* it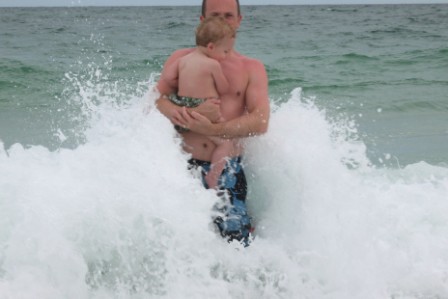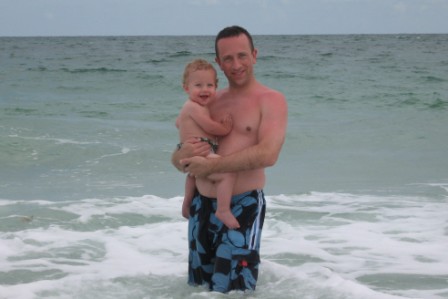 Daddy and Luca in the water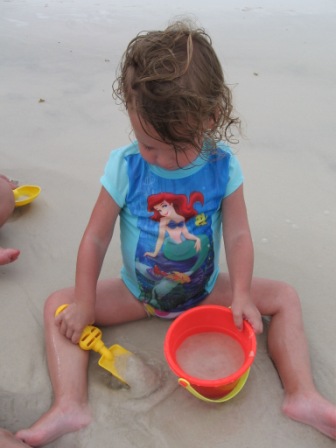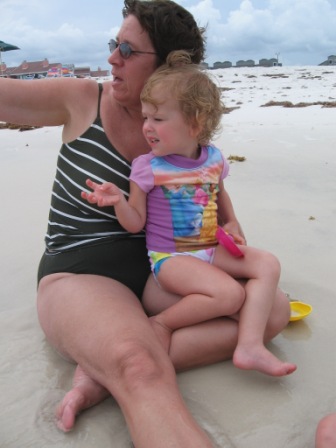 Ella, Grandma, and Perry
June 11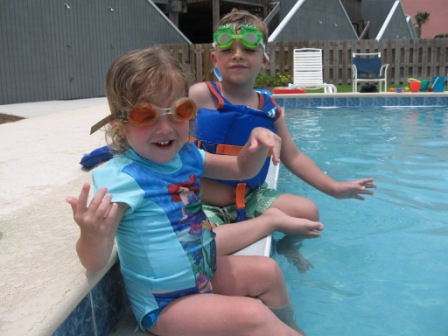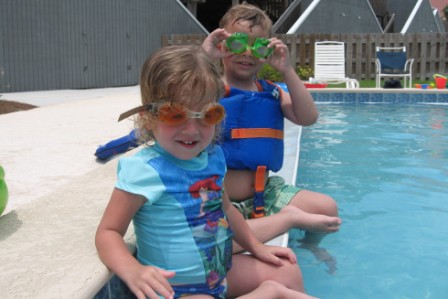 Ella and Jack wearing goggles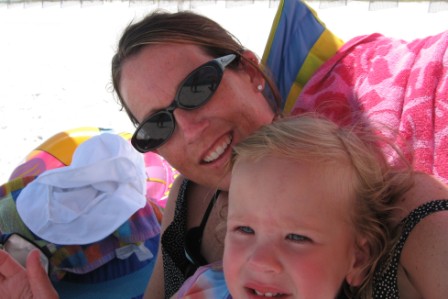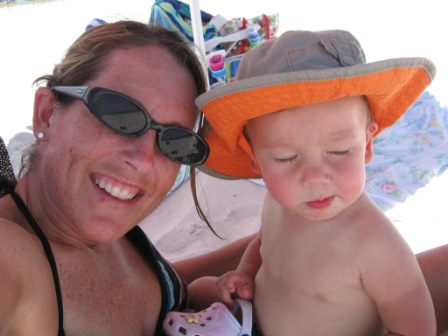 Self portraits with Perry and Luca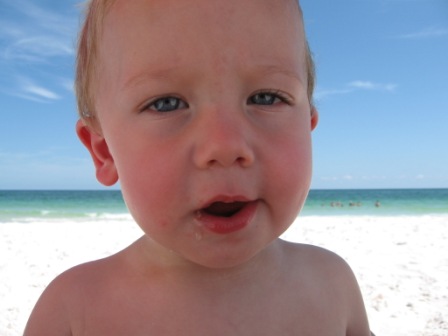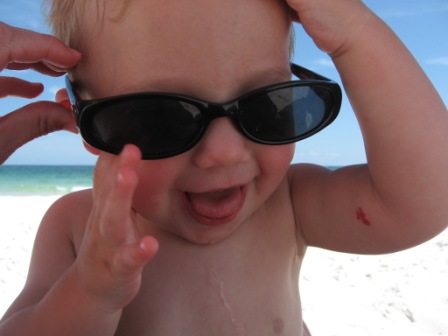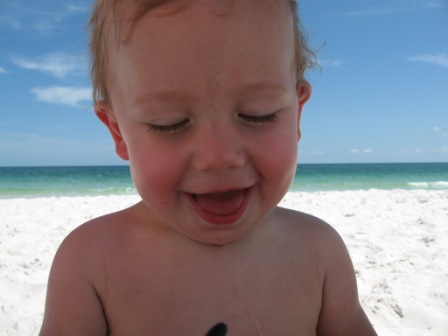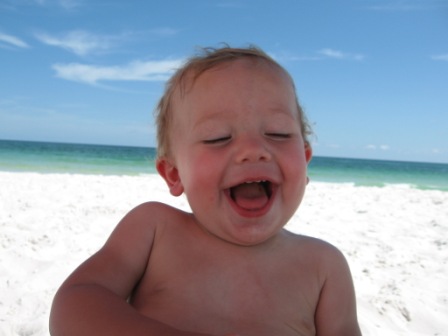 Luca being silly
June 12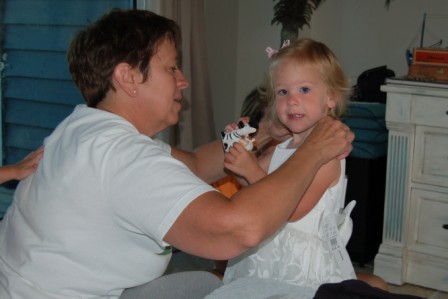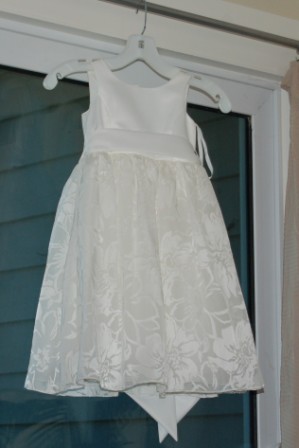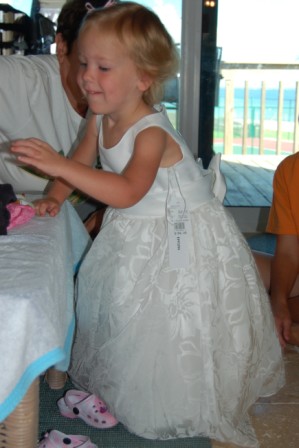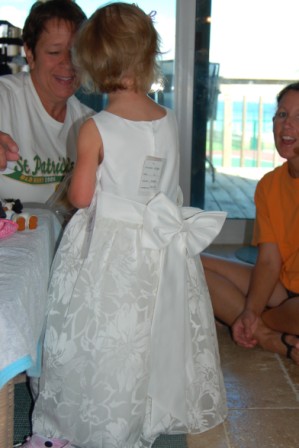 Perry getting her flower girl dress altered by Grandma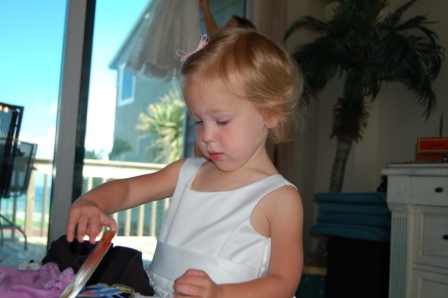 So beautiful...and blonde!!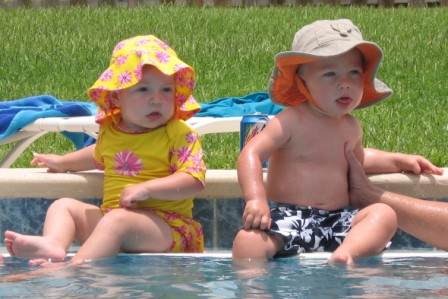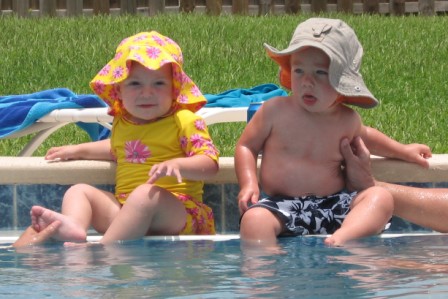 Luca and a little girlfriend he met at the pool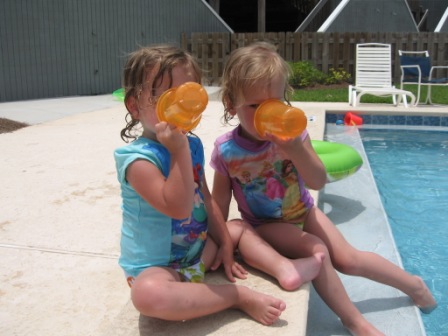 P&E drink break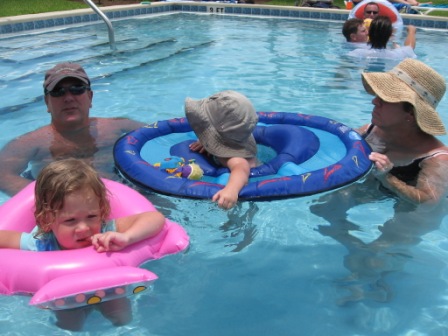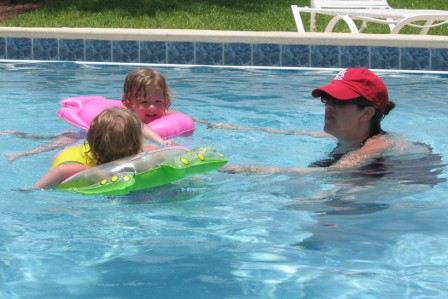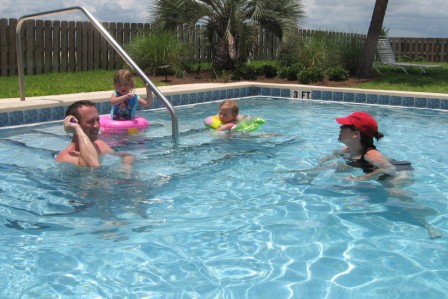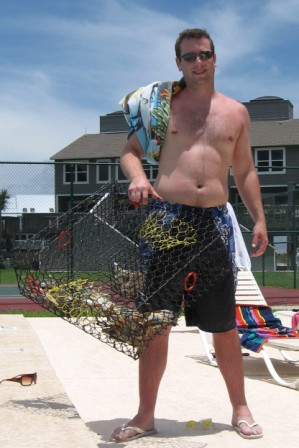 Hanging out at the pool with Grandpa, Grandma, and Aunt Angela...Uncle Andrew's crab trap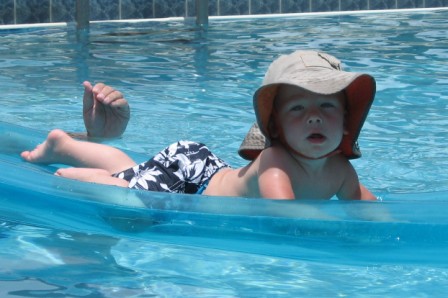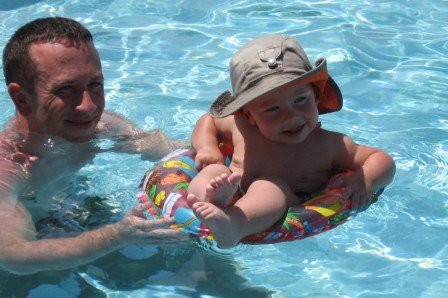 Luca trying out some new rafts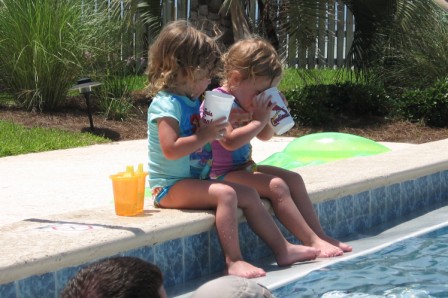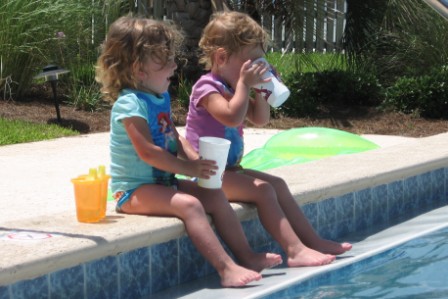 P&E having some virgin mojitos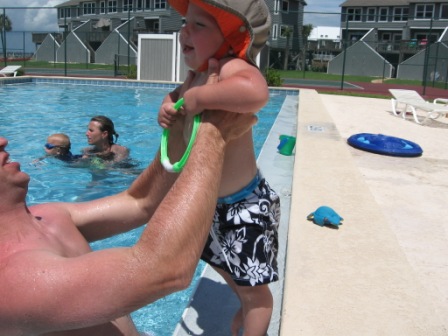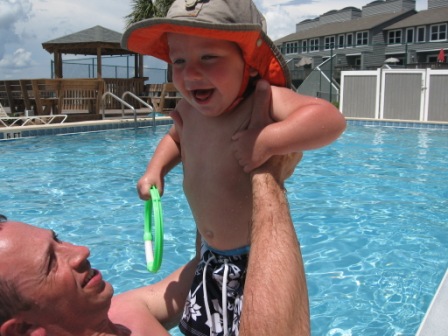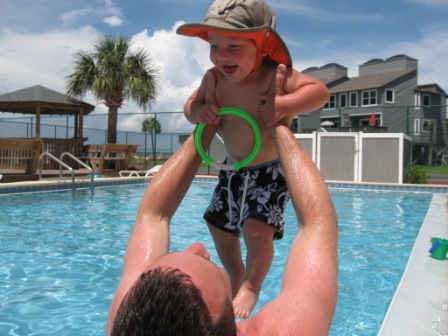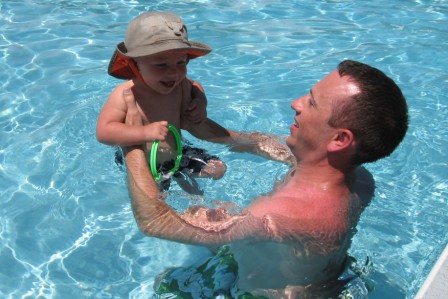 Luca jumping in the water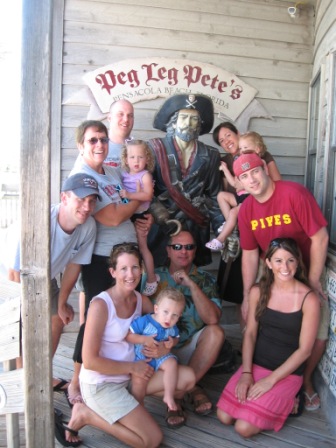 The whole fam at Peg Leg Pete's
(Daddy, Grandma, Julio, Ella, Angela, Perry, Andrew, Courtney, Grandpa, Luca, Mommy)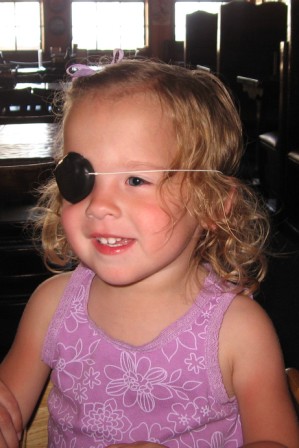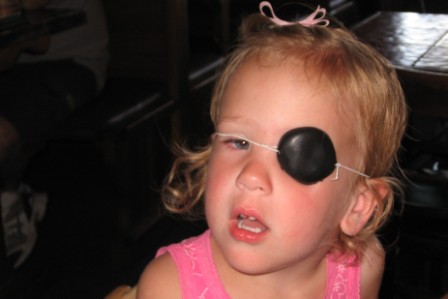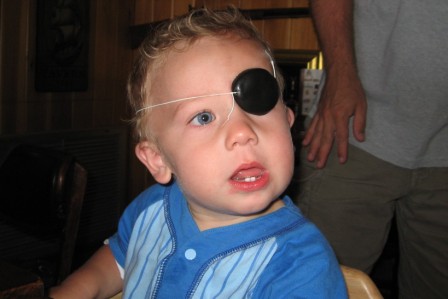 "Arrrrrgggghhh mateys"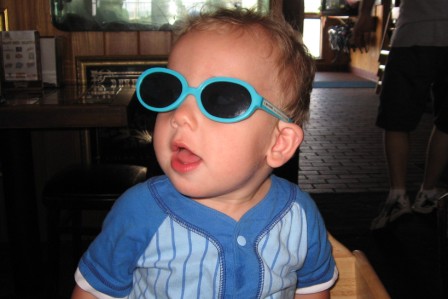 Luca prefers sunglasses to eye patches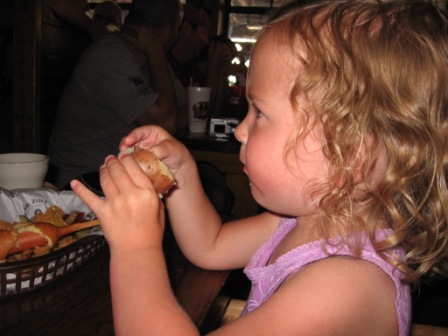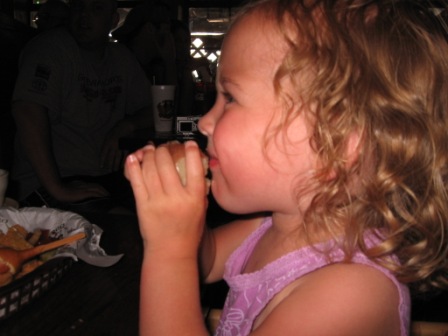 Ella eating a steamed potato like an apple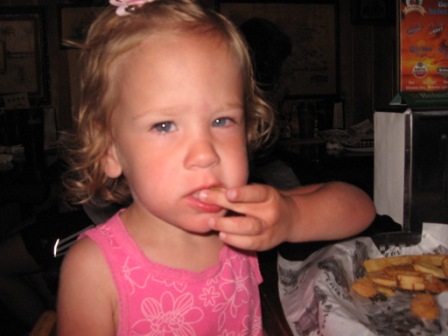 Perry eating popcorn shrimp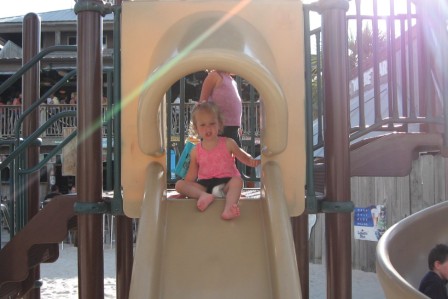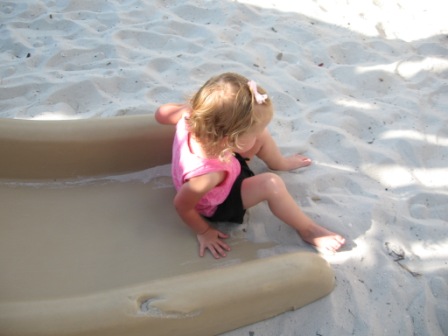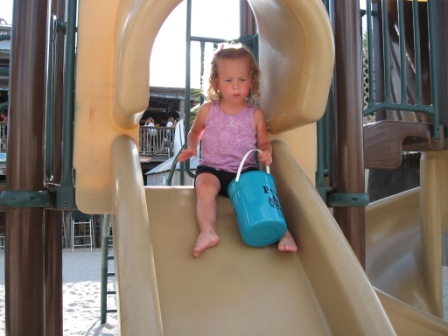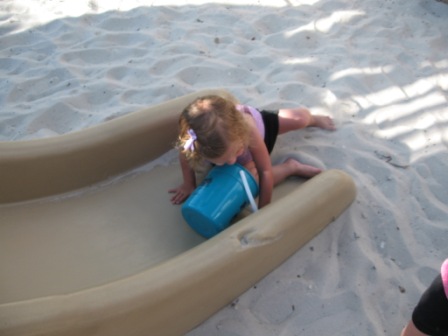 Playing on the slide at Peg Leg's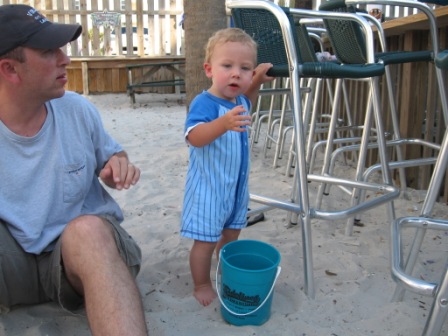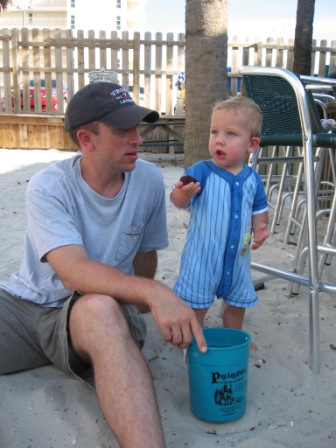 Luca playing in the sand with Daddy
June 13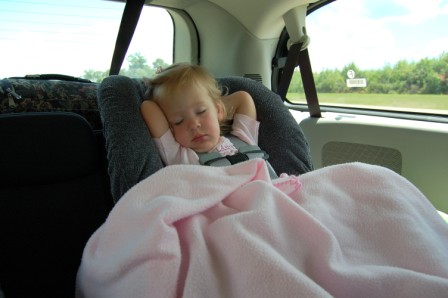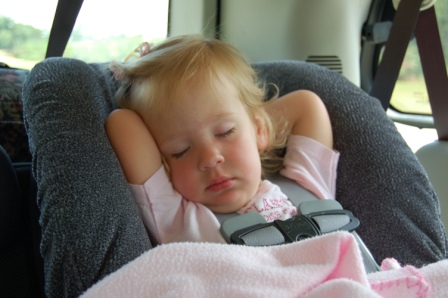 Perry taking a nap on the way home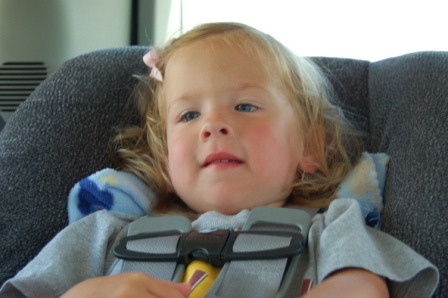 Ella being silly and watching the movie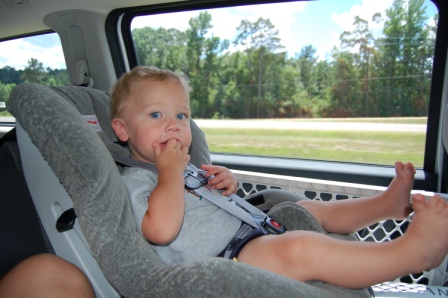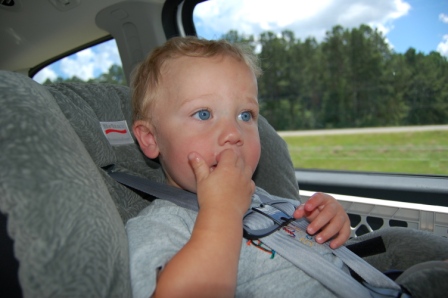 Luca ridin' in the 2nd row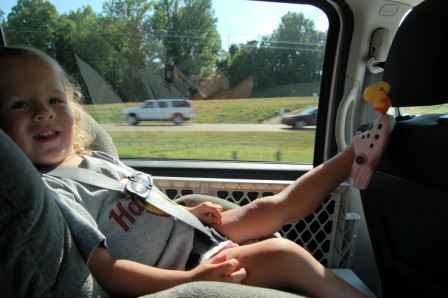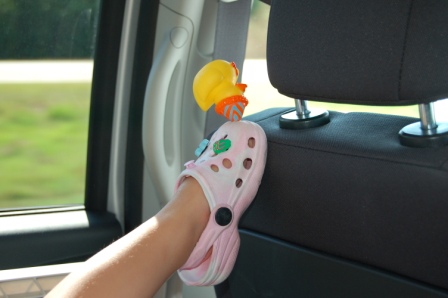 Ella's new jibbit...a duck!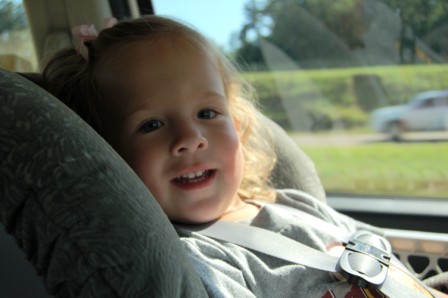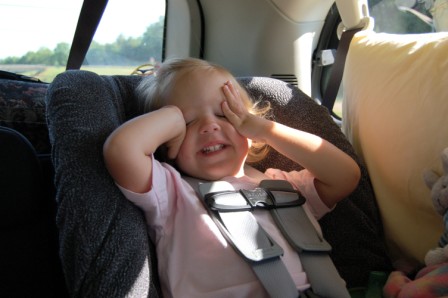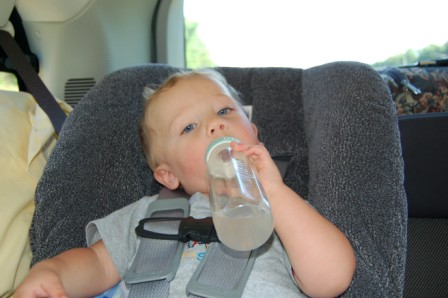 Everyone just hangin' out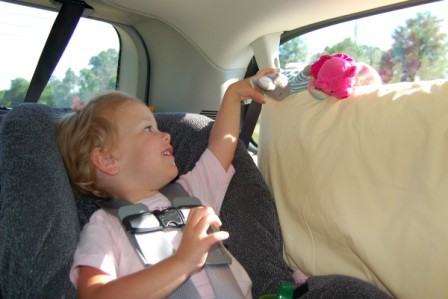 Perry put her B and Hop Hop up in the window
(I think they are mooning the other cars)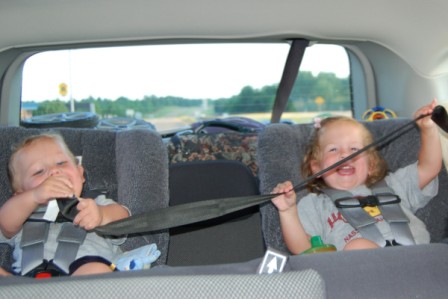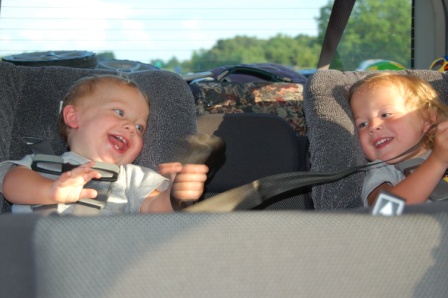 Ella and Luca found a way to amuse themselves in the backseat
Perry thinks they're goofy
June 18-21
Trip to Kansas City
June 19
Worlds of Fun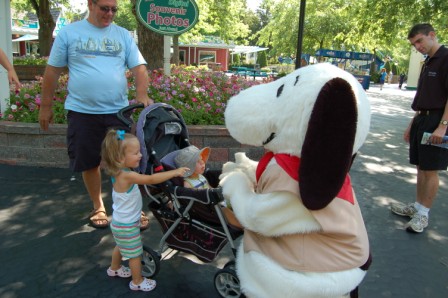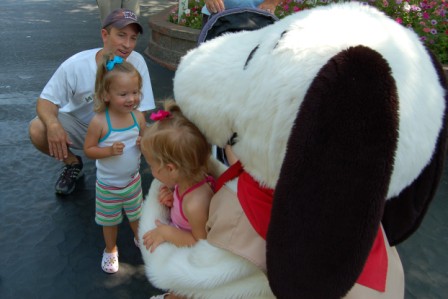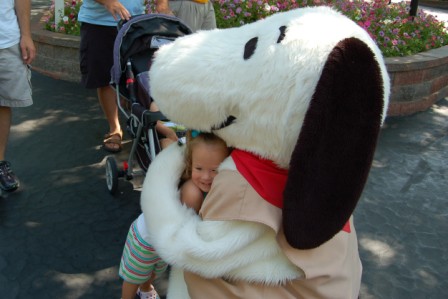 Visiting with Snoopy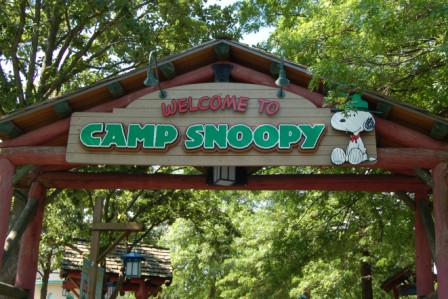 Camp Snoopy
(where all the little kiddie rides are)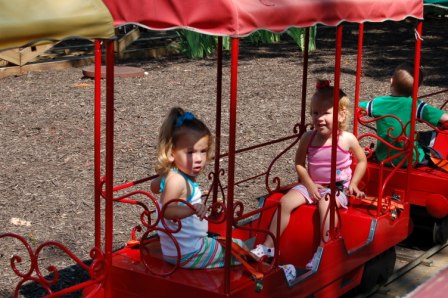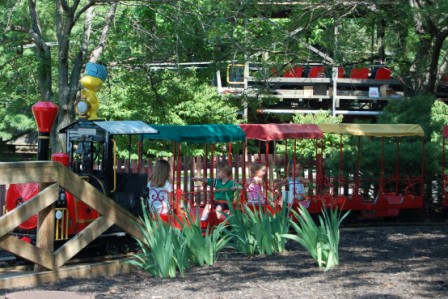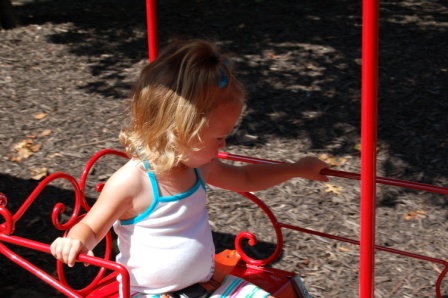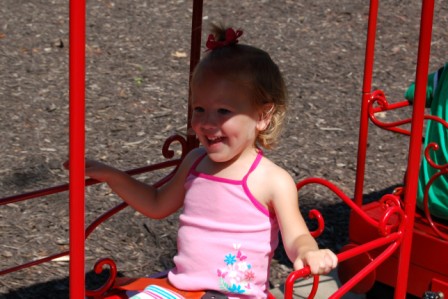 On the train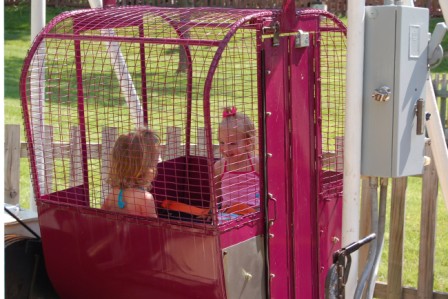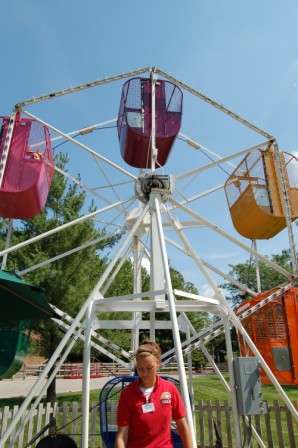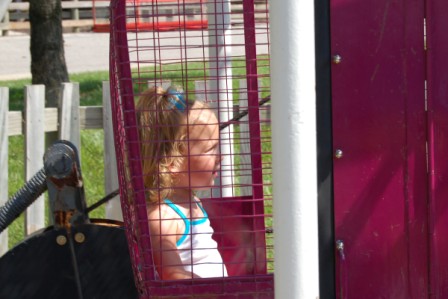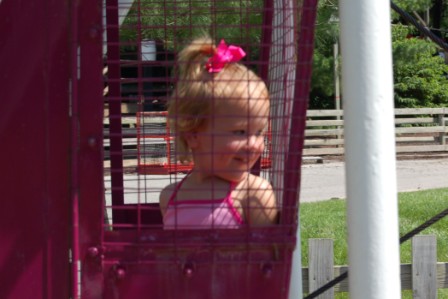 On the ferris wheel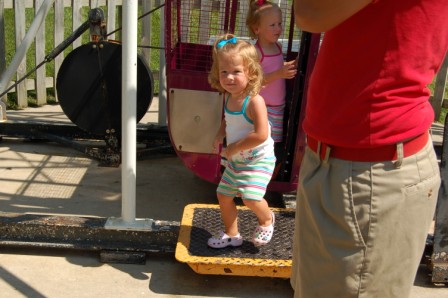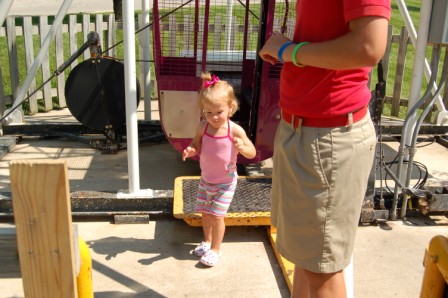 Such big girls, getting off the ride by themselves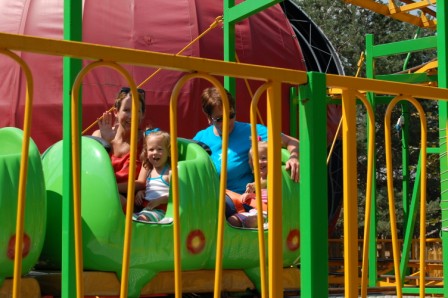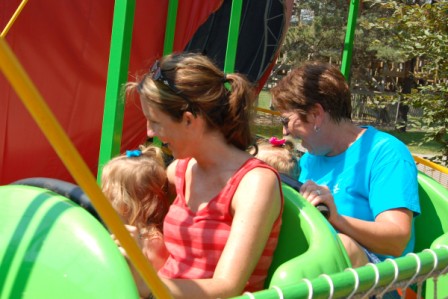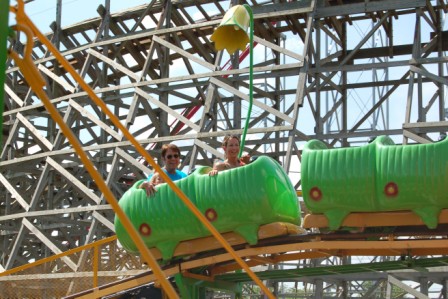 On the caterpillar roller coaster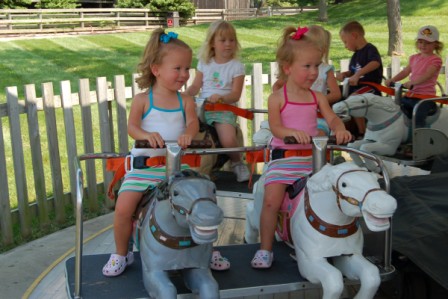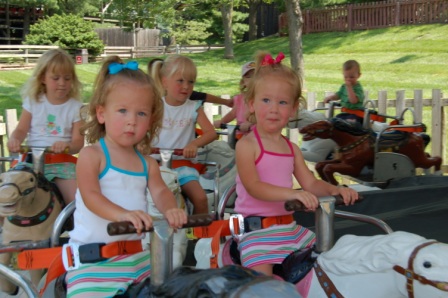 On the horsies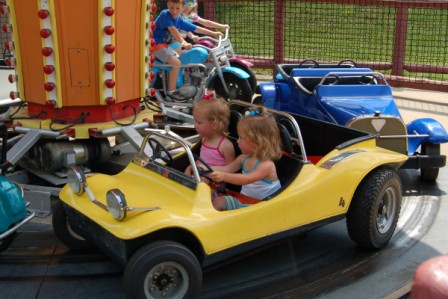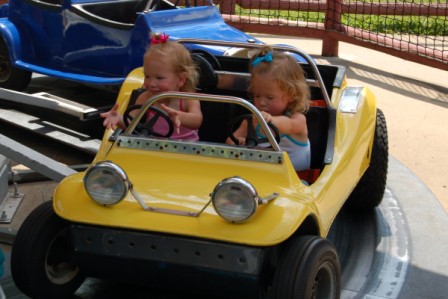 Driving the car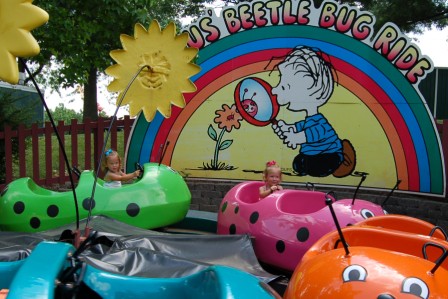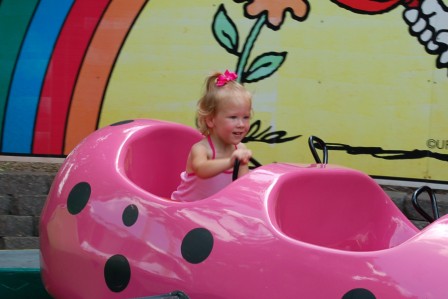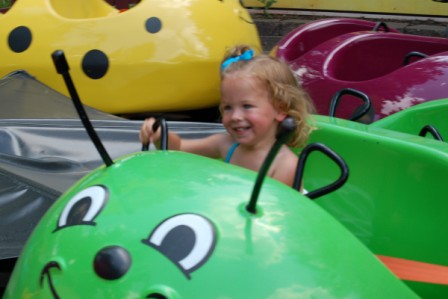 Beetle bugs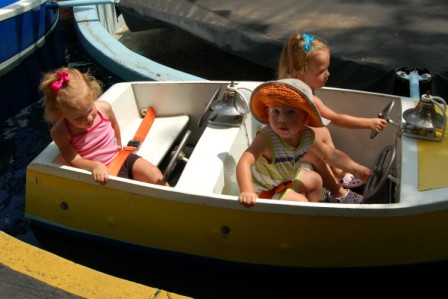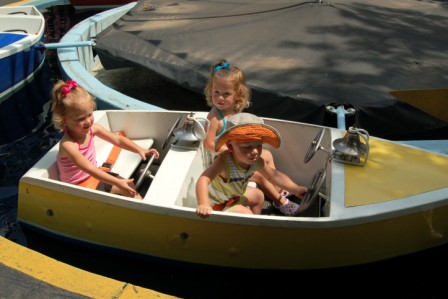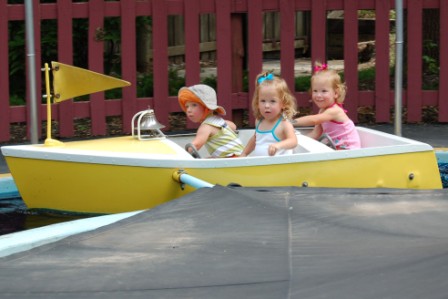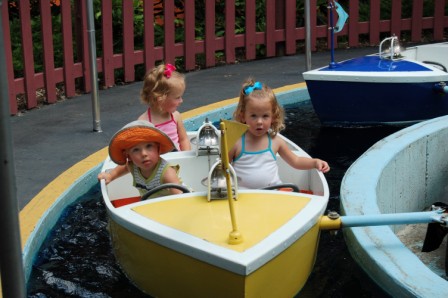 All 3 riding in the boat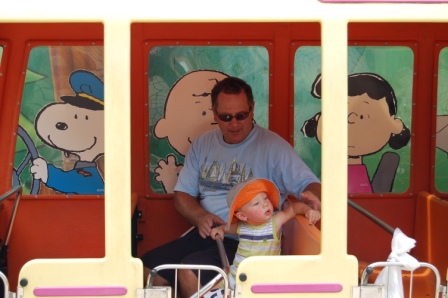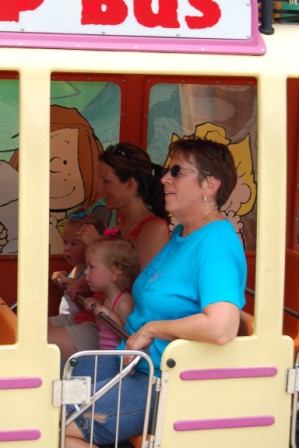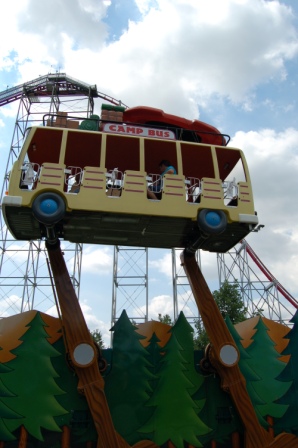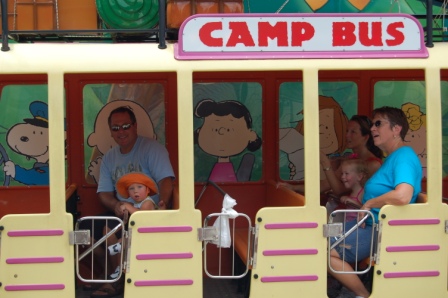 Riding on the camp bus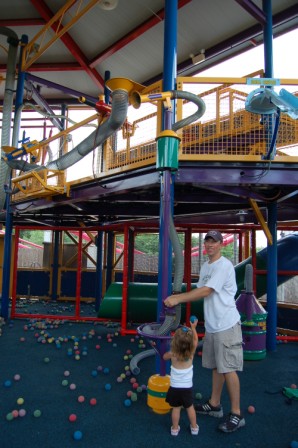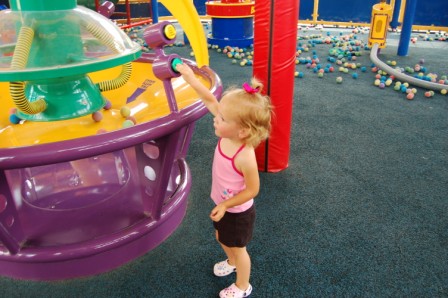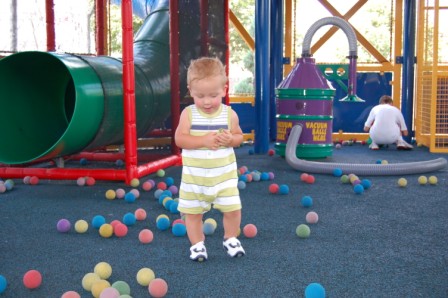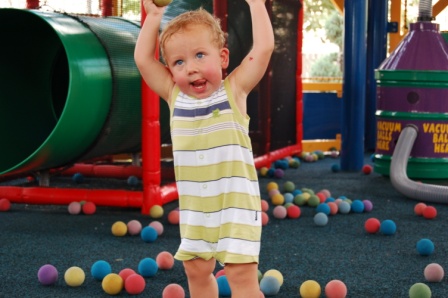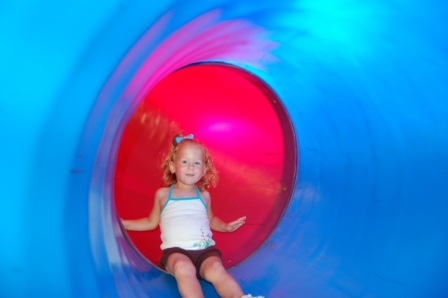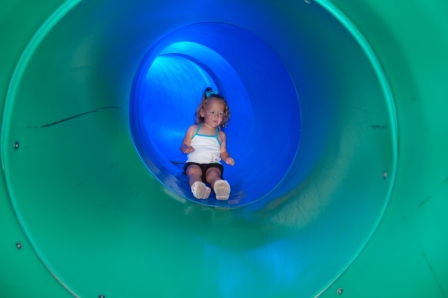 In the crazy ball-shooting/slide playground area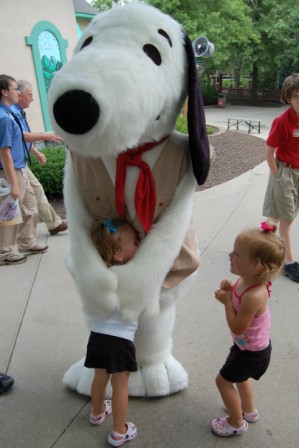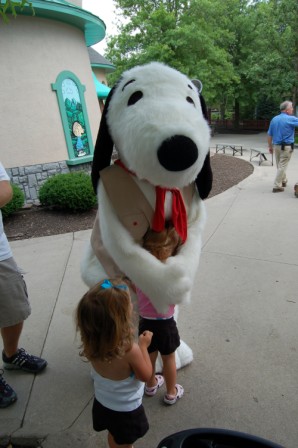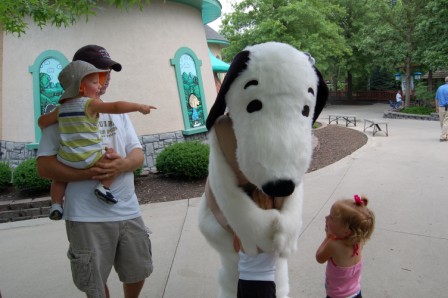 More Snoopy hugs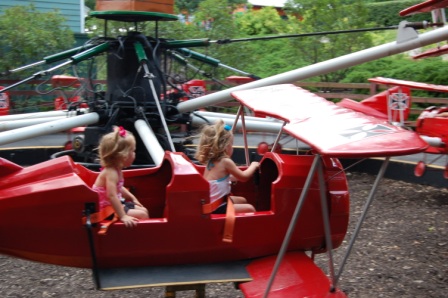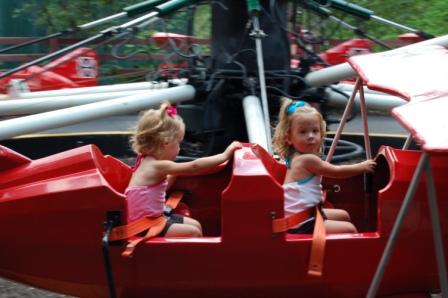 In the Red Baron plane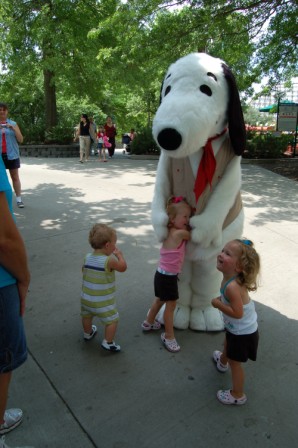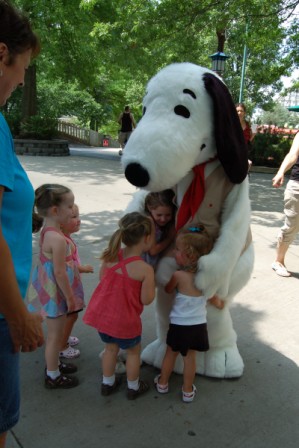 And more Snoopy hugs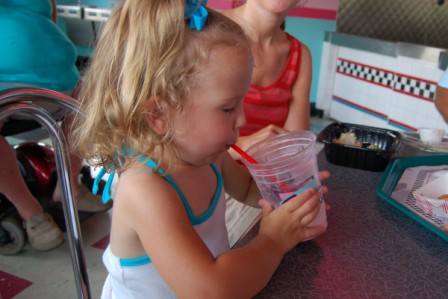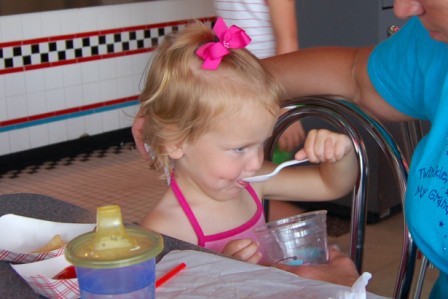 Strawberry milkshakes with lunch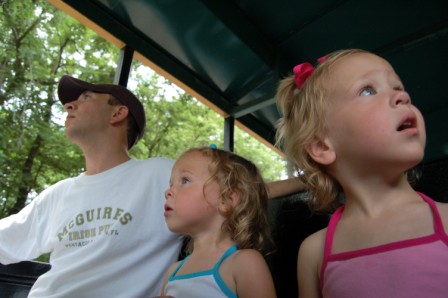 On the big choo choo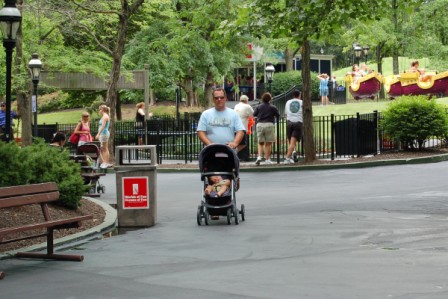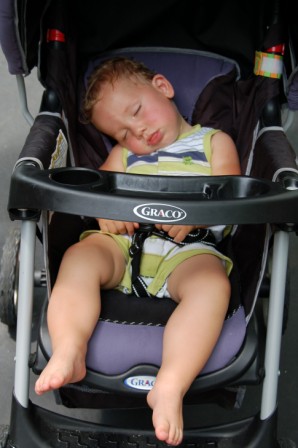 Grandpa walking around with a sleeping Luca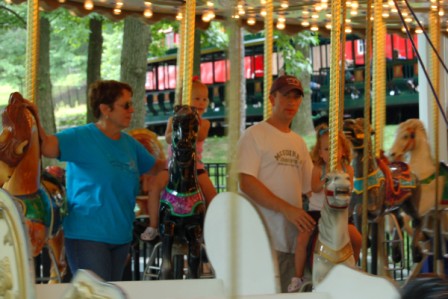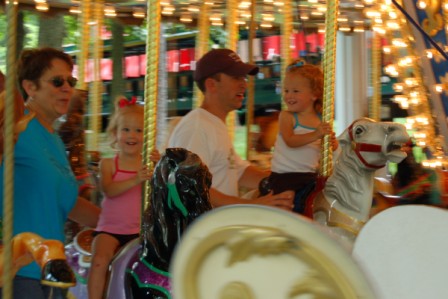 On the carousel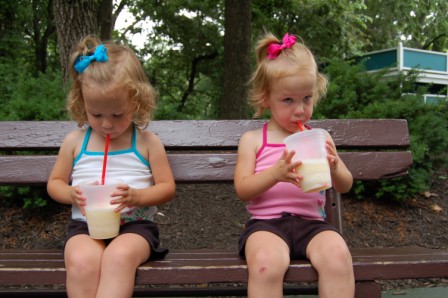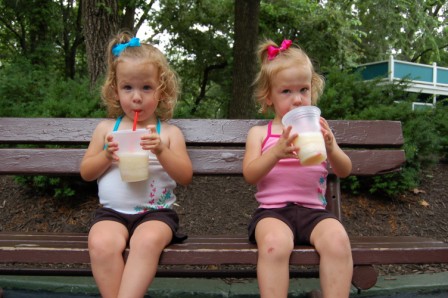 Banana smoothies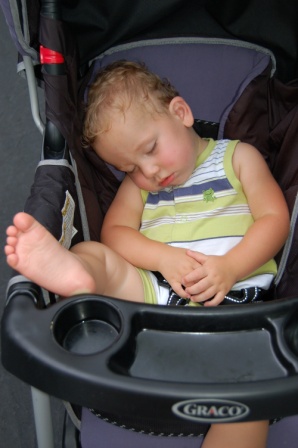 Sleepy boy with his leg up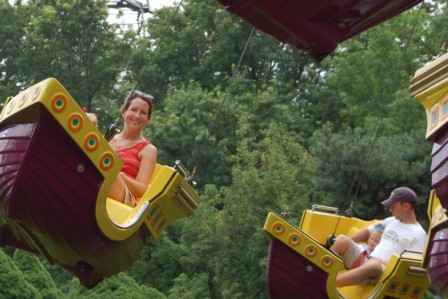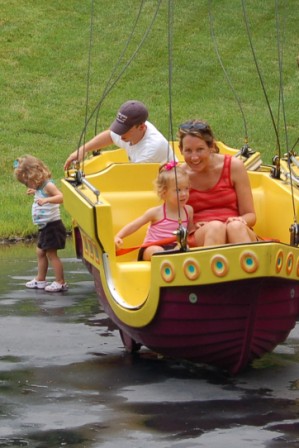 Flying boat ride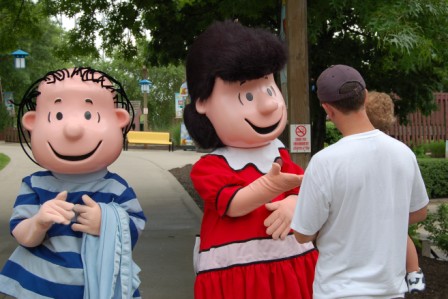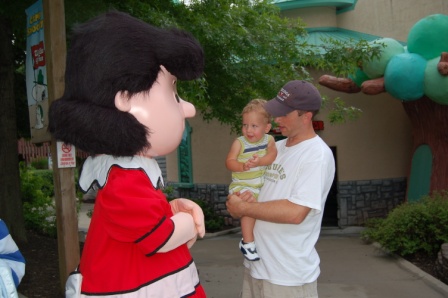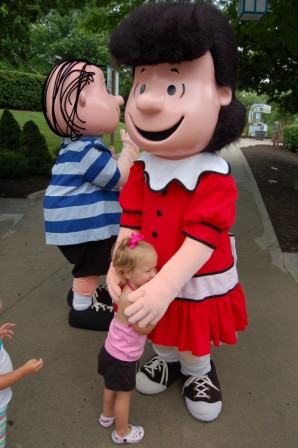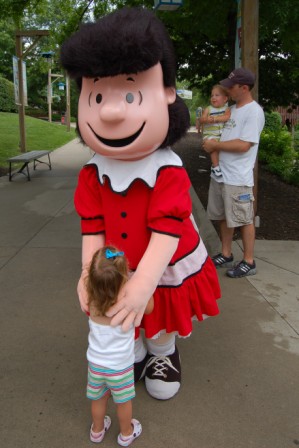 Lucy and Linus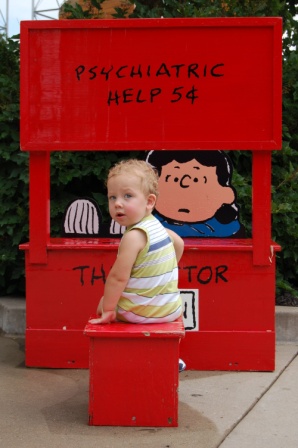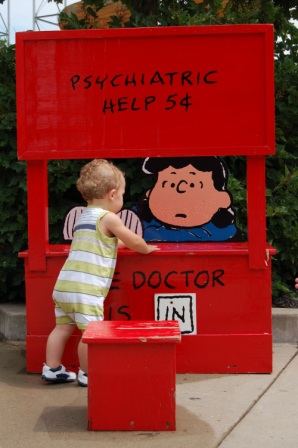 Luca needs psychiatric help from living with Perry & Ella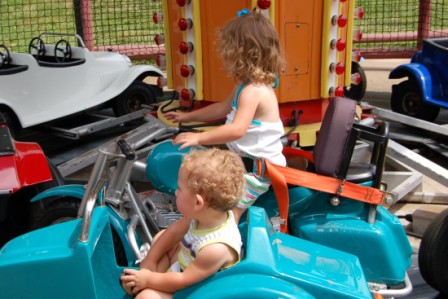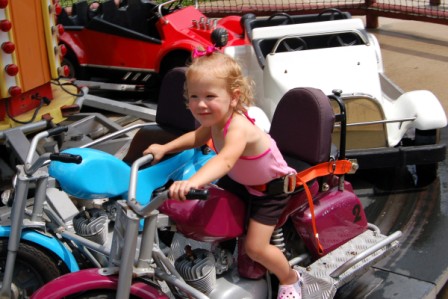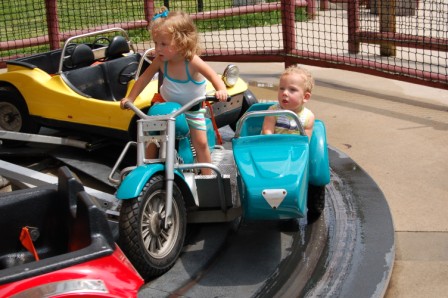 Riding motorcyles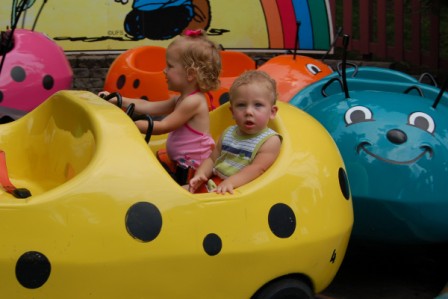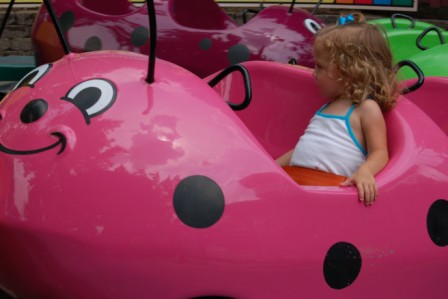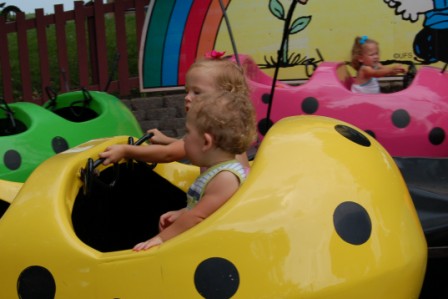 In the beetle bugs again
June 20
Oceans of Fun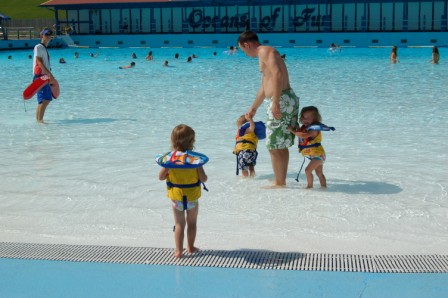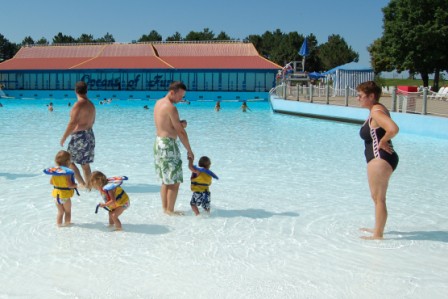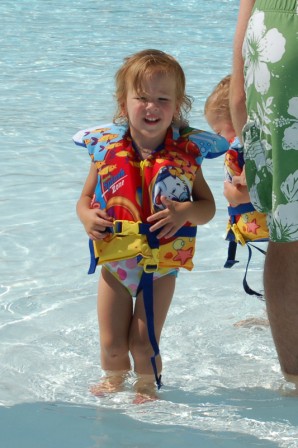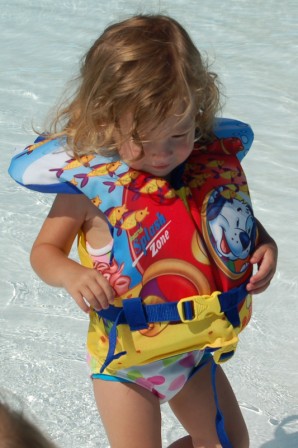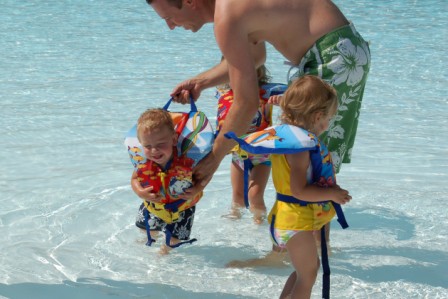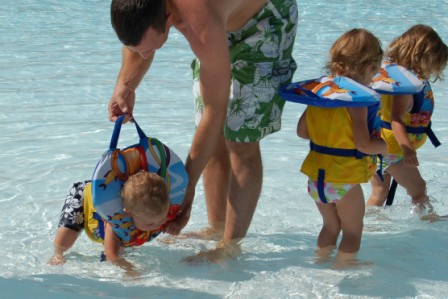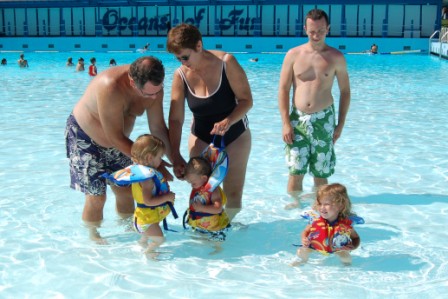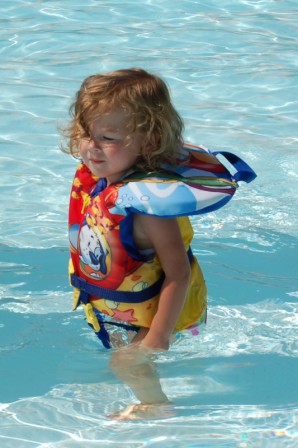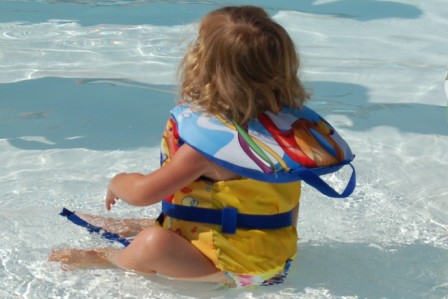 Wave pool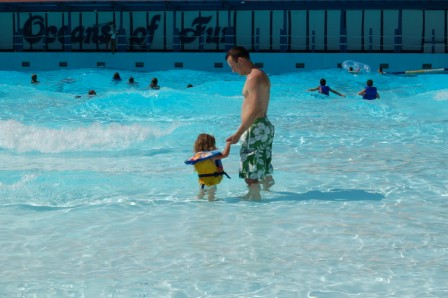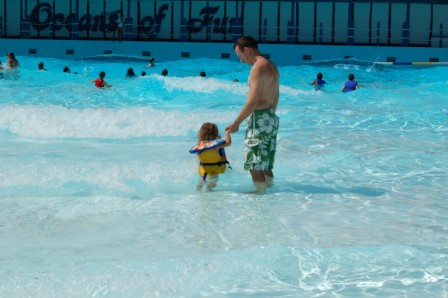 Here come the waves!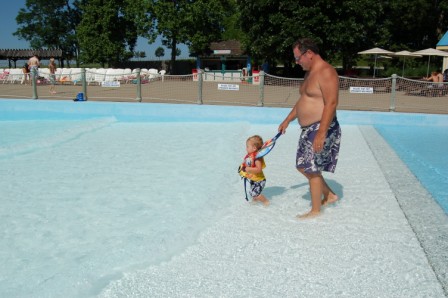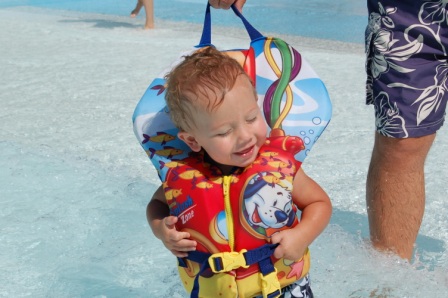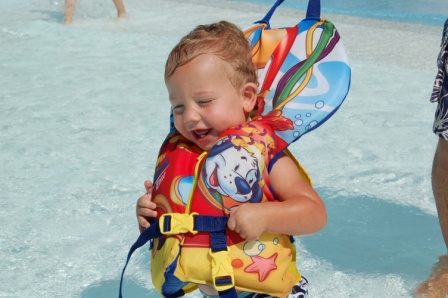 Luca likes it!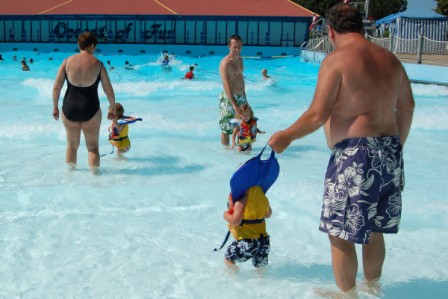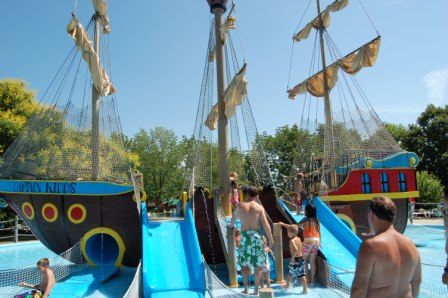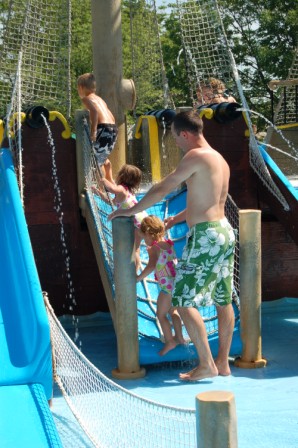 Captain Kidd's play area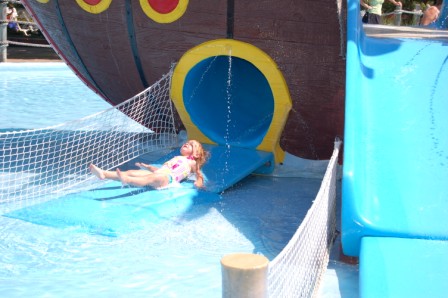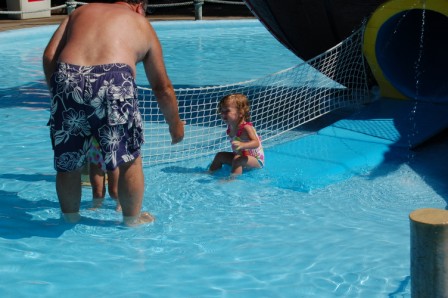 Whoa!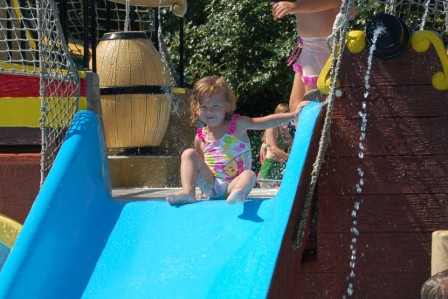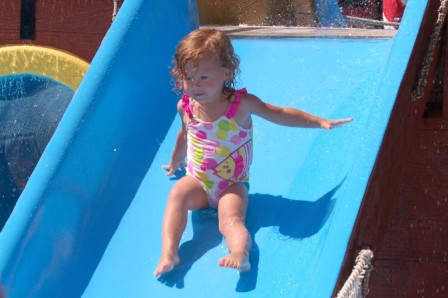 Ella sliding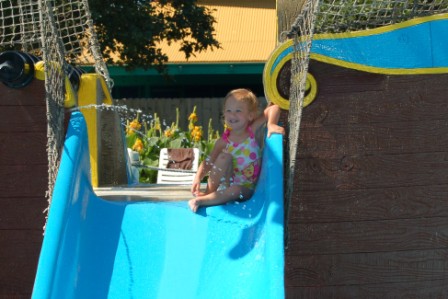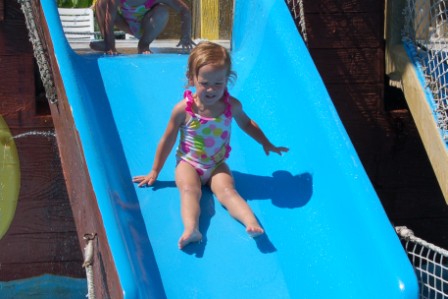 Perry sliding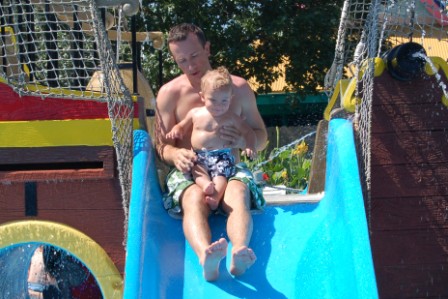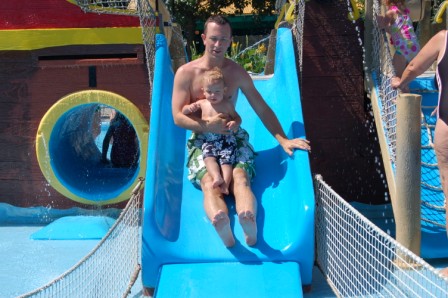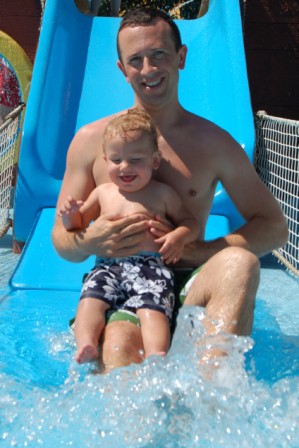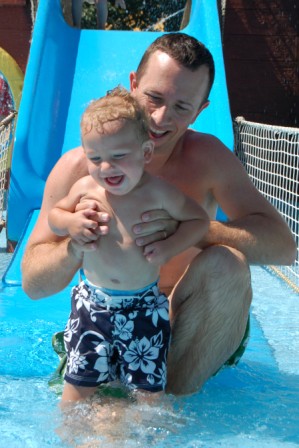 Daddy and Luca sliding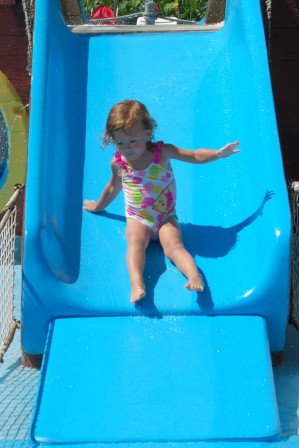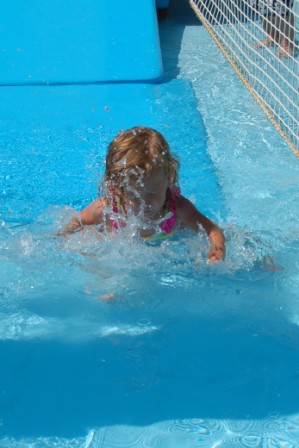 Ella splashing!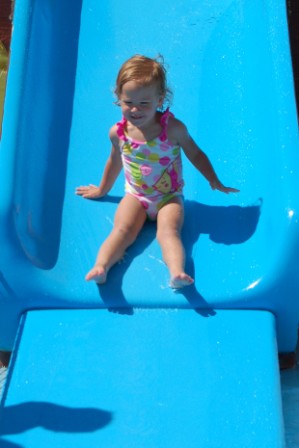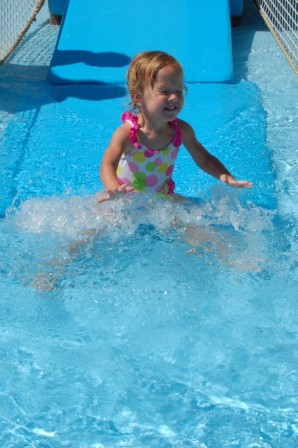 Perry splashing!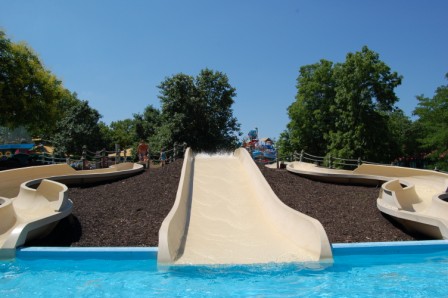 The "big" waterslides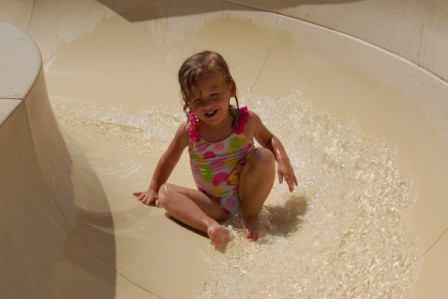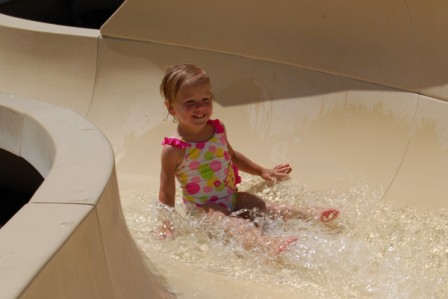 Ella and Perry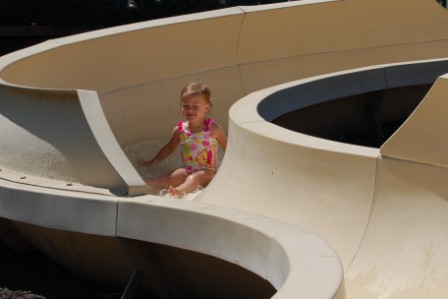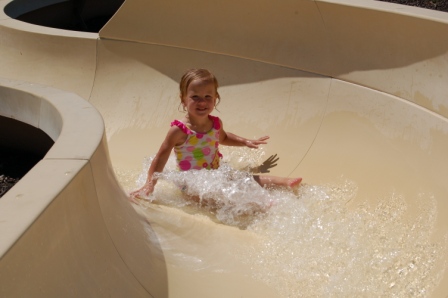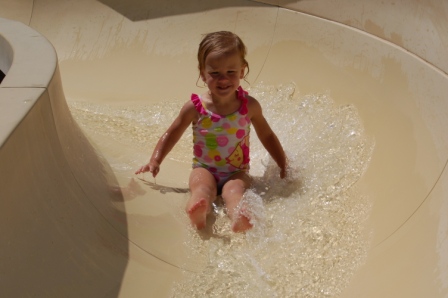 Perry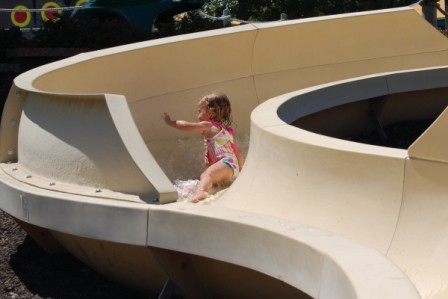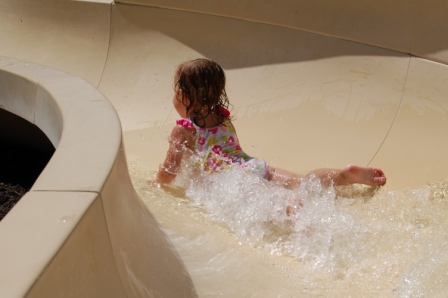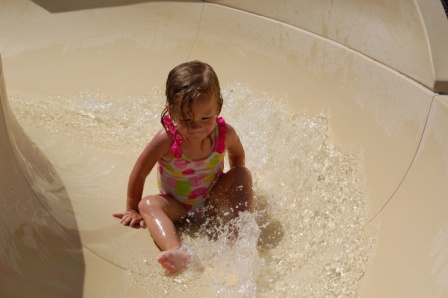 Ella
Wedding Rehearsal & Dinner
(Perry and Ella were flower girls in David's cousin Justin & Mandy's wedding)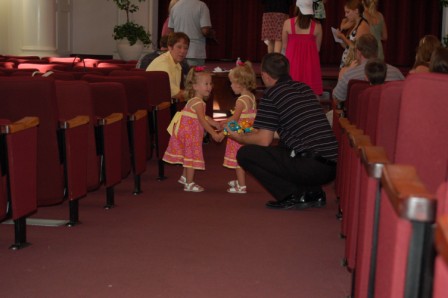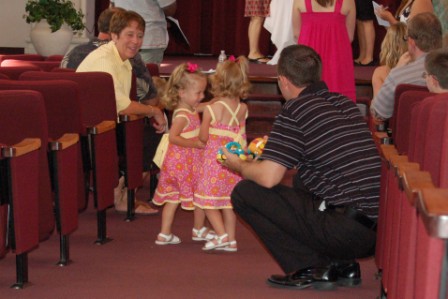 Getting comfortable with the aisle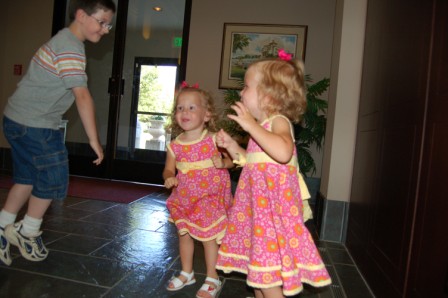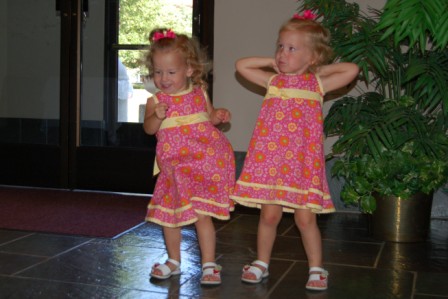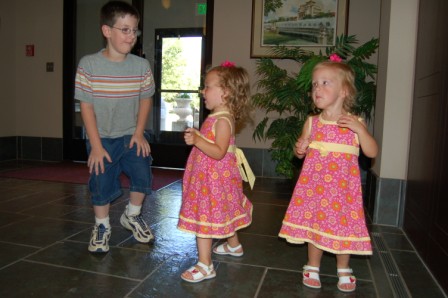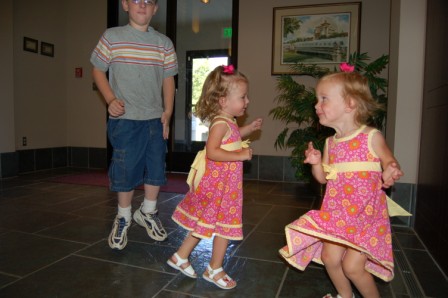 Being silly with Zach, the ringbearer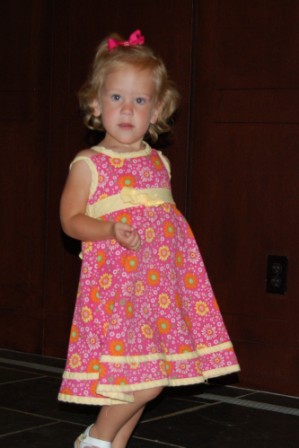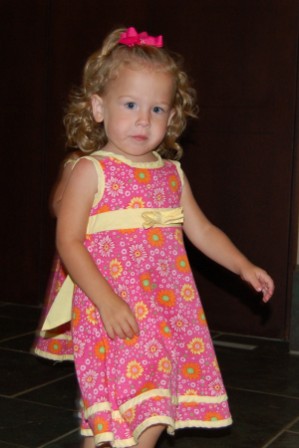 Pretty girls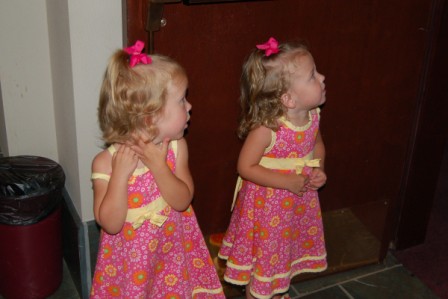 Getting instructions from the wedding coordinator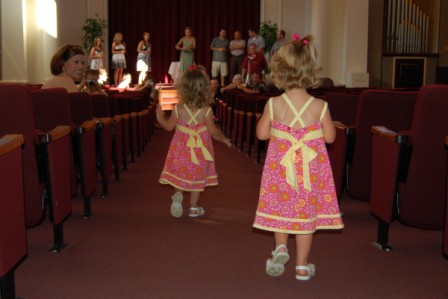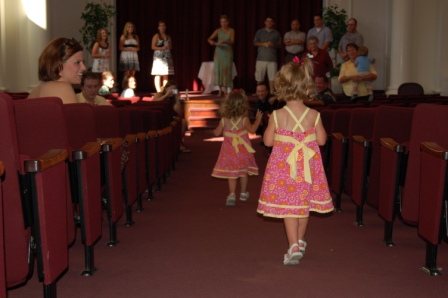 And they're off!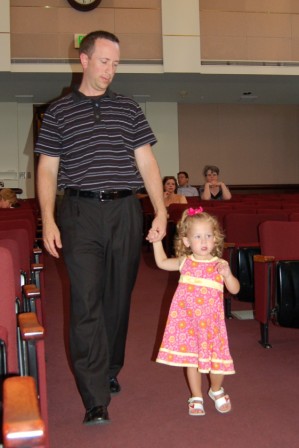 Practicing for their wedding days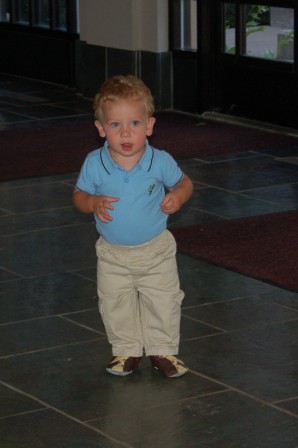 Luca in his handsome boy gear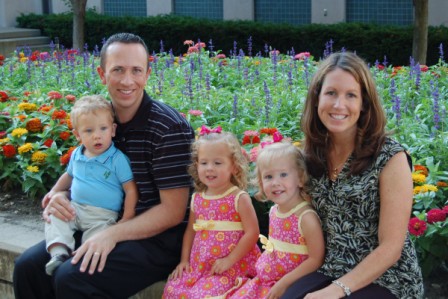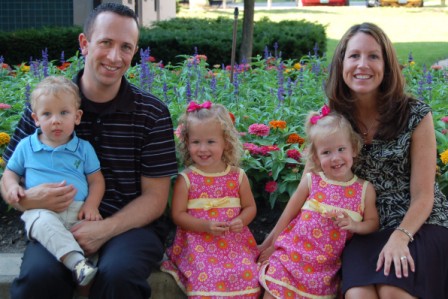 Family pic outside by the flowers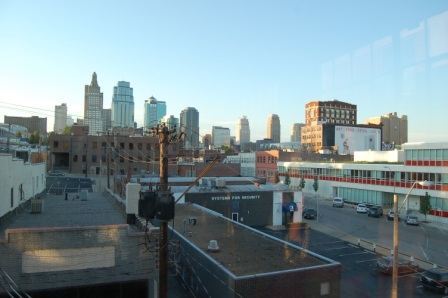 View from the rehearsal dinner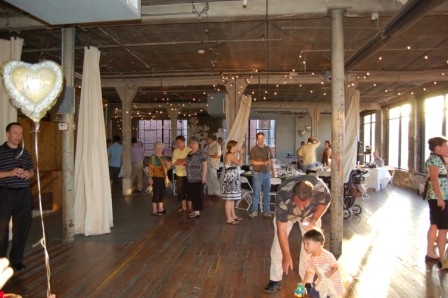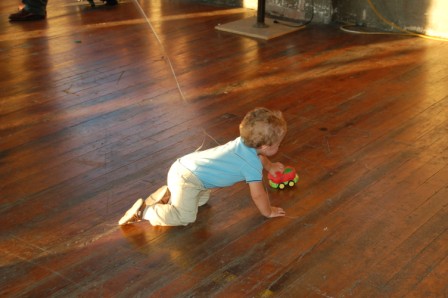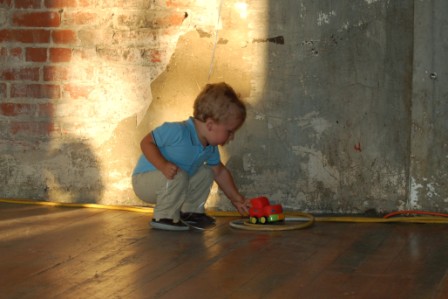 Luca playing with his car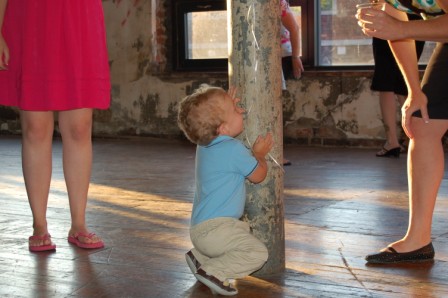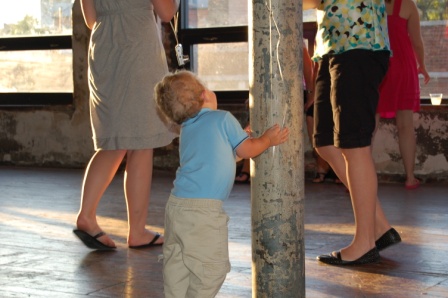 Peek-a-boo!
June 21
Wedding day!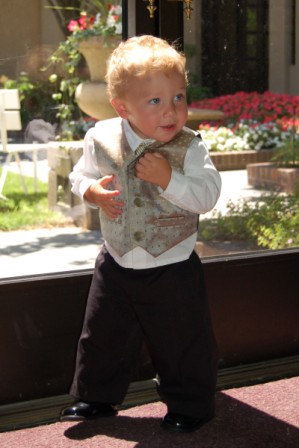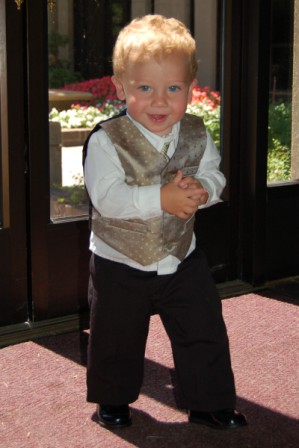 Every girl's crazy 'bout a sharp dressed man!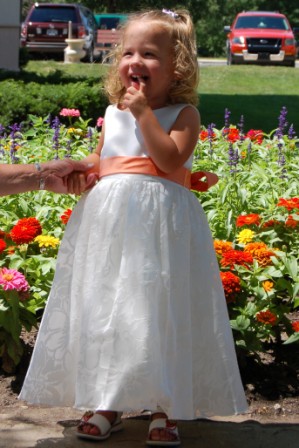 Ella in her flower girl dress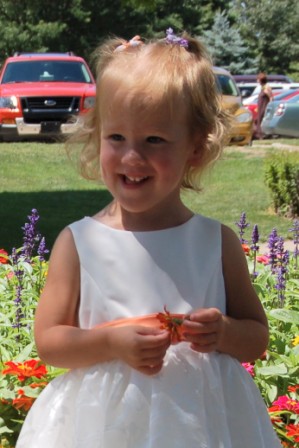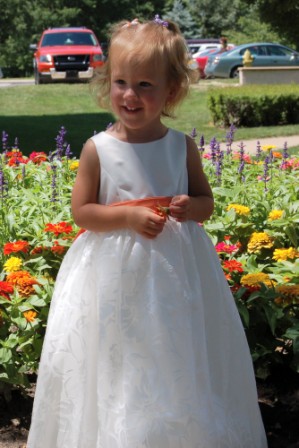 Perry in her flower girl dress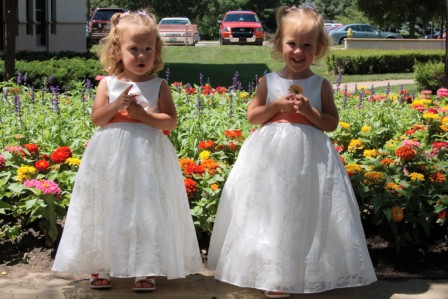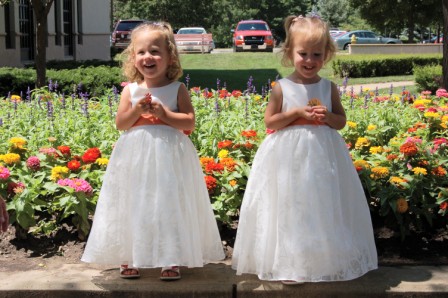 2 little flower girls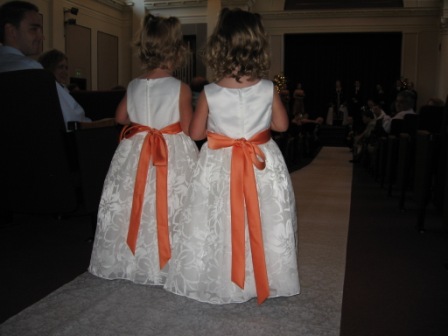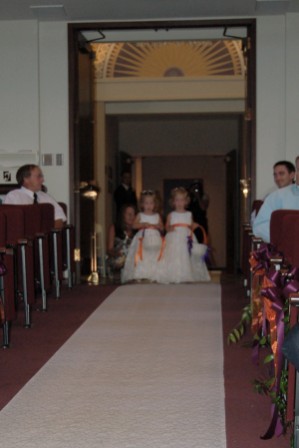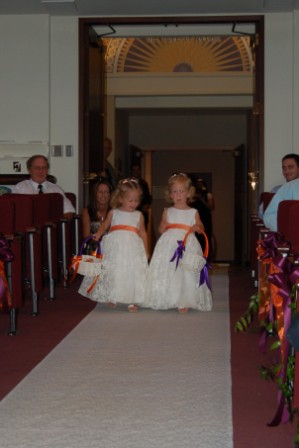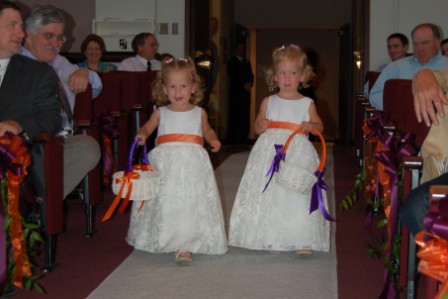 Yay! They made it down the aisle!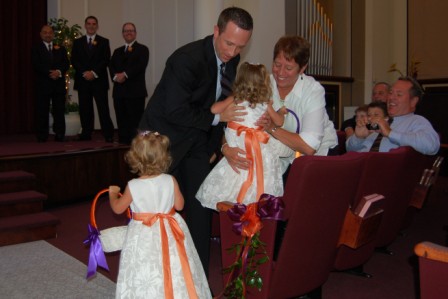 Going to Daddy and Grandma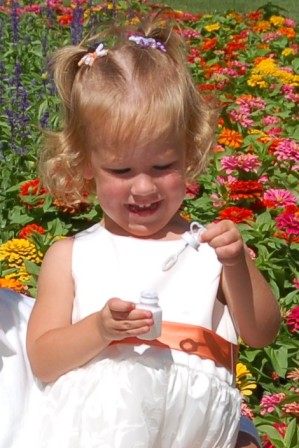 Perry blowing bubbles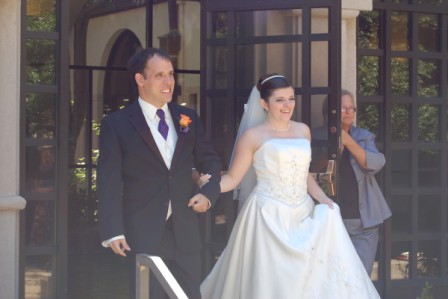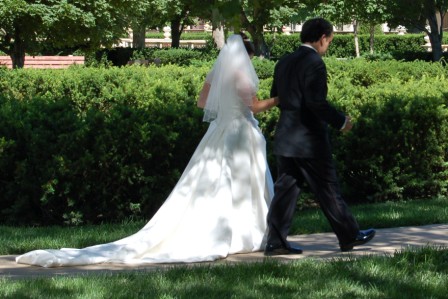 The bride and groom (Mandy and Justin)!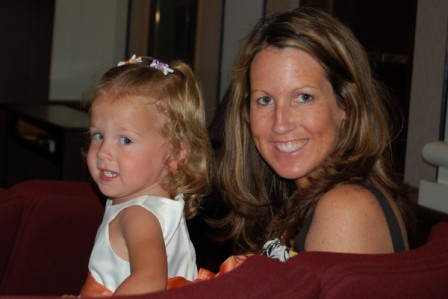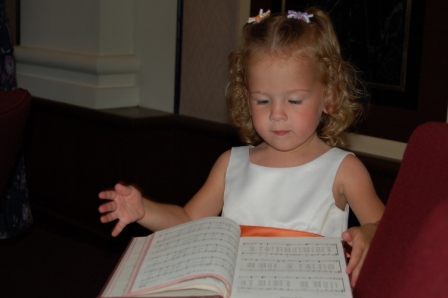 Ella and Mommy...Ella reading the hymm book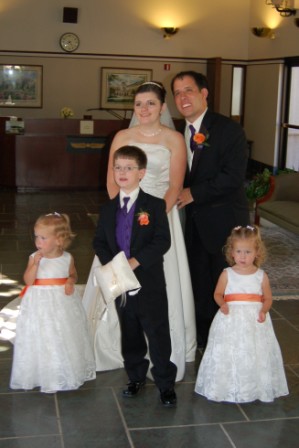 Probably 1 of only 2 decent shots
(P&E were not having any of this picture business)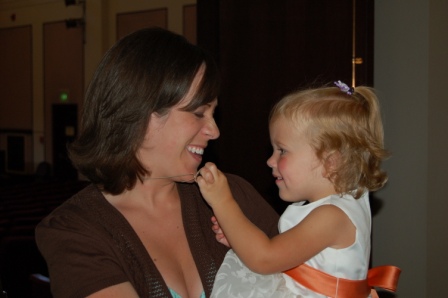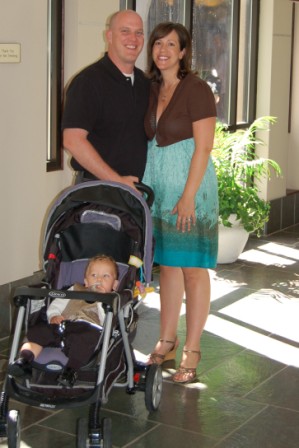 Aunt Angela and Uncle Julio helping to keep the kiddos entertained
(Uncle Andrew was taking pictures)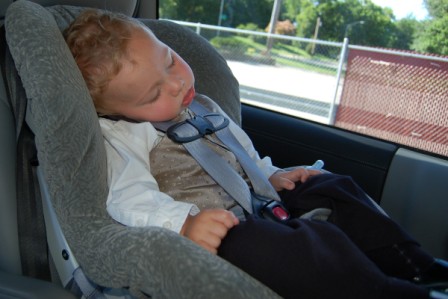 Luca sleeping on the way to the reception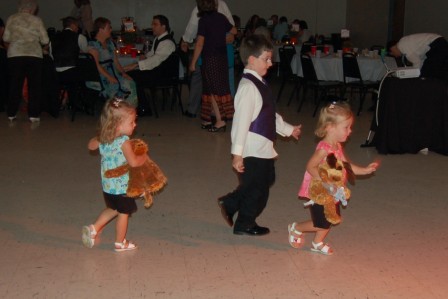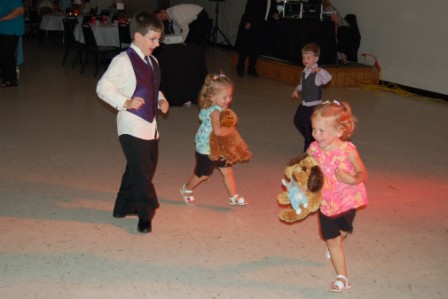 P&E "dancing" with Zach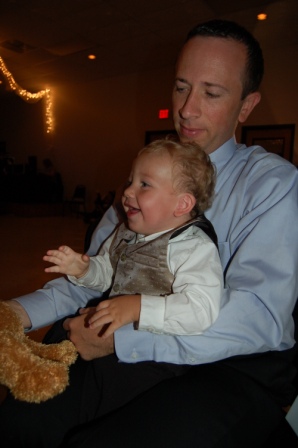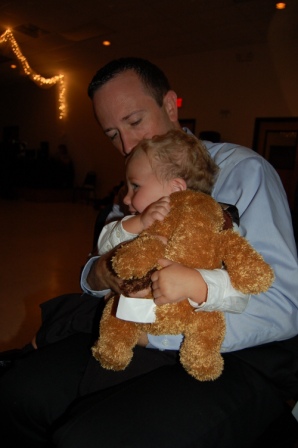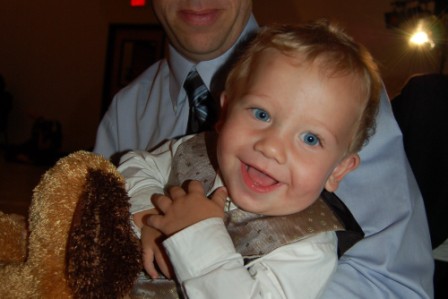 Luca loves the puppy
Perry & Ella blowing bubbles with Aunt Angela and Uncle Julio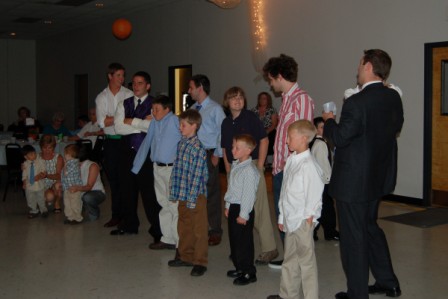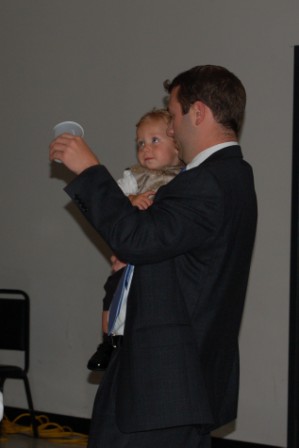 Uncle Andrew and Luca trying to catch the garter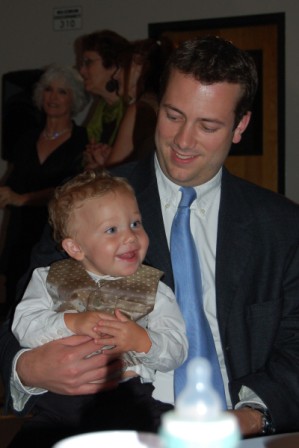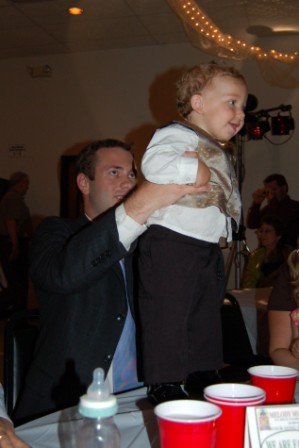 Luca having fun with Uncle Andrew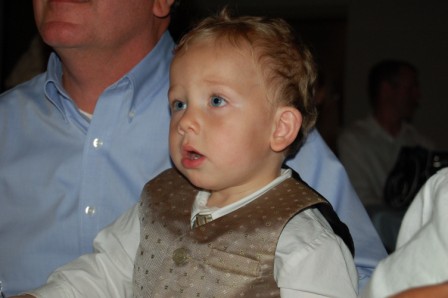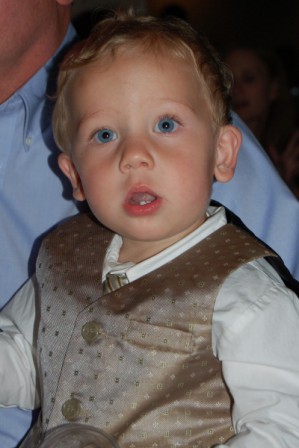 Luca's expression while watching the duck dance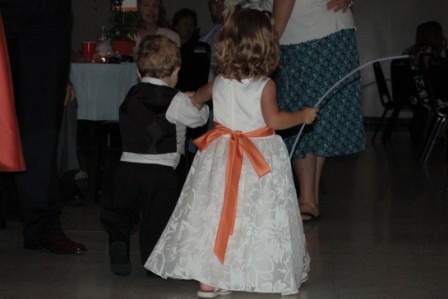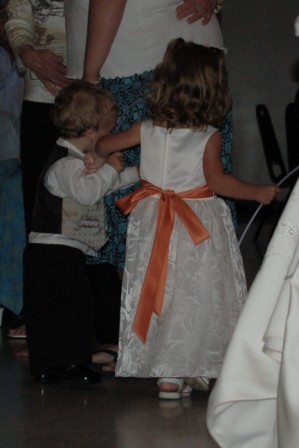 Ella and Luca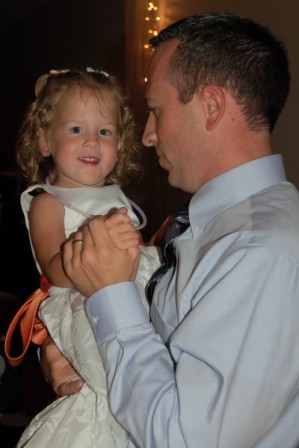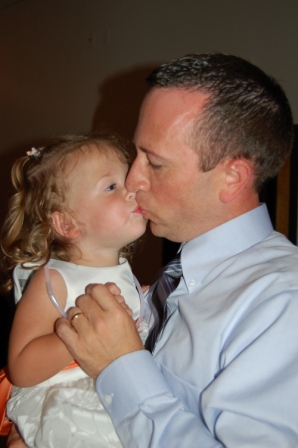 Daddy and Ella dancing and smooching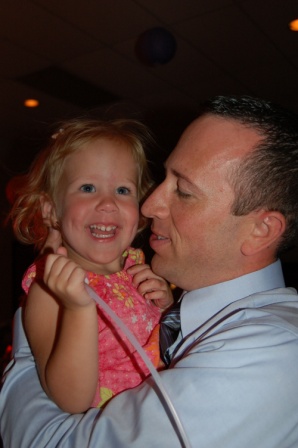 Perry and Daddy dancing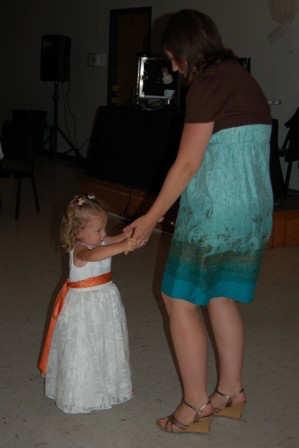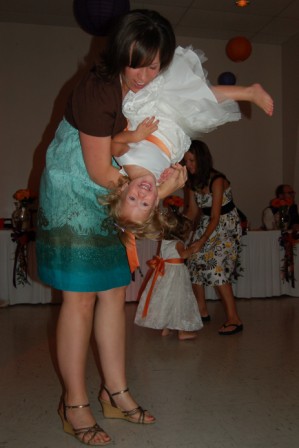 Aunt Angela dancing with Ella and Perry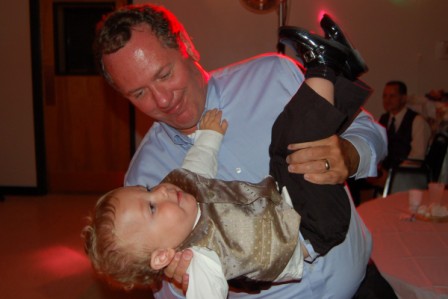 Luca getting dipped by Grandpa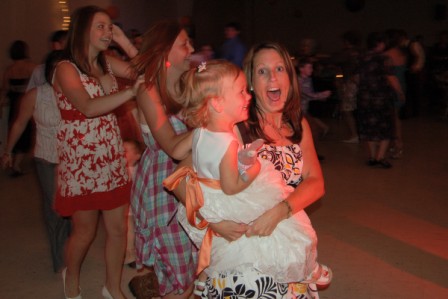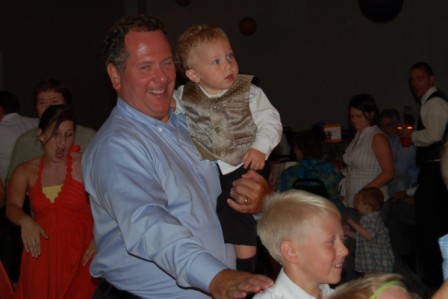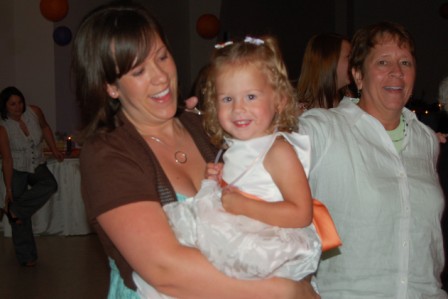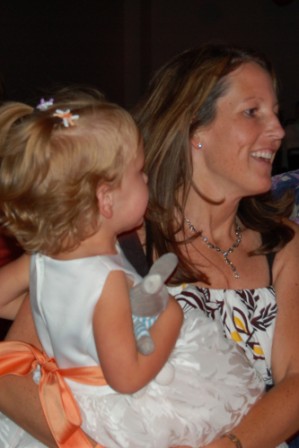 C'mon ride the train! Woo woo!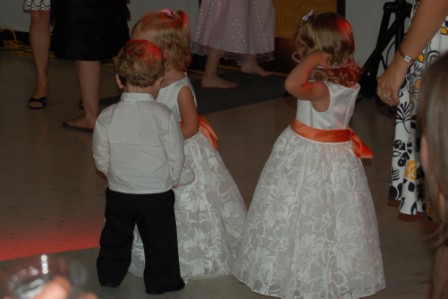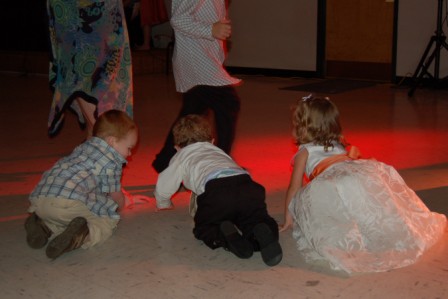 Shakin' their groove thangs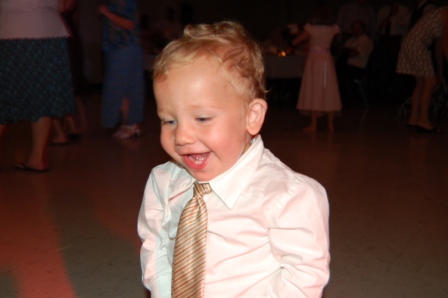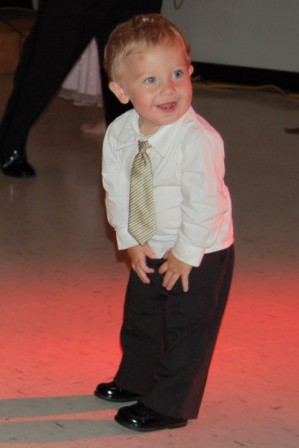 Luca cuttin' a rug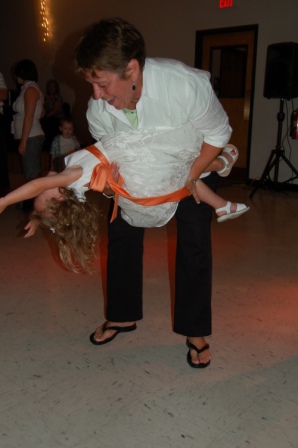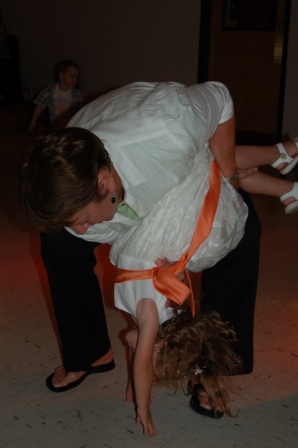 Ella getting dipped by Grandma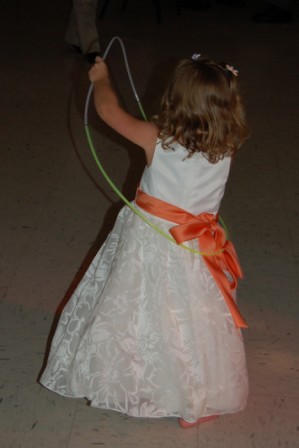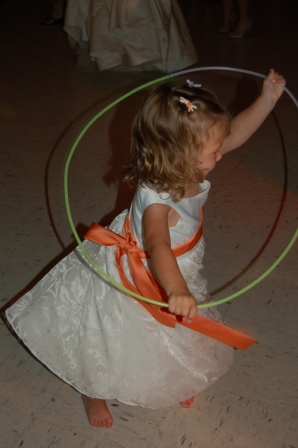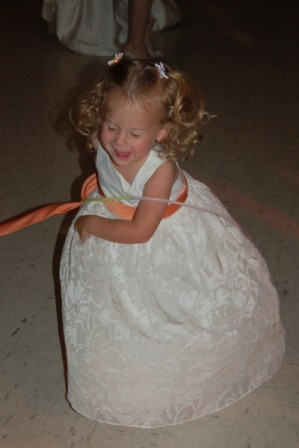 Ella hula hooping with the glow in the dark necklaces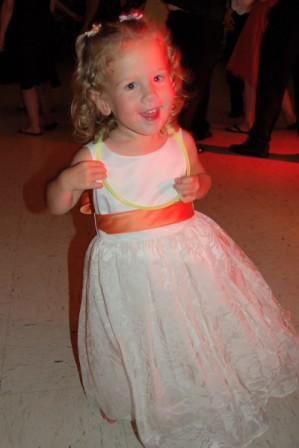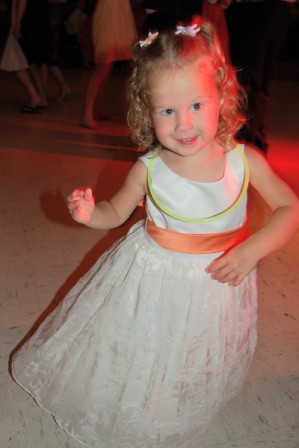 Such a good dancer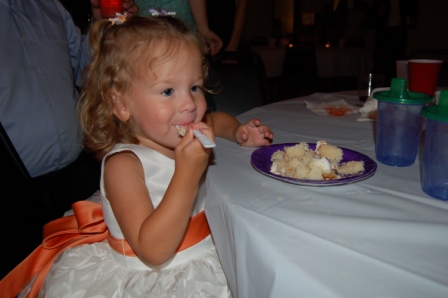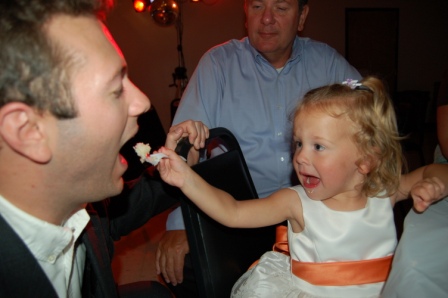 Ella having some cake...and sharing with Uncle Andrew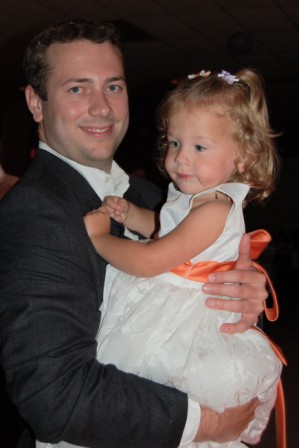 Ella dancing with her godfather (Uncle Andrew)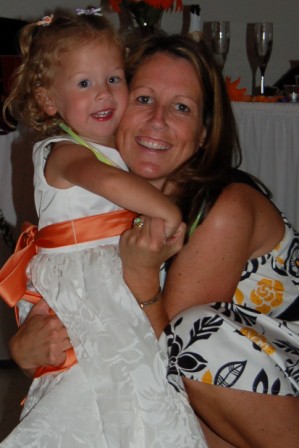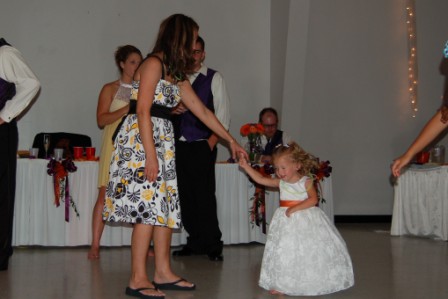 Ella and Mommy dancing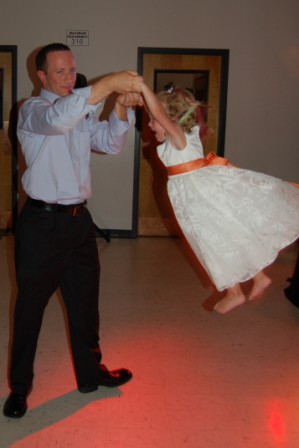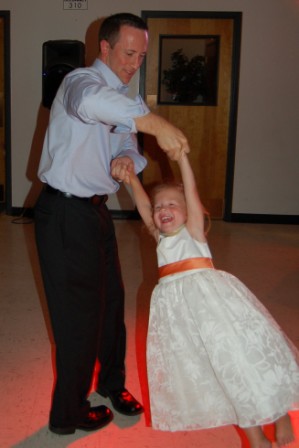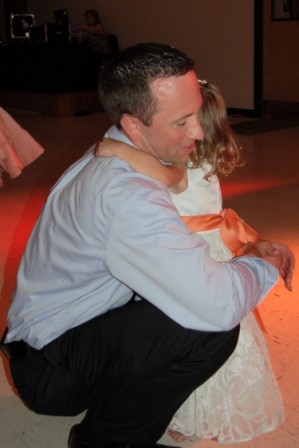 Ella and Daddy dancing and a hug to end the night
Perry's done, put a fork in her
♥ Back to Archives ♥